This has been just under a year in the making and I am SO excited to share the capsule collection I created with Social Threads. Social Threads is a boutique I've been wearing for years – their edit is always on trend, classic and mostly under $100 which is basically the triple threat when it comes to wearable fashion for the girl on the go (that's all of us!). For this capsule collection, I've curated my favorite picks for the fall/winter season ahead. All of these pieces are "wardrobe staples" and can be mixed and matched with each other and with other pieces you already own.
There are also a few exclusive items in the collection meaning you can't get them anywhere else! Social Threads is offering 15% off your purchase of $150 with code: MOTHERCHIC15 and they always have free shipping. Thank you all for sharing in my excitement of this launch and I can't wait to show you what I've picked.
SHOP THE ENTIRE CAPSULE HERE.
The Draped Jacket
This jacket was an immediate no brainer for me. It is a go to for any event that requires dressing up. Wear it over a cami with jeans or even over a dress. Super soft, super cool, and super exclusive. Yup, this color is exclusive to Social Threads and picked out by yours truly. The dark grey is equal parts cool yet casual and, yes, it's under $100.
Draped Jacket | Sleeveless Tank | Jeans | Wristlet Clutch
The Essential Cozy Cardigan
This cardigan is like a warm cup of hot chocolate. It is such an easy layer for those cold mornings waiting for the bus with the kids, but the cable knit detailing and button neck make it difficult to ever take off.
Cardigan | Scarf | Jeans | Backpack
(also wearing: booties)
The Statement Making Topper
Leopard is so hot right now and leopard is a neutral. Hence it goes with everything.
The Classic Versatile Cape Vest
This piece is that super chic layer you never knew you needed until you had it in your closet. It finishes any look and can be worn as a vest or a cape (tutorial on how to flip it to come).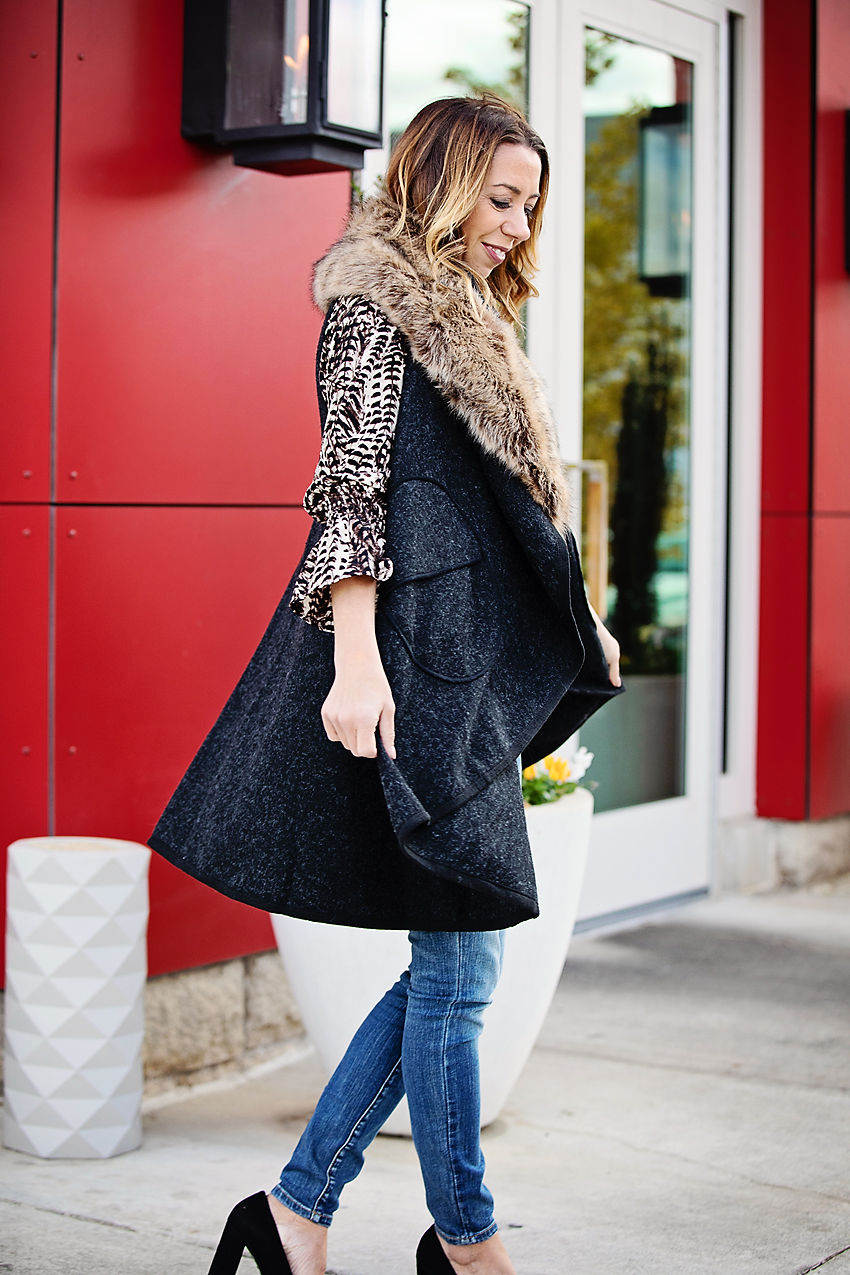 Cape (can be worn 2 ways – as a vest and a cape) | Leather Leggings | Jeans | Faux Fur Stole | Top
(also wearing: white top | black block heel shoes)
The Printed Top
This printed top has all the bells and whistles. From the mock neck to the subtle bell sleeve, it pairs perfectly with denim and heels for a causal date night. Dress it up even more with leather pants and boots.
The Little Black Dress
You know everyone's favorite roll sleeve tunic?! Consider this the the non-see through dress version. Yes, it is by the same brand (Lush) has pockets and can be worn a bajillion ways.
(also wearing: red belt | boots)
The Printed Dress
(also wearing: peep toe shoes)
The Graphic Tee
A staple in my closet is most definitely a graphic tee. I love a tee with a personality that you can layer under a great jacket or just wear alone with jeans and sneakers to the super market. And when Social Threads asked what I wanted my graphic tee to say…. "Oh Chic" was the first thing that came to my mind. Equal parts cheeky and "Motherchic" fitting, no? I hope you all have as much fun wearing this tee as I do!
Oh Chic Tee | Jeans | Jacket
The Outfit Making Accessories
Leopard Scarf | Plaid Scarf | Backpack
(also wearing: jeans, left booties, right booties, white shirt)
Cozy Loungewear:
These are the perfect pieces to wind down in each day. I literally crave wearing this sweatpants. They are amazing and would also make a great gift!
Make sure you are following along on Facebook and Instagram so you can see how I styled these pieces over the next few weeks. Thank you to Social Threads for giving me this opportunity and to all of you for following along – it's because of YOU that I get the chance to do these cool things! Ok… now it's time to shop!!
P.S. We would love nothing more than to see these styles in action – use #TMCxSocialThreads so we can find you!