When does the holiday season officially start? I used to think it was the day after Halloween, but when I walked into the mall on October 29th and saw a 60 foot tree surrounded by a reindeer carousel AND Santa, it was proof that my theory is totally wrong. Why skimp on the best time of year, right? Now that it is November, there is no wavering on the right time to get into the holiday spirit. The holiday frenzy is in full effect and this post is all about simplifying your holiday shopping so you have more time to enjoy and less time scrambling. I've partnered with Lord & Taylor to put together a highly curated gift guide for men, women and kids! Yes, they most certainly do have TOYS and great ones at that.
Here is a fun little video explaining all of my top picks:
You can also shop my look from the video in the links below. I love pairing a beautiful ivory sweater and jeans with fun party shoes! And yes, it's perfectly ok if you swap out your pumps for flats half way through the night!
Sweater | Jeans | Pumps | Loafers
For Kids:
Hot Wheels Race Track: Is it just mine or do kids play with match box cars for hours?! Adding in a simple (easy to assemble) track is total wow factor.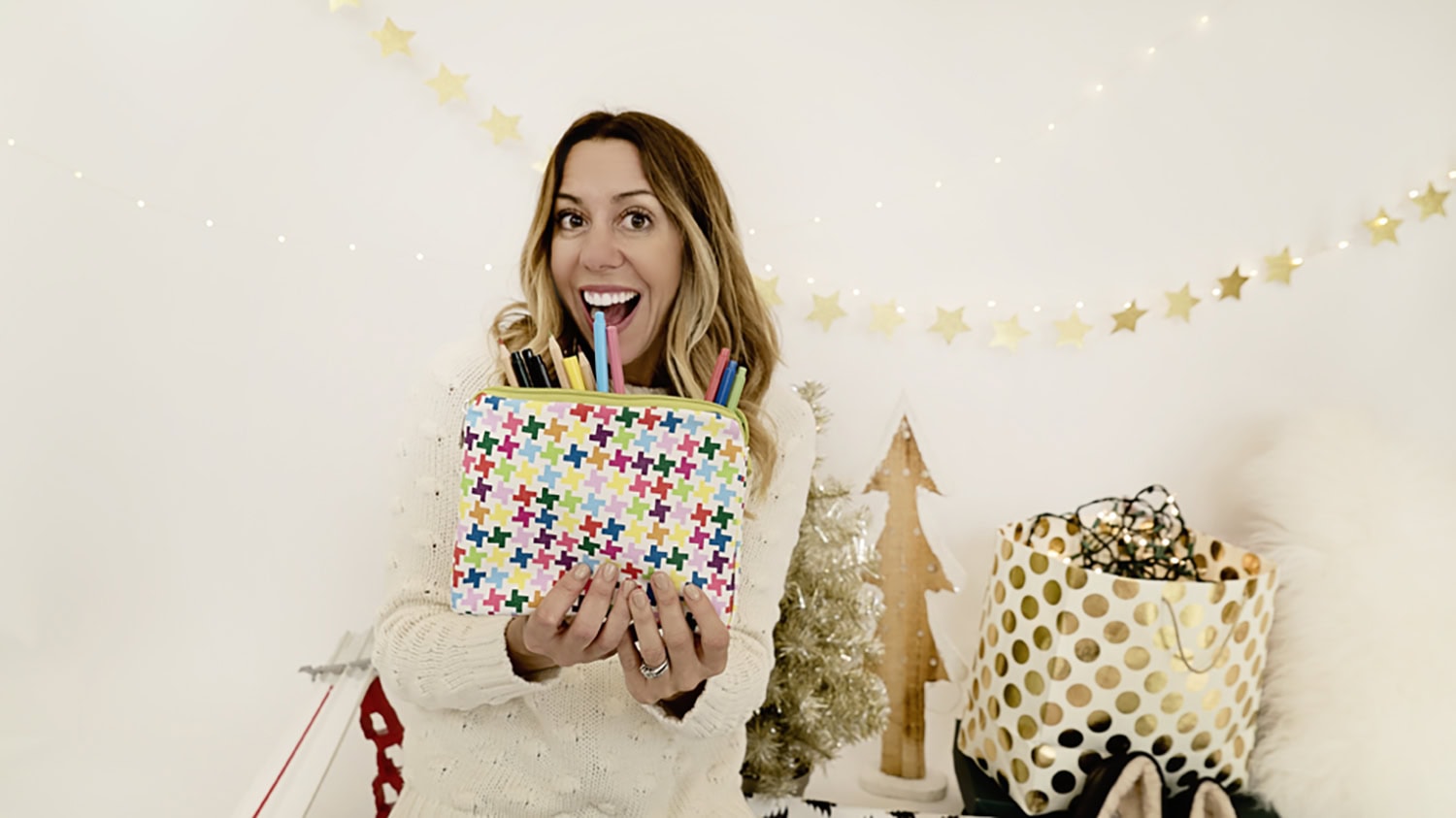 On the Go Drawing Kit:  The perfect personal sized gift for the mini creator. Everything fits inside the adorable zippered pouch so it can be easily packed for long car rides, restaurants, or rainy days.
For Him:
Kiehl's Facial Set: Spoiler alert! Guys love to be pampered too. This gift set is my husband's favorite. All of the products are super energizing and really wake up your skin. Ok fine, sometimes I even use them too! Shop all Kiehl's sets here (they make SUCH great gifts).
Ugg Slippers: No explanation needed. When we were filming this video, the camera man even said, "No really, those ARE the best". Shop all Ugg Slippers here.
For Her:
Laura Mercier Eye Shadow Palette: The best gifts are the ones you wouldn't buy for yourself. This eye shadow palette falls under that category – raise your hand if you've been using the same palette for years?! Time for a refresh with this universally flattering set – perfect for that natural, "I woke up like this" look.
Leopard Loafers: There is no question, leopard is the print of the season! It's the new neutral and these shoes take any basic outfit up a notch.
Be sure to check out all of the gifts Lord & Taylor has to offer in the pages below.
Thank you to Lord & Taylor and ShopStyle for sponsoring this post