I'm not very well-versed in understanding every football call, so I've come to accept that and channel my energies elsewhere. I live with 5 boys. There is no escaping football. My version of Sunday (and Monday, and sometimes Thursday?!) football involves food, or uh, tailgating if you will. And let me be clear about my version of tailgating. There's all the good food (the dips, the chips, the salty soft pretzels) with a little bit of chic sprinkled everywhere. In my playbook, a sure win for an easy, awesome tailgate party also includes cute decor, fun party props (that will most likely get destroyed by 4 little boys I may have mentioned before), and of course…something bubbly. Here's an easy spread worthy of inviting the neighbors over to enjoy… or my sister and her crazy crew of four kids as well 🙂
In the name of keeping it simple, pretzel nugget, chips, and easy DIY potato skins on the menu. Little individualized cones, dishes and paper boats make it easy for the crowd to grab and go so they don't miss a play. Or a replay. Or a s l o w – m o replay. I mean gosh, no wonder football games are 4 hours long! A brown paper runner is fun to decorate and also makes for easy clean up!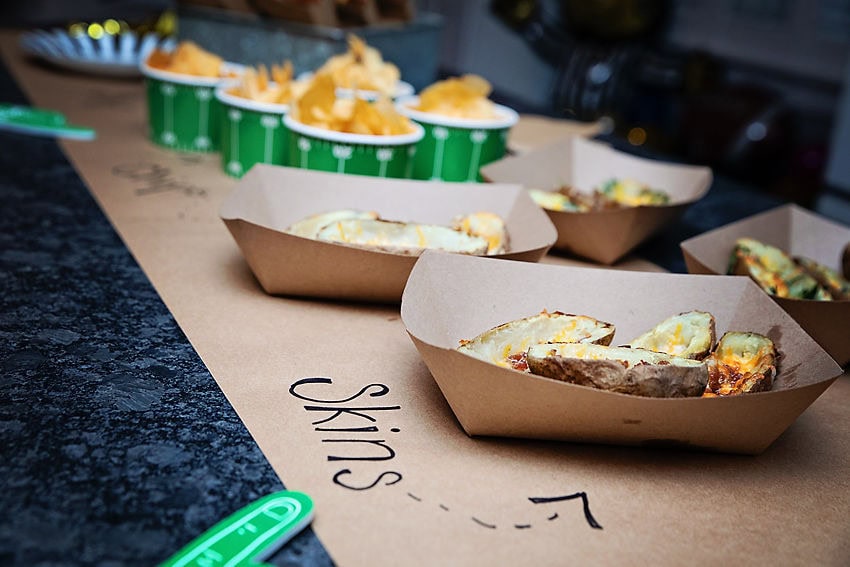 The face of a girl who cannot wait til the next game! Ok, so maybe it's growing on me.
Huge thanks to Party Hat Paper Co. for sending this amazing party pack! You can check out all of their "Party in a Box" kits here, you know, in case football is not your thing 🙂 Please, someone have a unicorn party then invite me!
The Tailgate Tee Shop: