Emerge from your turkey comas my fine friends. Actually, you don't really need to go far at all. Find your coziest blanket, a strong cup of joe, your computer (obviously), and get on that Black Friday shopping! We've tried to make this as easy as possible and even though it's the season of giving, I'm starting with my the best Black Friday sales for women because research shows (ok maybe just my analytics) that women like to purchase things for themselves and YOU SHOULD. Or just, you know, leave this screen open and cross your fingers that your husband sees it.
This exercise was v. hard for me, but I tried to pick my absolute favorite piece, on sale, from each of the top 10 retailers. As in one piece from each retailer. Seeing as how there 17 items in the collage below, I failed miserably, but some of these pieces were just too good to pass up. If there is one day in the year when more is more…. it's today!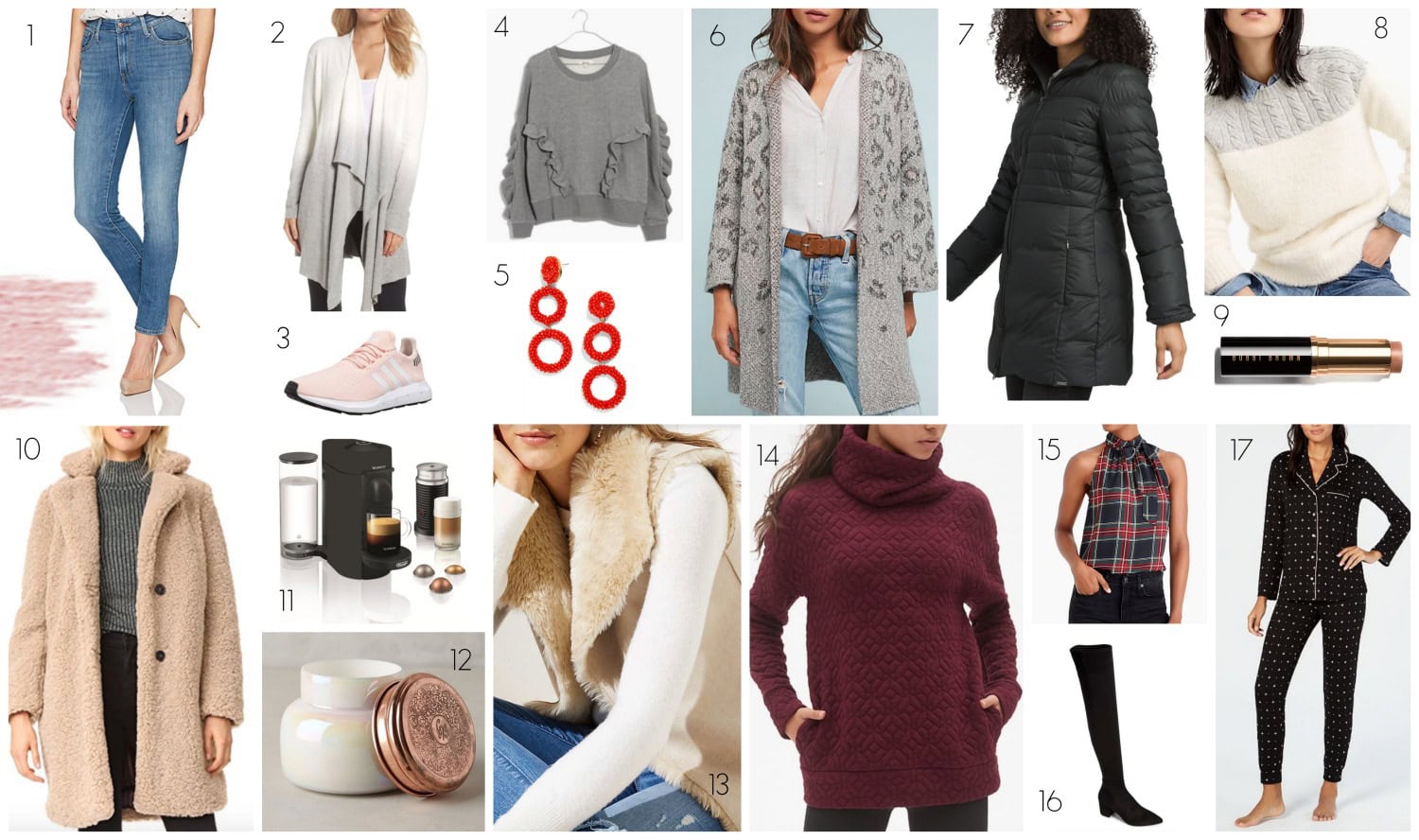 One | Two | Three | Four | Five | Six | Seven | Eight | Nine | Ten | Eleven | Twelve | Thirteen | Fourteen | Fifteen | Sixteen | Seventeen
Top Black Friday Deals
Amazon // The  Deals of the Day are in full swing! Make sure you also check The Motherchic Shop for gift ideas!

Target // It's DOORBUSTER TIME!! And get a 20% off coupon your next purchase when you spend $50!

Nordstrom  // Get up to 60% off at the CYBER6 Sale.

J.Crew // Get 50% off your purchase!!!

J.Crew Factory // Use code ADD2CART to get 40-80% off!
Social Threads: First 100 people to spend $250 get 40% off purchase with code: BLACKFRIDAY!! Now is the time to shop my CAPSULE COLLECTION if you've been waiting!
Get 20% off of all art from the LAA Art Collective!!
Macy's // 20% off Black Friday Preview with code SCORE and up to 25% off Nike for the whole family.
Loft // 50% off your purchase using code FRIYAY

Anthropologie // 30% off purchase!!

Madewell // 25% off with code DEALWITHIT
Backcountry // 50% off select styles and 25% off Backcountry Branded items.

Abercrombie // 50% off and free shipping!!!
Ann Taylor // 50% off everything using code BLACKFRIDAY

Gap // 50% off using code BLKFRIDAY and an extra 10% off using code TREAT

Old Navy // 50% off your purchase (no code needed)

LL.Bean // 20% off outerwear and clothing using code THANKS20
Lord & Taylor // Up to 40% off Pre-Black Friday Sale with code DEALS or $25 off orders of $200 using code BONUS
Urban Outfitters // BOGO 50% off mix and match items
Nike // 20% off select styles using code THANKS
Shopbop  // Buy More, Save More sale. 15% off orders of $200+, 20% off orders of $500+, 25% off orders of $800+ (use code MORE18)
Pottery Barn // Free Shipping using code FREESHIP, plus 30% off entertaining and decor items

Make sure you stalk my FACEBOOK PAGE because I'll be sharing all the of-the-moment deals there!
And lastly, a little thank you for being such wonderful human beings and sharing part of your days with me in this space. Here's a fun little giveaway to show my gratitude….