Welcome to The Motherchic Twelve Days of Giveaways!! This series is so fun for me to do because I get to share my favorite brands from the past year and give them away to some of you! I also get to feel like Oprah or Ellen for a hot minute, so there's also that. Sorry guys, no cars, but some seriously good giveaways coming your way over the next week and half. Make sure to check this page daily for the new giveaway of the day!
DAY 1// The Gift of Kiehl's
It's no secret Kiehl's is one of my favorite skincare lines! Over the years I've blogged about their overnight masks, line reducing serums and more! I am so excited to partner with Kiehl's to giveaway the ultimate bundle! One winner will receive ALL of the following items including the Midnight Must Haves, Skin Soothing Delights, Collection for a Cause, Men's Grab & Go Essentials, and Kiss Me with Kiehl's Lip Balm Trio – basically you (and your man) will be set for the year!!
Enter the Giveaway below!
Day 2 // $250 Gift Card to J.Crew Factory 
J.Crew Factory is one of the top five retailers that Motherchic readers shopped at this past year and for good reason! From velvet bombers (pictured) to gorgeous flowy maxi's – their styles are on trend and their sales are too good to pass up! One lucky winner will get a $250 gift card to J.Crew Factory! Check out some of my favorite new arrivals below and then enter the giveaway!
Day 3 // Daily Harvest – 9 cup delivery for TWO winners!
Breakfast? Who has time for that!? Enter: Daily Harvest. Delicious, nutritious pre-made smoothies that you just need to add liquid (almond milk/juice/water etc…) blend and go! You pour them back into the to-go cup with a lid and straw hole (genius) and take on the go. Abby on my team shows up with these every. single. day. Chia + Carrot is her fave (tastes like fall) and my personal favorite is Pineapple + Matcha. Insider tip: add more liquid for smoother texture and blend for at least 1 minute!
Enter the Giveaway here:
a Rafflecopter giveaway

Day 4 // Diff Eyewear
If you haven't heard, it's time you hear! Diff Eyewear is all about quality, price point, and charity. This socially conscious brand donates a pair of glasses in need for every pair purchased. And you guys, the frames are SO good. I am so excited to partner with Diff to give two winners a pair of glasses of their choice. I am wearing "The Bella" pictured below.
Giveaway Day 5 // Outdoor Voices
Oh you know, only one of the coolest "need to know" athletic brands out there right now. They believe in #DoingThings and moving your body and their ridiculously good workout gear is just added bonus. I have my own little collection of their color block tights and their "Kits" make a great gift for any fitness lover on your list. For this giveaway I've partnered with Outdoor Voices to give one winner $150 gift card to shop at their store!
Enter the Giveaway Below:
Day 6 // Framed Original Painting from LAA Art Collective | Artist Sal Panasci
For those of you who follow me on Instagram or have read my office tour post, you know that the LAA Art Collective has graced my walls with several of his beautiful pieces. Motherchic readers across the country have been purchasing his work – the colors are vibrant, happy and his story of becoming an artist is truly amazing (see below). For this giveaway, the winner will be able to choose from the framed pieces pictured below. One comes as a set of two and the second is a slightly larger singular piece.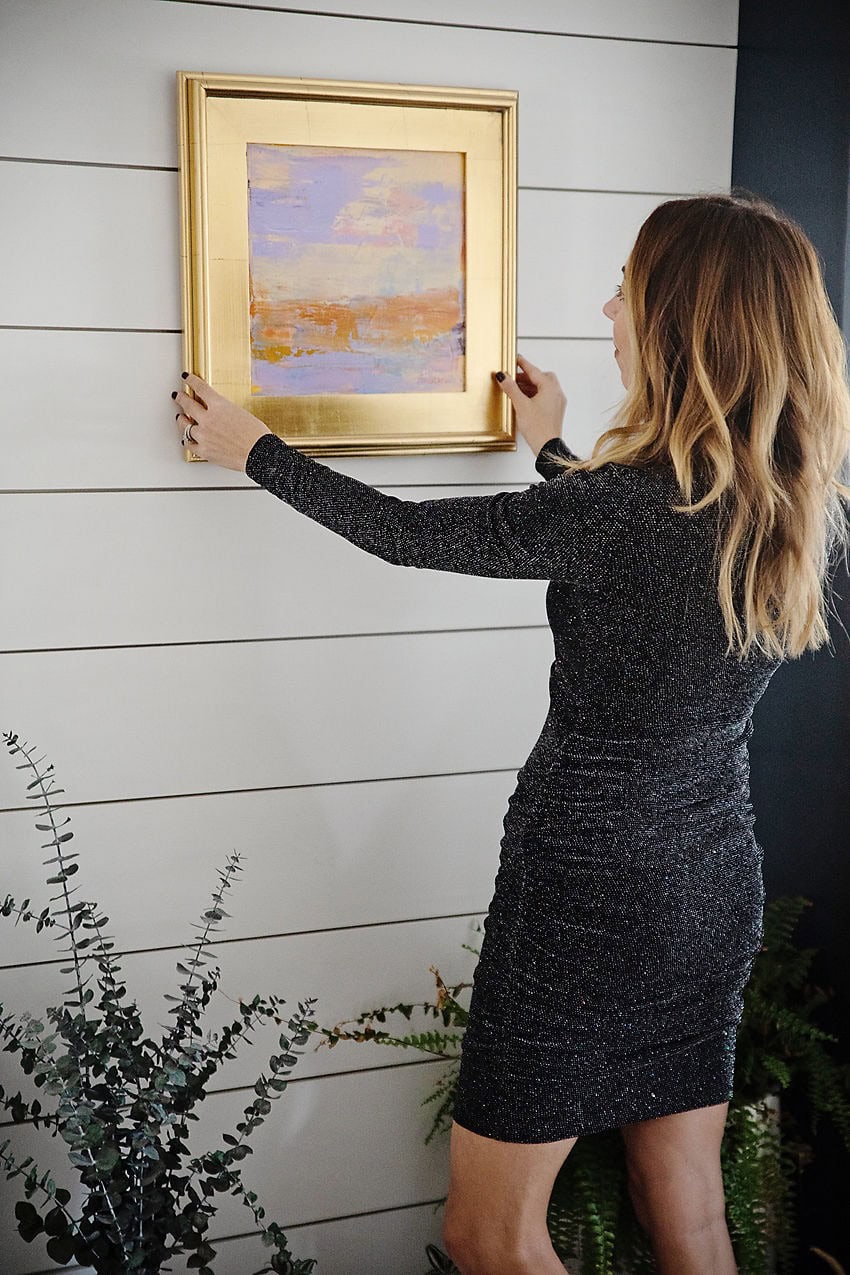 About the LAA Art Collective //  LAA Art Collective, is a multi-pronged business featuring art advisory, curation and a virtual gallery. The LAA Art Collective rotates original artwork pieces throughout The Motherchic Headquarters.
About Sal // Sal Panasci is a PA based artist. Following a career in advertising, Panasci decided to devote his energy into creating fine art pieces. This career shift occurred after a serious car accident and being reintroduced to art as 'therapy' as part of his rehabilitation at Bryn Mawr Hospital in PA. Since 1995, his paintings have been included in fine art galleries across the nation, New York, Miami, Fort Lauderdale, Los Angeles, San Antonio among others. He has also been invited to exhibit his paintings in Milan, Florence, Venice, Sicily, London and Dusseldorf.
Enter the giveaway below:
Day 7 // Luft Mattress
The winner from this giveaway is Dawn B.!!! For those who didn't win the giveaway, Luft is giving an *amazing* discount code to followers of $250 off a mattress of at least $499. Use code CONTEST250 at checkout to redeem! Code expires 12/21.
Day 8 // Addison Bay Loungewear Set
You probably know by now that I am a huge lover of comfortable, cute athletic and athleisure wear, so when I found out about Addison Bay (a new Philadelphia area online athleisure boutique) I was in activewear heaven. They carry *the cutest* sets and selection of swoon worthy brands. For this giveaway, one winner will receive a Lazy Pants Sweat Suit Set (over $200 value) – Sweatpants + Sweatshirt (pictured below)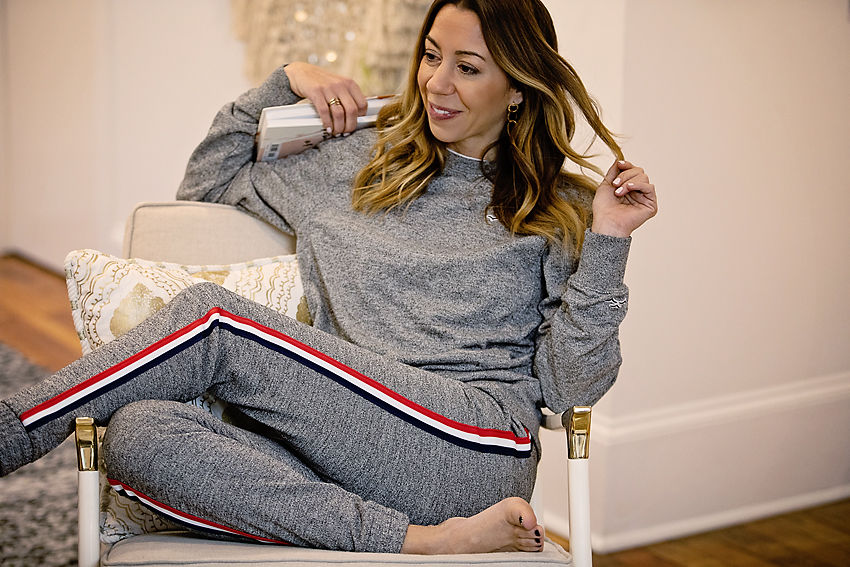 Enter the giveaway below….
Day 9 // The Ultimate Vital Proteins Bundle ($250 value)
No day is complete without a daily dose of collagen. I swear by the Vital Proteins supplements to maintain my youth from the inside out. As we age, collagen production slows and it also stripped from many foods when processed. It seems too good to be true, but Vital Proteins has perfected this magic beauty potion (ok fine, it's not a potion) and I've been a huge fan of them for awhile now. They even have a powder creamer to add to your coffee — how simple (and delicious) is that?! Vital Proteins collagen products promote dreamy hair, skin and nails as well as joint/bone health and improved sleep. I've teamed up with Vital Proteins to give one lucky winner the ULTIMATE bundle!! One winner will receive $250 worth of Vital Proteins pictured below! If you want to try these out for yourself (your body will love you for it), they are also available on Amazon.
Enter the Giveaway here:
Day 10 Giveaway // Social Threads
Have you guys heard of this little site called Social Threads? Of course you have because I L-O-V-E their stuff and I may or may not have done a little collaboration with them recently. Motherchic readers have been purchasing & loving their styles for quite some time, and one lucky reader is going to win a gift a $250 gift card to shop their store!!
A few Favorite New Arrivals:
Enter The Giveaway Here:
Day 11 // The Motherchic x L.Priori Jewelry 
What's pretty, sparkly & has a little personal touch from yours truly? I'll give you a hint: I've been wearing it all recently and collaborated with local Philly jeweler Lauren Priori on it. Yep, one *super* lucky Motherchic reader will get to choose any piece from our new jewelry collection!!! This collection means so much to me, and to be able to gift a piece to one of you gives me all the warm fuzzies.
Shop the entire collection HERE
Enter the Giveaway Below:
Day 12 // $350 Gift Card!!!!
And on the 12th day she decided just to shell out some cash!  This last giveaway is not affiliated with any brand, just something from me to one of you. I am so grateful for all of the people that read this blog and happy to give the opportunity for one lucky reader to do some extra holiday shopping on me! In all seriousness, I wish everyone could win everything!
Because my email subscribers are so valuable to me, being an email subscriber is required for this giveaway. I promise my emails are fun and I only send them out when a new post is up on the blog! Social media is so fickle these days and email is the only way you can make sure that you never miss a post! I also would love to see some of my Facebook fans over on Instagram! I share a lot of day to day stuff in my stories and it's a way for me to show another part of my life with all of you! Use the form below to enter and follow/subscribe on the platforms mentioned above!
I wish you all the best holiday season and good luck!!
Enter the giveaway below….