If I think long and hard about my Greatest of All Time (GOAT) moment outdoors, I really don't need to think long and hard at all. I am in my happy place when my boys and husband and I bundle up and sit around the fire pit on winter nights listening to great music, spending time together, and roasting marshmallows, obviously. These are the days, so they say, and it's an activity my entire family can enjoy given their current ages. Sure, in a year or two our greatest of all time moment outdoors might be skiing or snowboarding or white water rafting (kidding, I am way too much of a nervous mom to do that!), but we have a few years until we can all do these activities as a group. So right now, my happy place is right in our little backyard haven.
Backcountry, as you all know by now, is my place for all the warm layers and I am so happy to share that you can get 15% off your first order with code LINDSEY15. Backcountry is the expert in outdoor apparel and you can bet the only way I will partake in outdoor activities is if I'm toasty warm. I'm a mittens girl and this cute little cable knit beanie by The North Face are perfect for everyday wear and nights by the fire.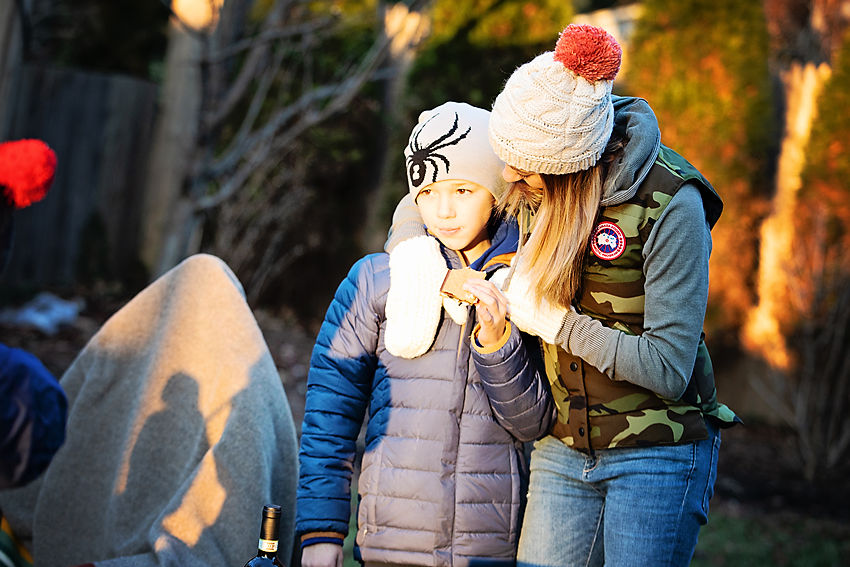 And because I like to try brands for the sake of the blog, I had to see what all the rage was about Canada Goose – three words: snug as a bug. Ok that was four words, but if you are all about the warm factor this brand brings it big time. The vest is that perfect extra layer when you don't want to feel confined by a full puffer for things like helping kids putting marshmallows on sticks. You need full range of motion for such tasks. However, if you are in the market for what just may be the world's warmest jacket, you can see the full selection here. And, if you are looking for a less expensive option but also mega warm, I would suggest The North Face line. I have and love this one. Columbia is also super reasonably priced and their standards for warmth are v. high.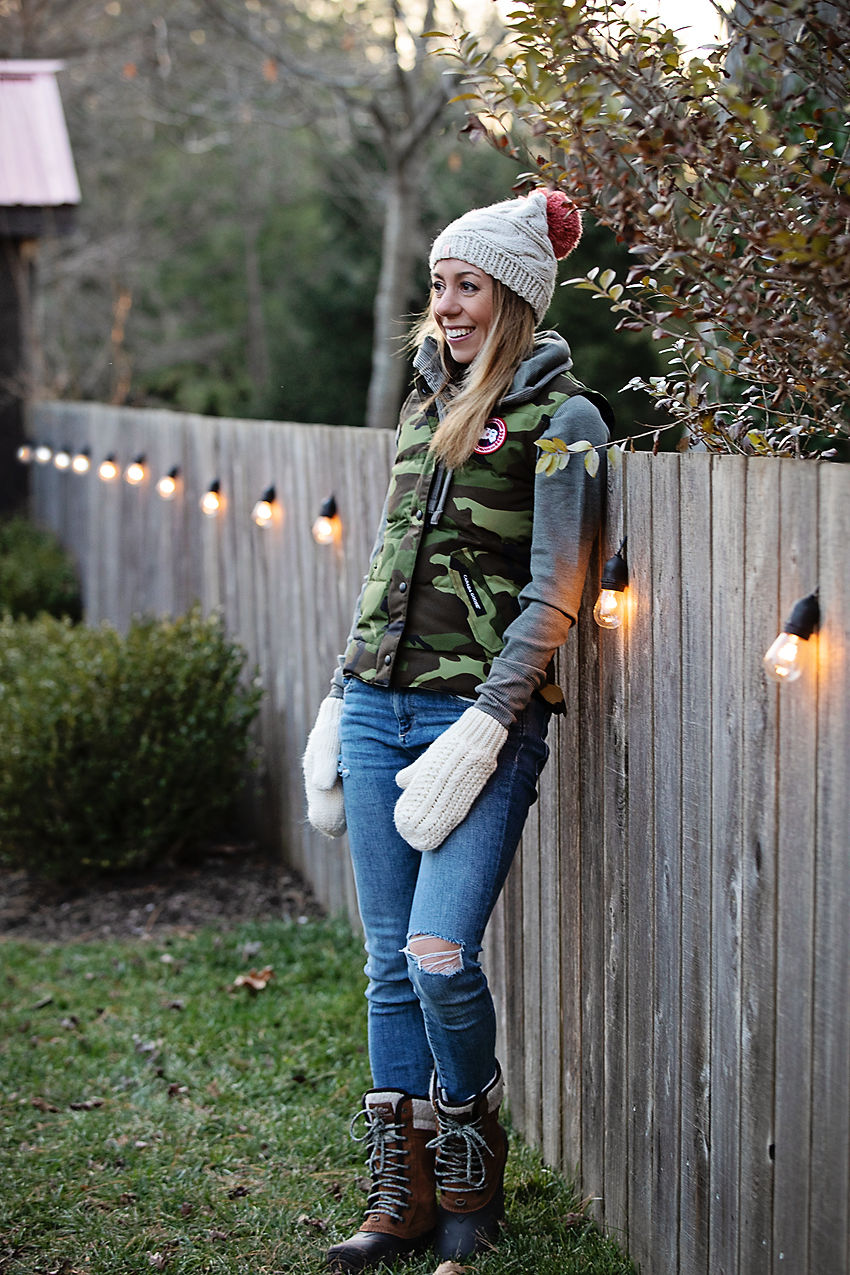 These here are my waterproof winter boots. I love these because they are not super heavy and I am actually able to drive in them unlike other brands I've tried. They have great insulation and the knit top is fashionable and super comfortable!
And in terms of "accessories" that make the night – a cozy outdoor blanket is a must. This one is by Pendleton which just means the quality and craftsmanship is not even a question. This makes a great gift for people who are impossible to shop for! And another essential accessory – Yeti wine tumblers. Also makes a great gift for, well, for basically anyone… am I right?
Nothing gives off more off the warm fuzzy feelings, then moments like this…. now if someone can just refill my Yeti and crank up the tunes and drop off another bag of marshmallows (how many s'mores is too many s'mores?!), all is right in the world in this very moment.
Wearing:
Camo Vest (comes in many colors, size up) | Prana Hoodie | Boots | Hat | Mittens | Jeans
Pendleton Blanket | Yeti Wine Tumblers
Boys Wearing: 
#1 // Navy Columbia Jacket | Spider Hat
#2 // Blue Marmot Jacket | Under Armour Hat
#3 // Color Block Columbia Jacket | Patagonia Hat
#4 // Camo (Reversible) The North Face Jacket | Red Hat
If you are running low on gift ideas, the gift of being warm outside is HIGH on my list so might I suggest a few of these giftable items below….
The Gift of Warmth
Thank you to Backcountry and ShopStyle for sponsoring this post.