To stay in or go out…. that is always the question, right? Personally I like to stay in because, ok well to be perfectly honest it's almost impossible to find a sitter on New Year's Eve, ha! And another truth: I'm not mad about it. We love staying in with our kids and making it a fun family night – a little pizza making, a little game playing, a little drinking sparkling cider out of champagne flutes (and a lot of freaking out about my kids breaking them)…..trying to keep my eyes from blinking shut before midnight. Love you Ryan Seacrest, but let's move this along please! 
Whatever your night looks like, we have an outfit for that and no matter where you spend your evening, may there be laughter, love, and a whole lot of sparkle!
Let's Stay In….
True, you could just wear your pjs, but a special night warrants stepping it up a notch in the form of a cheeky sweatshirt and #extra slippers.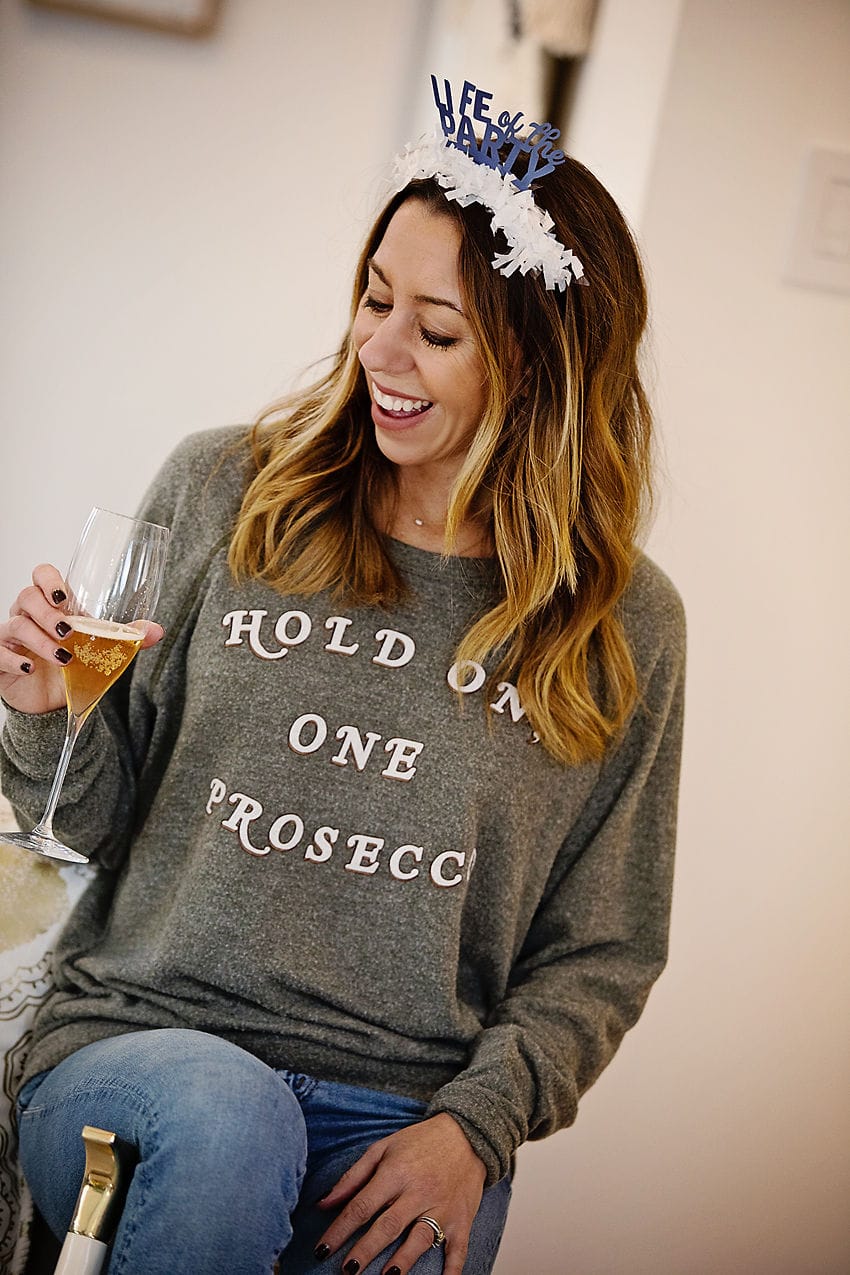 Let's Stay in……. With Friends (!!)
What is arguably the best of both worlds is to stay in…… with friends! New Years Eve is the perfect excuse to have another family over to pop the bubbly. It's fun to get dressed up even though you aren't venturing out of your own kitchen, but you still want to be comfortable. I would dress up jeans with a sparkly top and fun shoes…. and go all out with party decor!
Going OUT with Friends:
If by some stroke of luck you get a sitter AND got a reservation then you are clearly winning at life. New Year's Eve is the chance to push the limits in the most fashionable way possible – like a leopard faux fur jacket that is as awesome as it is warm and comfortable. Layer it over something lux like a velvet tank, dramatic earrings, and walkable sock booties so you can bar hop like it's nobody's business.
Going All Out:
When in doubt, SEQUINS! Yes, you've all seen these next two looks before, but NYE is the perfect time to break them out…..
Shop our Entire New Years Eve Outfit Edit: