HOW are we here at the start of another year? HOW?! The only thing to do is just go with it, right? We have (eeek!!!) so many exciting things in the works in Motherchic land for 2019 and I can't wait to start sharing all of them with you soon. In the meantime, a little Q&A is always a fun way to start the year. Make sure you are following on Instagram – all of these questions are from a slide I posted on my stories! If I missed anything or if you have any further Q's, leave a question in the comments. Here goes…..
How do you find the time to workout with kids, the blog, etc…. Literally when do you do it during the day?
This is something I struggle with just like everyone else. In my head I should wake up super early but that would require me to go to bed earlier and my kids to sleep through the night etc… No two days for me are ever the same which is probably where my problem lies! A little routine with specific time set aside to work out is what I need and think most people would agree. Honestly I probably only work out 3 times per week, max. I do online yoga (you can now try first 30 days free), I try to get to one yoga class in the studio, and I just got a Peloton bike so hoping to do at least 2 workouts on the bike per week as well. Most of this happens around 9:30am after everyone is off to school. Yes, it cuts into my work day, but my theory is that it makes my brain sharper and thus I am more productive?!
Can you recommend some cute/stylish Disney trip tees?
Sure thing! I did a post here on what to wear to Disney, but in case those are sold out any of the following below would look really cute with jean shorts, joggers, or skirts!
Do you actually get any sleep with 4 boys? I only have two and need hope that it gets better with age.
Yes! Not the best sleep in the world, but it will come with time. Most nights everyone sleeps through the night… and of course those are the nights I am wide awake wondering why no one has needed me yet haha! The first year is a doozy, but after that it should get better… hang in there!
Who takes all of your pics? They are always great!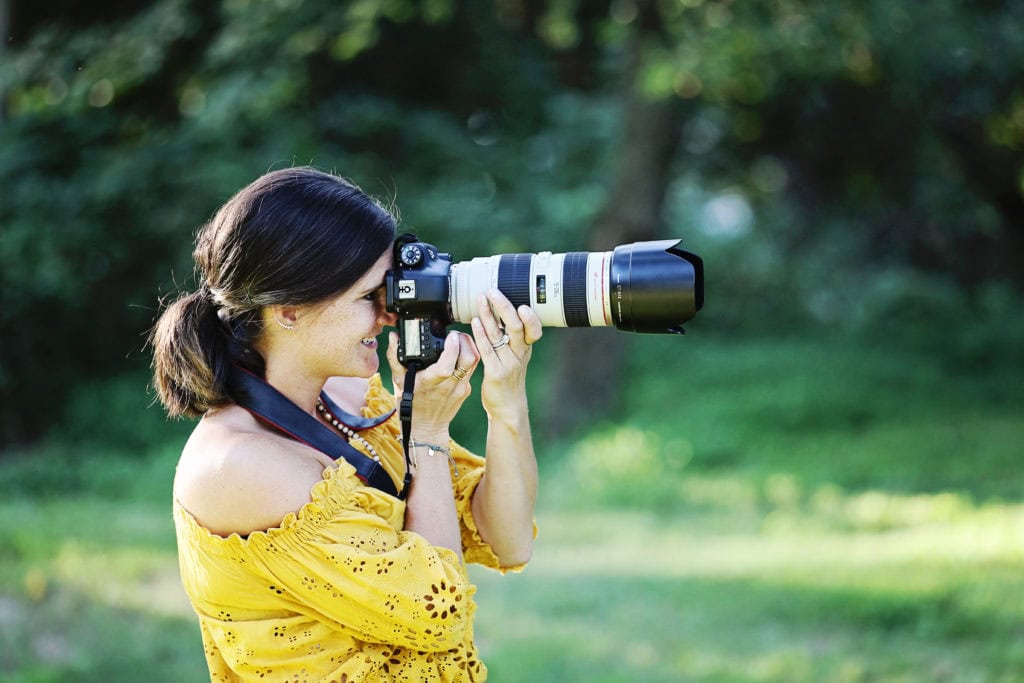 Alison from Alison Cornell Photography takes my photos! She is one of the most awesome human beings that ever did exist and also does family portraits, newborns, headshots etc… if you are local! Check her out on Instagram here to see more of her work!
What does your husband do?
He loves me unconditionally. Jk that's what he told me to write 😉 He is an accountant who does M&A…..or if you ask me, he looks at at lot of spreadsheets.
Do you get to keep all of the clothes you show on social?
Yes I do and it's a major job perk until you start running out of room! I am so lucky to work with brands that send me clothes and I have partnerships where I am able to select clothes for campaigns etc…. I do also buy clothes on my own and always keep the ones that are staples and/or are always in stock. Unfortunately I get some unhappy readers when I link to something that isn't exactly what I'm wearing so if something is sold out I either send it back if I haven't worn it yet or sell it or give it to my sisters. I do have a Poshmark page that I will hopefully be adding some new stuff to soon!
Best advice on building an Instagram business?
If you asked me a year ago, I would say to create a cohesive feed that is on brand. But if I think about the content that performs the best for me, it is the "real life" content that people connect with. I guess it all depends what you are after, but posting consistently, interacting with your audience, finding your niche, being genuine and relatable all play equally important roles. Yes, cohesive feeds are pretty to look at, but not sure that is the most important thing anymore. My top 9 photos of 2018 are pictured above if that is any indication of what people are engaging with….
How tall are you and what size do you wear?
I am 5'4, and wear 0-2 dress, 24-25 jeans depending on brand, and xs tops.
Will you have more kids?
If I didn't have to be pregnant again…maybe? In all seriousness, I loved being pregnant, just not sure I could parent 4 kids without wine 😉 Ok ok kidding again! We just took down our crib, got rid of the bedding, and I have my pack n' play in a "donate" pile. We are so lucky to have four healthy, beautiful boys so, yes, I think we are done.
What's your go-to most versatile piece?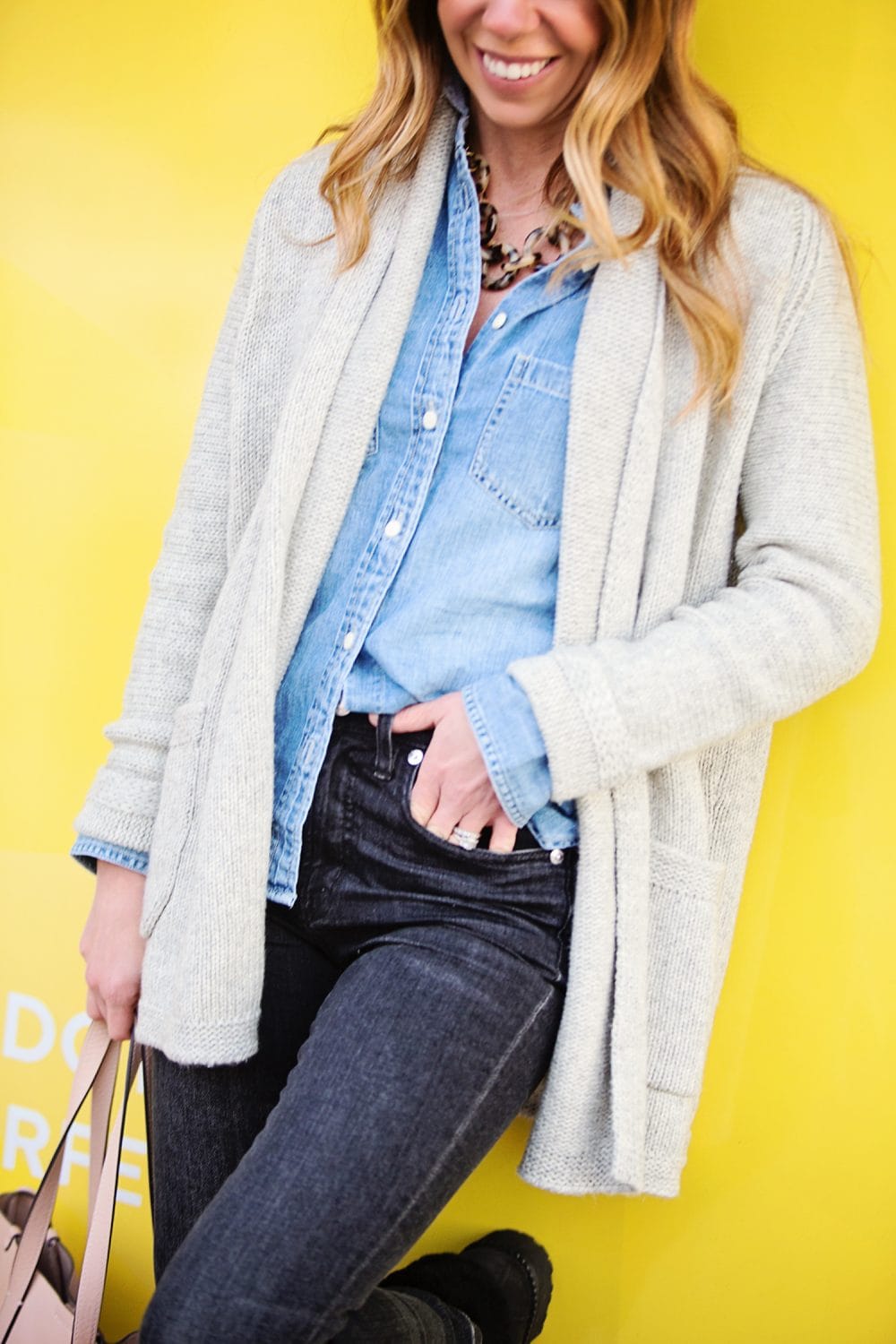 Probably a chambray shirt. You can wear it with jeans, leggings, tie it up and wear it with a skirt, also looks great with white shorts in summer. It really just works with everything. A few favorites below…
You wear a lot of distressed jeans. Do you find them cold in the winter?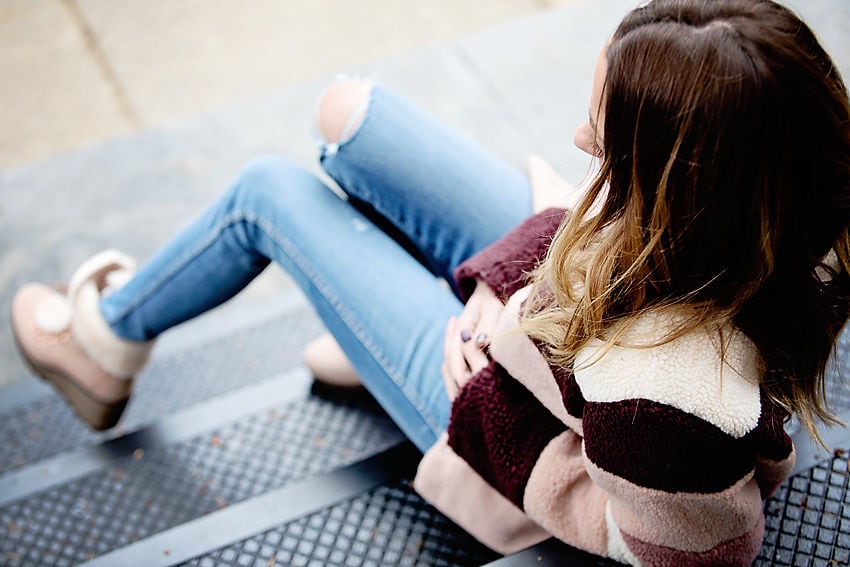 Shearling Jacket | Cashmere Sweater | Boots | Jeans
Now that you mention it, YES! Haha. Sometimes I'm willing to brave the cold because I love them so much….Below are some of my favorite jeans of all time!
How do you style an Apple Watch?
I just got one so I'm still playing around with it! I've been wearing it with my Dutchy Bangle and I really like that combo. I think it works best with a more delicate bracelet because they are so bold.
What do you wish you knew before becoming an entrepreneur? I am embarking on that journey.
I love this question! I wish I knew that having your own business means it will consume your life. There is no off button. There is no true "vacation". Not a day goes by that I am not checking in with things or writing posts. It is truly 24/7. Having a team helps with this significantly, but when it's your own thing, you can't help but want to oversee everything….and that is the best part of it at the same time. Whatever you put into it, you will get out of it and that can be very rewarding. I love that I can be home every afternoon when my kids get off the bus, and resume work if needed when they go to bed. Ok fine there is ALWAYS more to do, but I truly enjoy it and *most* days it doesn't feel like work at all.
…….And that's all I've got!! If you are new here make sure you get on the email list so you don't miss a post!
xx,
Lindsey