The highly anticipated Capsule Wardrobe Post is here! There is some statistic that we only wear about 20% of the items in our closet. The concept of a capsule wardrobe helps you narrow down your closet so that you can wear 100% of your clothes! Trying to pair down your closet is always the hardest part, but we have done some of the legwork for you. Do I have a capsule wardrobe? NO. But for those who are interesting in getting rid of the clutter, I scoured my own wardrobe and came up with a collection of my most worn staples. These piece are the most useful and versatile meaning you can mix and match them to create countless outfits. In the past we have focused on utilizing basic items (think white tees and skinny jeans) but for this capsule we wanted to challenge ourselves by adding a few more fashion pieces and prints! Yes basic tees and skinny jeans are still included, but this capsule is far from #basic.

We attempted to narrow down to our favorite 20 apparel items which we found to be more than enough to create endless outfitting options. We mixed in a few pairs of shoes and handbags to complete each look. For this season we were excited to add in some polka dots, animal print and fall florals. The prints proved to be the punch that this capsule needed. Every capsule collection should start with some versatile basic pieces but be sure to have fun with prints, unexpected layers and silhouettes! Let's kick it off with all the outer layers!
Capsule Wardrobe Staple: Utility Jacket
This jacket was a clear winner! Pair it over any top to add an extra layer of warmth and cinch the waist to create more of a fitted look.
Jacket | Henley | Printed Shirt | Flannel Shirt | Jeans
Capsule Wardrobe Staple: Cardigan
This cardigan was so easy to dress up or dress down and paired perfectly with all the tops in the capsule. The subtle touch of pink gave it that little #extra touch of femininity. We took this cardigan from day to night.
Cardigan | Tank | Jeans | Necklace | Bag | Booties
Cardigan | Dress | Belt | Heels
Capsule Wardrobe Staple: Blazer
For work or play this blazer was the cherry on top of a basic outfit. We love love oversized silhouette but roll and scrunch the sleeves for a more fitted look.
Blazer (sold out but similar here) | Turtleneck | Necklace | Jeans | Clutch
Blazer (sold out but similar here) | Tank | Necklace | Jeans | Clutch
Capsule Wardrobe Staple: Denim Jacket
The denim jacket is usually my go-to for over anything! From t-shirts to dresses to jumpsuits this casual jacket adds a layer of pulled-togetherness.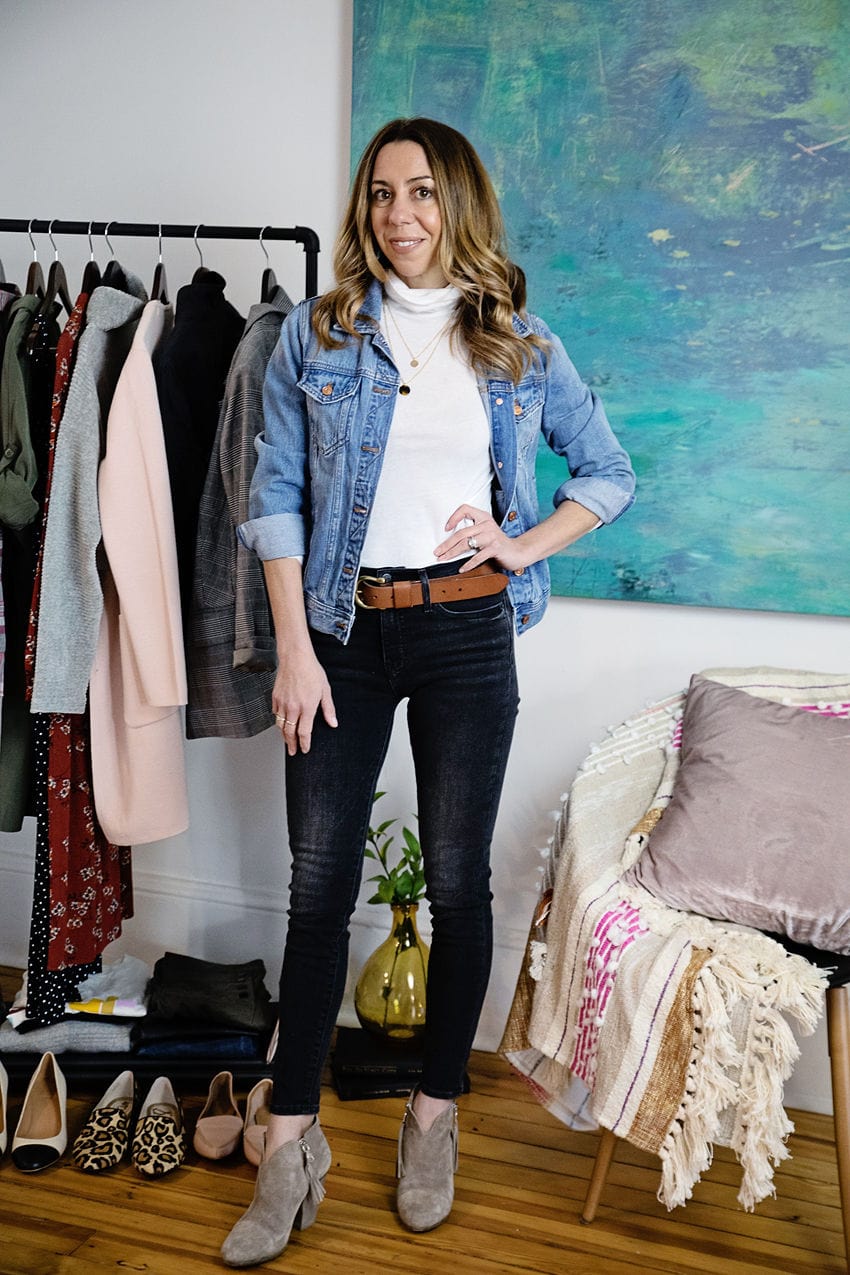 Denim Jacket | Turtleneck |Necklace | Jeans | Belt | Booties
Denim Jacket| Dress | Belt | Necklace | Booties
Denim Jacket | Jumpsuit | Bag | Booties
Capsule Wardrobe Staple: Pullover Sweater
A fitted turtleneck sweater is no-brainer. And while we would usually pair with jeans we mixed it up by outfitting with a refined pant and popped it on over a dress.
Sweater | Pants | Loafers | Bag
Capsule Wardrobe Staple: Oversized Sweater
And for those days when you just want to wear something cozy and warm an oversized sweater is a must have! We dressed up the sweater by pairing it with leather leggings. For a more casual and layered look we threw it over a flannel and jeans.
Sweater | Leggings | Booties | Clutch
Jeans | Flannel Shirt | Booties
Capsule Wardrobe: Style Hacks
This Capsule Wardrobe wouldn't be complete without some easy styling tips and a little imagination to extend your wardrobe. Here are 5 tips to make the most of your capsule wardrobe.
1// A lesson in layering! Extend the life of your jumpsuits and dresses by layering a turtleneck underneath.
2// Use accessories! Don't be afraid to experiment with new shapes and lengths. This shapeless midi dress was totally transformed with the addition of a belt.
Dress | Belt | Necklace | Booties
3// Repurpose your shirt-dresses! This shirt dress went from dress to tunic to jacket! With a little imagination your outfit options can be endless.
Dress | Leggings | Booties | Black T-shirt
4// Basics are not boring. The basics items in your closet are always the most worn, but don't forget you can wear them together for a totally chic look. And if leopard is a neutral than it most definitely a basic 😉
Turtleneck | Jeans | Necklace | Bag | Loafers
This white blouse is the perfect layering staple, but also happens to look great on its own!
5// Mix it up. A casual graphic tee breathes a new life with a refined pan. A patterned blouse dresses up distressed denim. An athletic top can be paired with jeans for an on the go look. Don't be afraid to mix up casual with dressy to create new looks from your capsule wardrobe.
Patterned Blouse | Jeans | Flats
Pullover Tunic | Jeans | Sneakers
Shop the full capsule wardrobe here…
Here are some of our top picks for must have basic items…
All of our capsule wardrobe looks here…
Want to see more capsule wardrobe posts? Check this one from last year and this one from two years ago!