Love is in the air, my friends! Whether you're celebrating this Cupid-struck holiday with your significant other, your friends, or with a bottle of wine (no judgement here) there is good reason to bask in that warm, fuzzy feeling. Yes, everyone else around the world is also receiving a dozen roses or a box of chocolates but don't let that take away the focus of what this holiday is about — remembering the core reasons why you fell in love with your spouse, the first moment you saw your kids being born and instantly fell in love, the first day your brought home your dog (fine, or cat), your best friends that have been there for you through *literally* everything, or the face you see in the mirror everyday that you kiss and say "Bye, beautiful!" (girl, that's you!). Sounding mushy yet? I think you understand how I feel about this love-ly holiday.
Here's the million dollar question: what do you GET for people (more importantly, what do you hint for)?! It's like Christmas, but instead of red and green everything is red and pink. And full of hearts. And cheesy cards. And delicious chocolate. But between all of that goodness, and no matter how many times you mutually agree with your husband that you're NOT doing gifts this year (Note to husbands: never trust that logic. Ever.) you still want to get him something. So fear not, ladies, I've curated a gift guide not only for him and your kids, but for you…and your girlfriends, sisters, mom, etc etc.
Valentine's Gift Ideas For Her
The cutest little gifts to let your mom, sister, daughter, BFF, whoever it may be, know that you adore them and they only deserve the best. Then send this over to your husband until he gets the point 😉
Edgy Gal// Because black diamonds/stones aren't just for skiiers.
Classic Stunner// The perfect, dainty layering necklace to the rest of your collection. Goes with everything!!
Coming Up Roses// Mmmm…do you smell that!?
Personalized// This artist offers custom painted wedding bouquets #melting
Luxe Love// La Mer is the most luxe and yes she will love it.
Perfectly Practical// Something that she will use everyday… and think of you when she does <3
Totally Unexpected// A femme necktie scarf that can double as a headband or wrapped around your wrist is the ultimate "thinking of you" gift.
More Gift Ideas for Her Here…
Valentine's Gift Ideas For Him
Get the lucky guy in your life something he really wants for Valentine's Day. A golf-themed grill set? Hole in one. A nice red, plaid shirt? Check. A Yeti to keep his coffee warm? It'll warm his heart.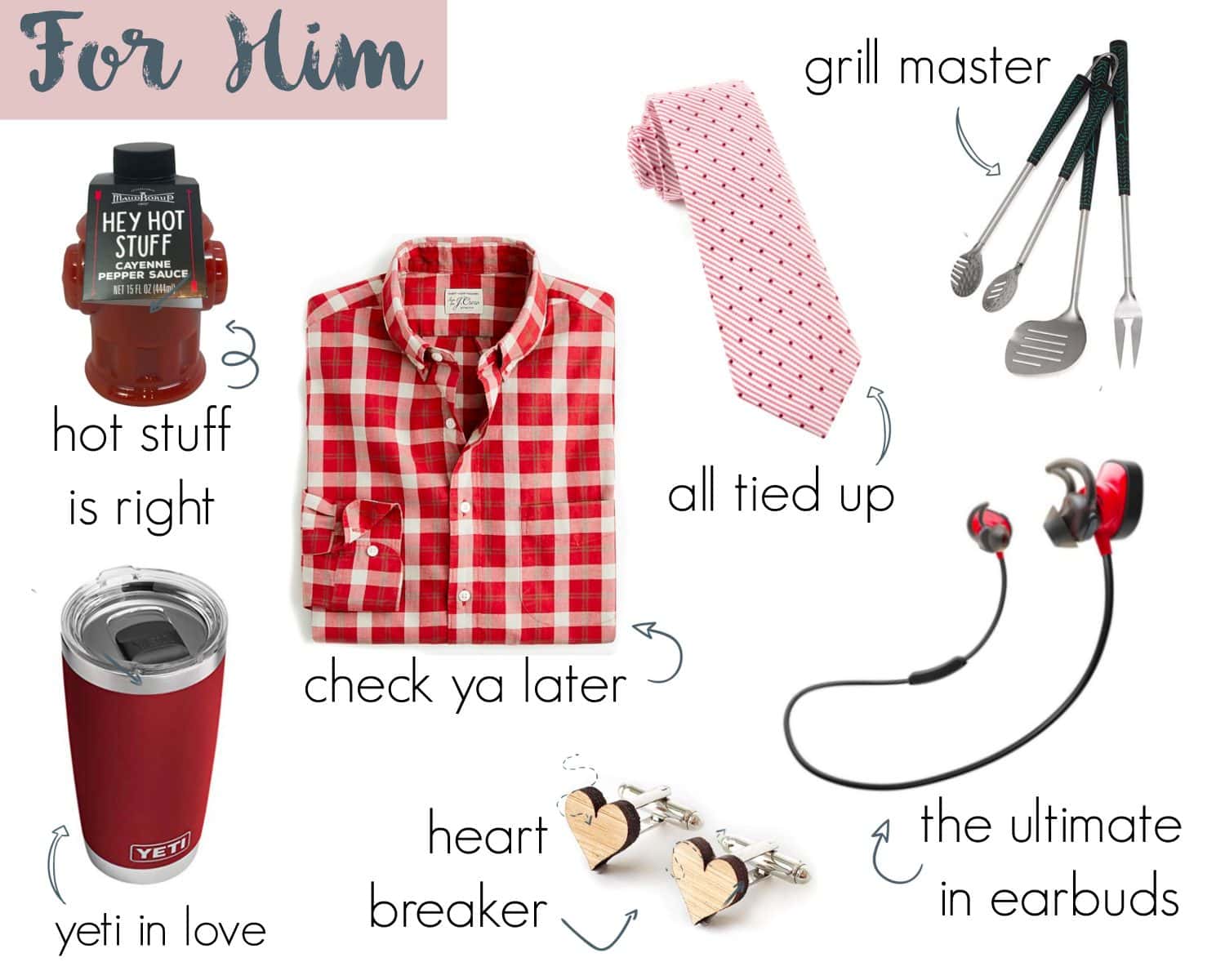 Hot Stuff is Right// Moy caliente! Because what guy doesn't love cool hot sauces?!
Check Ya Later// A check a day keeps the doctor away. Or something.
All Tied Up// Give him something he can wear on your night out for this holiday AND to the office.
Grill Master// Even if his handicap is questionable, he'll feel right at home with this golf-themed grill set.
Yeti In Love// Need I say more?
Heart Breaker// Ok how CUTE are these cufflinks?!
The Ultimate in Earbuds// A gift he will be ever so thankful for!
More Gift Ideas for Him Here…
Valentine's Gift Ideas For the Kids
Let's face it…kids are the center of our worlds, no matter how hard of a time they may give us or the number of refusals they give for going to bed. Let them know even more just how much you adore them with a love-themed token of appreciation.
L.O.V.E// Have fun celebrating with a cute, festive balloon.
Just as Sweet// Decorative sugar cookie kit! Just make sure they make you one.
Glitter High// Better than a sugar high?
Cool Kicks// Hearts on the side, hearts on the tongue.
#Truth// If you always teach them this, they'll be set for life<3
Llama Love// I mean, any book including llamas is a winner in my book (and my kids).
Hydrate with Love// Unicorns FTW.
More Gift Ideas for Kids Here…