It all started with the bootcut jean. Someone… and I am not naming names… said it was coming back. So I did what any ordinary girl would do. I asked my friends. And when I say friends I mean YOU. Yes, I consider all my readers my friends. My little community or village or girl gang, whatever you want to call it. And what did you tell me? You told me that not only did you want to see bootcut jeans, but you wanted to see wide leg jeans, flare jeans, skinny jeans, ripped jeans, boyfriend jeans, girlfriend jeans, jeans you can wear to work, jeans you can wear on the weekend, jeans, jeans, jeans.
So I went to my closet and pulled out all of my jeans. Funny thing is I didn't have a single pair of bootcut jeans. So off to Nordstrom I went. And then I stopped by Madewell and J.Crew. And possibly did a little extra toilet paper shopping on Amazon. And came back with the not only bootcut jeans but a few other styles as well. But with all these jeans the next question is always but what shoe? Are you seeing that this is turning into when you give a mouse a cookie? Before I go down that rabbit hole I present to you our denim edit with all the fixings (meaning tops and shoes to match!!).
The "Mom" Jean
Is it just me or are you still not sure why these are called mom jeans? I guess it's better than the name that Levi's gave them, which is "The Wedgie". Here are the stats on this fashion forward (or fashion rewind) style:
Vintage Inspired, High Rise, Straight Leg Fit with slight distressing
Rigid denim allows for little stretch
Pairs best with sneakers and a graphic tee for everyday
Try them out with a heel, cami and oversized blazer and try not to photographed by the paps
Oui Tee | Mom Jeans | Sneakers
Get the Look:
The Straight Leg Jean
The more relaxed skinny jean but just as versatile. If you are a little hippy then a straight leg will be super flattering. The straight leg is a silhouette to try if you are not quite into boot cut, but looking for something other than skinnies.
Mid Rise, Straight Leg Fit (that hugs your curves) in a medium wash
Pair with a heeled bootie or wedge sandal for some extra height
Half tuck or full tuck a blouse to create a fit point at your waist
Look for a raw edge hem for a more modern take on the style
White Button Down | Straight Leg Jean | Booties
Get the Look:
The Bootcut Jean
This was the jean that started this post… so I had to test them out. And in all honesty, they were not my favorite because the fit wasn't right. In this specific pair I should have sized down and still feel that finding the perfect height shoe is imperative. If you are still feeling the bootcut jean, make sure you have a good tailor to hem the length just right! A winning pair will make your legs look a mile long!
Mid Rise, Subtle Bootcut fit in a stretchy denim
Size down if in between sizes
Pair with a pointy toe boot or heel
Keep it classic with a slim pullover and of course a half tuck can't hurt
Sweater | Bootcut Jeans | Heels
Get the Look:
The Flare Jean
These really should be called the "legs for days" jeans. This high rise flare jean makes me feel so #extra. But also has this strategic side slit, to show off your heels of course. These flares were a bit more polished and could work for any work to weekend look.
High rise, Flare with side slit
Stretchy denim fabric in dark wash, fits true to size
Pair with feminine blouse and a heeled sandal
Test the limits with a bodysuit or trendy blouse
Polka Dot Bouse | Flare Jean | Heels
Get the Look:
The Crop Flare Jean
Love'm or hate'm … the crop flare is here to stay! I personally love this silhouette because it is so different than my everyday skinnies. I think the extra flare balances the booty and the crop allows for more shoe options! Yes, this silhouette can be trickier in the winter (aka cold ankles) so save them for spring and summer to wear with wedges!
High Rise, Crop flare with raw edge hem
Medium Wash with front pockets, fits true to size
Balance the look with a feminine top for a boho feel
Add a wedge or fun sandal for a casual look
Floral Blouse | Crop Flare Jean | Wedge
Get the Look:
The Boyfriend Jean
To be specific these are a slim, ex-boyfriend fit. Which makes them a little bit more polished than a true boyfriend jean, but sometimes I think that silhouette can be overwhelming. I love a more slim relaxed fit and find that it can be very versatile (and did I say comfortable).
Mid Rise, Slim Fit silhouette in medium wash
Add a roll to the hem for a little extra styling
Pair with heels or even flats
Did someone say leopard? Pop on your favorite print for a GNO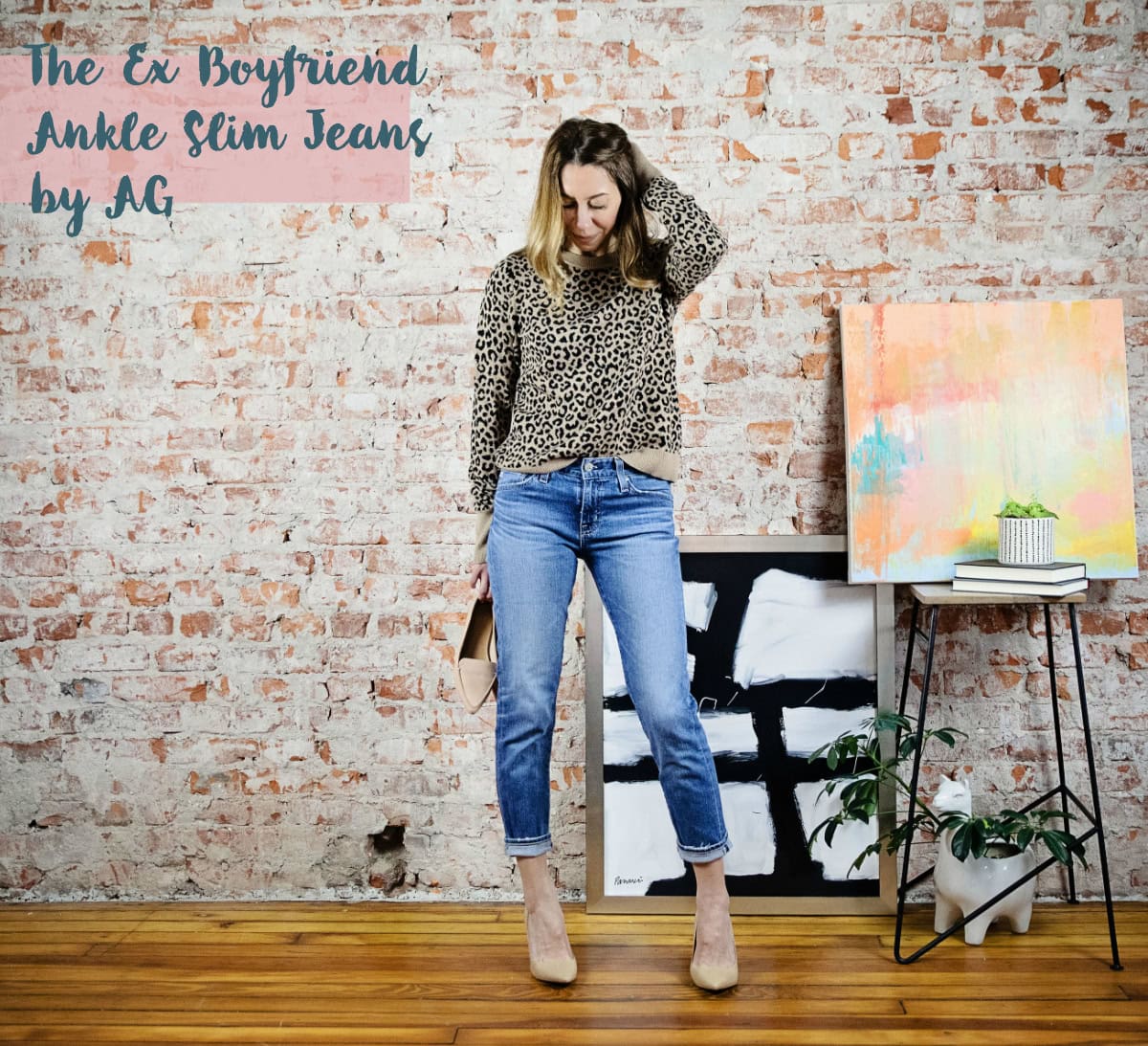 Sweater | Boyfriend Jean | Heels | Flats
More Boyfriend Jeans
The Wide Leg Crop Jean
High Rise, Wide Leg with chewed hem
Pair with a sandal, steer clear of anything with an ankle strap
Pop on a graphic tee and opt for a full tuck
Step out of your comfort zone with a cropped tank or sweater
Oui Tee | Wide Leg Jeans | Sandals
Get the Look:
The High Rise, Button Fly, Raw Edge Skinny Jean
That title was really just a fancy title for… my favorite jeans. I love the skinny fit because they really go with anything. I tend to look for something that hits above my ankle (for more shoe options) and a little extra detailing. In this case the button fly and raw hem make these different from well… my other skinny jeans 😉
High Rise, Button Fly, Raw Edge Skinny
Size down if in between
Pair with literally everything! Sneakers, booties, flats, heels!
White Button Down | Skinny Jeans | Sneakers
Get the Look:
The Distressed White Jean
While this silhouette is v. similar to the last I really wanted to include another color. I love playing with shades of grey, black and white jeans (usually in the skinny silhouette). Again anything goes with these but I do love pairing my colored denim with more denim, meaning chambray.
Mid-rise Skinny with raw hems
Fits true to size
Pair colored denim with chambray for a fun yet classic take on the Canadian Tuxedo
Chambray | White Jeans | Wedges
Get the Look:
Still need more denim options? Check this post for denim under $100 and this post for more favorites!