One could argue that it's the shoe that make the outfit. Or one could argue that the shoe makes the outfit, but only if you let it. It is hard to compete with a leopard print skirt after all. One of my "secrets" for putting together an outfit in a pinch is to go with basics i.e. jeans and a white top, and have a variety of awesome shoes to make the outfit more styled or more "wow", if you will. With spring weather so close we can taste it… ok not really (currently looking at snow), I thought I would share some of my favorite outfit making shoes from Nordstrom. Let's be honest, my closet is full of shoes from Nordstrom but their new arrivals always get me. And because I know it's hard to buy now and wait to wear them, I also included some shoes for those tricky transitional months.
The Espadrille Wedge
Wearing: Sam Edelman Espadrille Wedge (true to size) | Shirt | Jeans
This isn't just any espadrille wedge. There are three main reasons I love it. The two tone straps, the platform that adds height without discomfort, and they are actually pretty light. I feel like I will wear these all spring/summer. And for avoidance with doubt, these will be perfect with all of your dresses/skirts/maxis.
Shop more espadrilles here:

The Transitional Bootie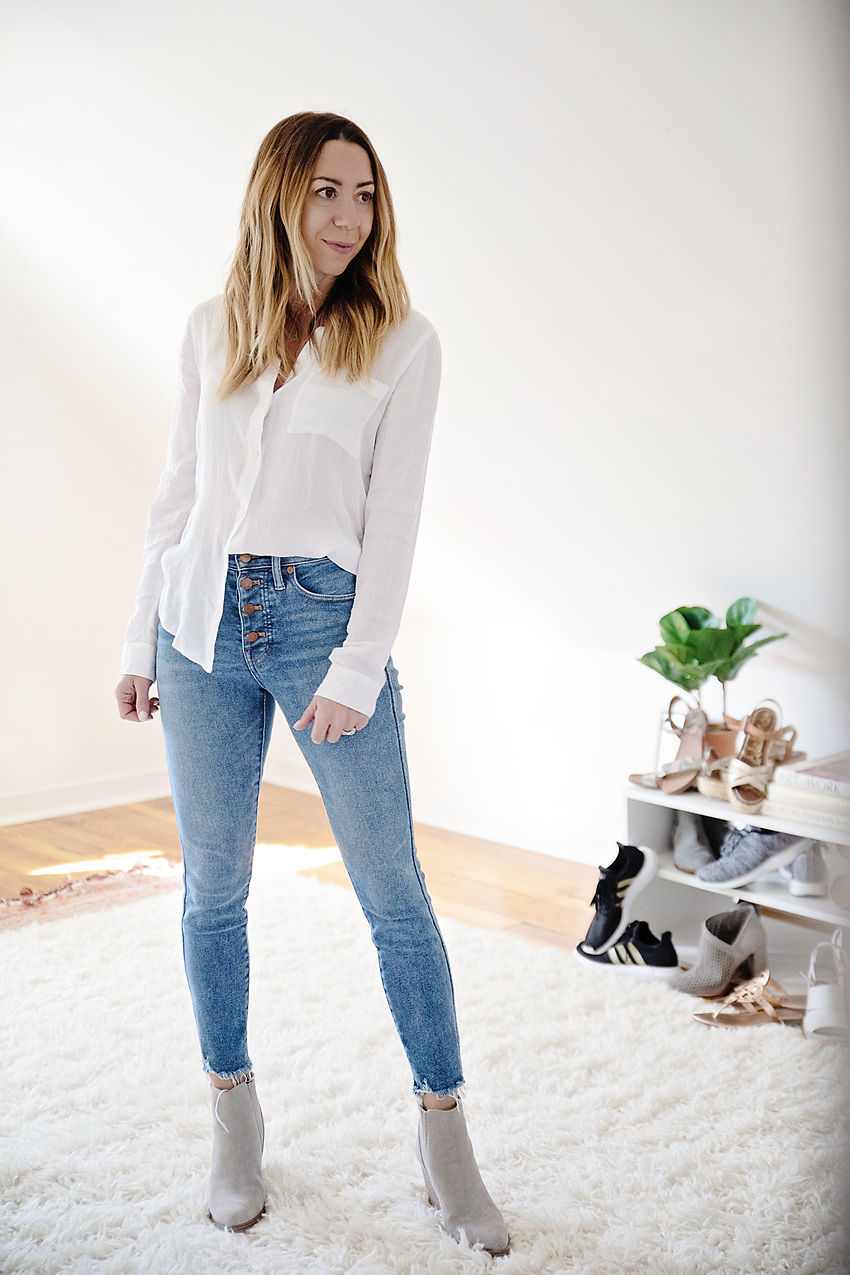 Wearing: Marc Fisher LTD Alva Bootie (wearing cloud beige, tts) | Shirt | Jeans 
Isn't this shoe a beauty? The lighter (and oh so chic) color can transition right into your spring wardrobe. Off the cuff I envision pairing these booties with a floral print, ruffle wrap dress and denim jacket. You can wear them now with….. anything!
Shop More Transitional Booties Here:
The Edgy Sneaker
Wearing: Adidas Sneakers | Shirt | Jeans 
There is something about a black pair of old school Adidas that take the coolness level up a notch. It's a bit unexpected to pair them with jeans and a white button down, but add a top knot and a cool bag and try not to get paparazzi-ed. Obviously they also work with workout leggings and a hoodie – bonus points if all black!
Shop More Cool Sneaks Here:
The Polished Flip Flop
Wearing: Tory Burch Miller Flip Flop (size half up if between) | Shirt | Jeans 
Ok yes. These are a MAJOR splurge for what is essentially a flip flop, but they don't have 3,500+ five star ratings for nothing! I bought a pair of these Tory Burch flip flops last year and now I understand all the rage. They are insanely soft and comfortable and they can easily be dressed up or down. I've worn them to the beach and also to a shower. It's one of those "treat yourself" shoes that will end up being free if you practice cost-per-wear math like me:)
Shop more polished flip-flops here:
How many shoes are too many shoes? Don't answer that!
Thank you to Nordstrom and ShopStyle for sponsoring this post.