Thank you to Nordstrom and ShopStyle for sponsoring this post.
Ok full disclosure, I do my make-up in 5 minutes. Sometimes I try to make it take longer because I've watched these beauty tutorials where it legit takes 45 minutes to put on a face. But even if I do my brows (the forgotten child), I'm still at like 5 minutes and 23 seconds. What I am trying to say is, I don't know much about makeup or the proper techniques, but I think (or at least I hope) that it looks like I am good at faking it. I think make-up should just accentuate your face naturally, so less is always more in my book.
Nordstrom asked me to take a look at their beauty section for this month's post and my response? The pleasure is all mine! They have all of my favorite make up brands (some I have been using for years) and it's always fun to check out their new arrivals to add something new into the mix. The look I'm showing today is my everyday make-up routine. Because we are entering spring, you will see that I added in a little glitz and glow for that fresh faced, well-rested, spring chicken kind of look. Just go with it.
Step 1 // Conceal and Even Out
I use a swipe of Trish McEvoy's Instant Eye Lift under each eye and blend gently with my ring finger. Then, I put a dime size amount of the Bare Minerals Complexion Rescue (Tan 07) in my palms, rub together and smooth evenly over my entire face just as you would when applying lotion. I try to blend it under my jaw line as well so there are no funny lines. These products provide a great base for everything to come.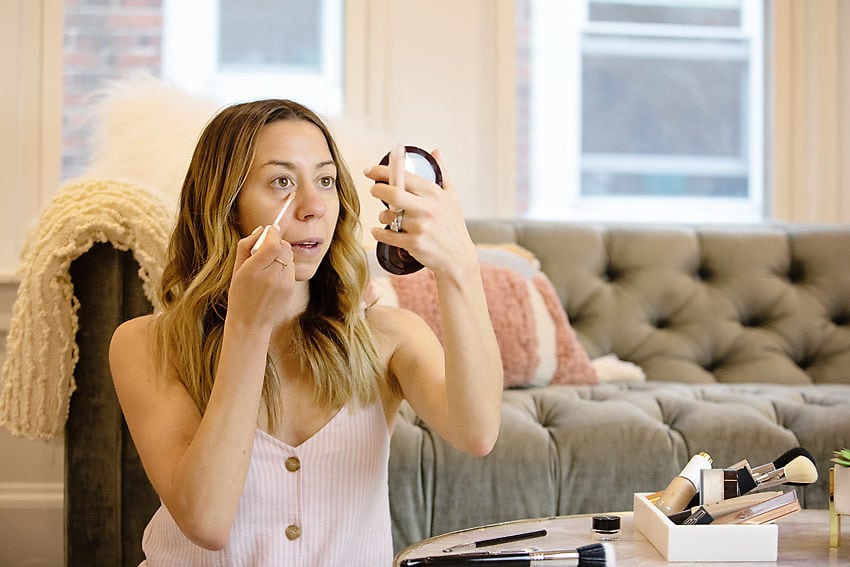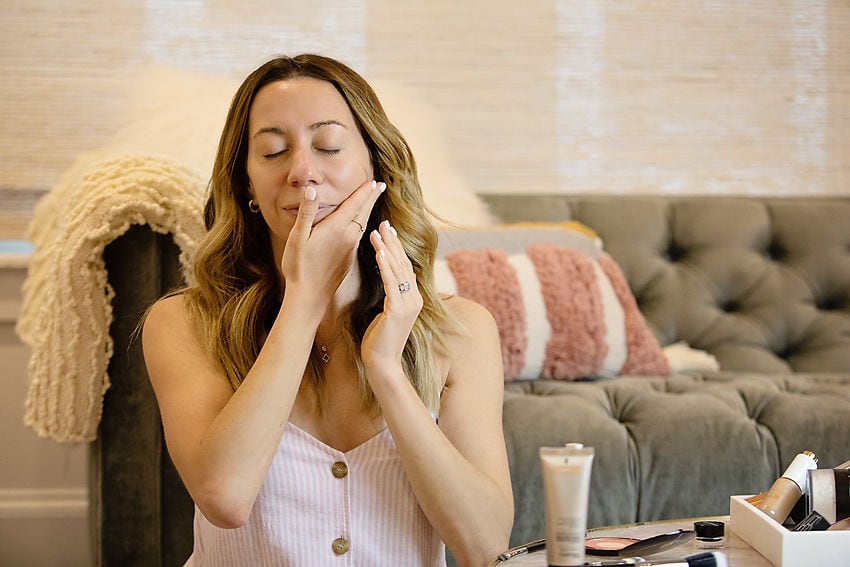 Step 2 // Warm it Up
Next step is bronzer and blush. Charlotte Tilbury is a new brand for me after I tried her lipstick and fell hard! The bronzer I'm using has two palettes (one for highlighting and the other for sculpting). I've watched enough of those 45 minute videos to know that you need to use your angle brush and sweep a few strokes of the "sculpt" on the cheek hollows. I also warm up my forehead and nose with that same color. Maybe even few swipes on my neck to make sure the color is blended. The highlight palette can be used on the apples of your cheeks and brow bones.
The blush I use is one of those universally flattering colors – "Pillow Talk". Using a large powder brush a warm up the apples of my cheeks.
Step 3 // Wink Wink
The eyes are my favorite part because I do my best attempt at some subtle contouring using none other than my finger! Sometimes brushes complicate things and you can be more precise without them. I love the combination of pink and gold on my face, so using my ring finger, I get a swipe from my NARS eye palette (Isolde) and blend it on my lower lid below my brow bone. Then I take my NARS highlighter stick (Copacabana) and with a different finger, I apply a swipe of that above my brow bone, below my eyebrows to make my eyes pop. If I were going for more of a night time look, I might add a 3rd color to accentuate the creases.
I love a good gel eyeliner that is applied with a brush. Is it just me or are sharpeners never accessible when I need them! For daytime, I just line my upper lids about 3/4 way across. Then I curl my lashes and apply anywhere from 1-3 coats of my beloved Diorshow mascara.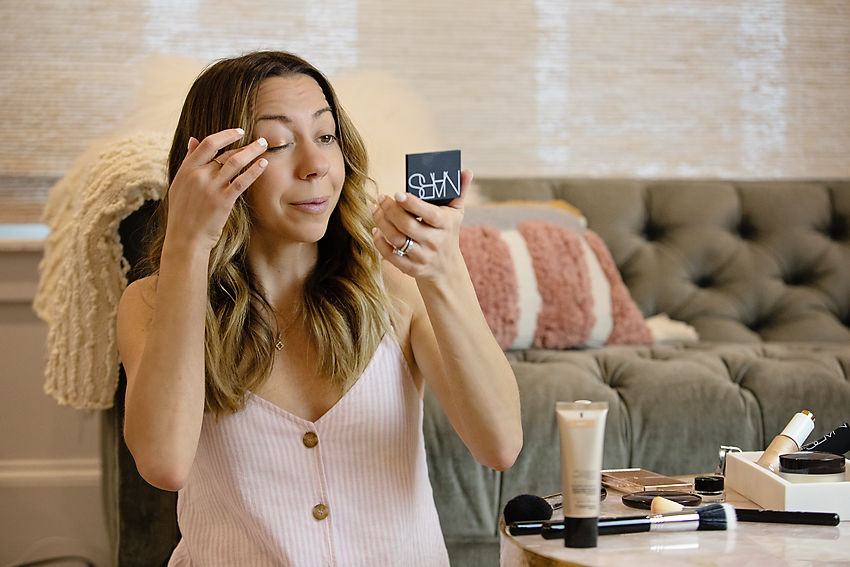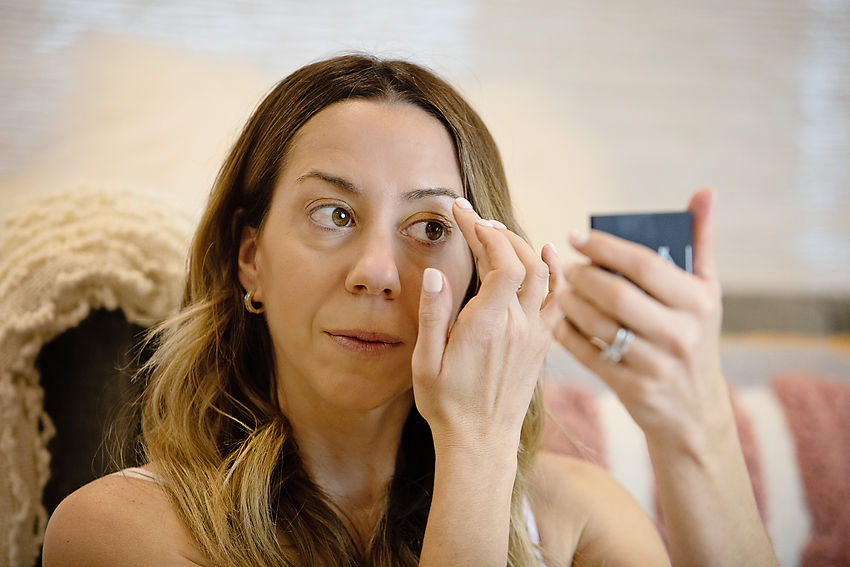 Step 4 // De-shine and Shine
Confusing right? Some parts of my face I want to be shiny, and other parts I want to be matte. I use my big, fluffy powder brush to apply the Laura Mercier Translucent Powder to my t-zone to cut the shine. Then I use either my NARS Highlighter (Copacabana) or Tom Ford Glow Drops (obsessed) to highlight the apples of my cheeks and bridge of my nose. For the drops, I use apply a few drops directly to my skin, then blend with a foundation brush. This is how you achieve that spring chicken look 😉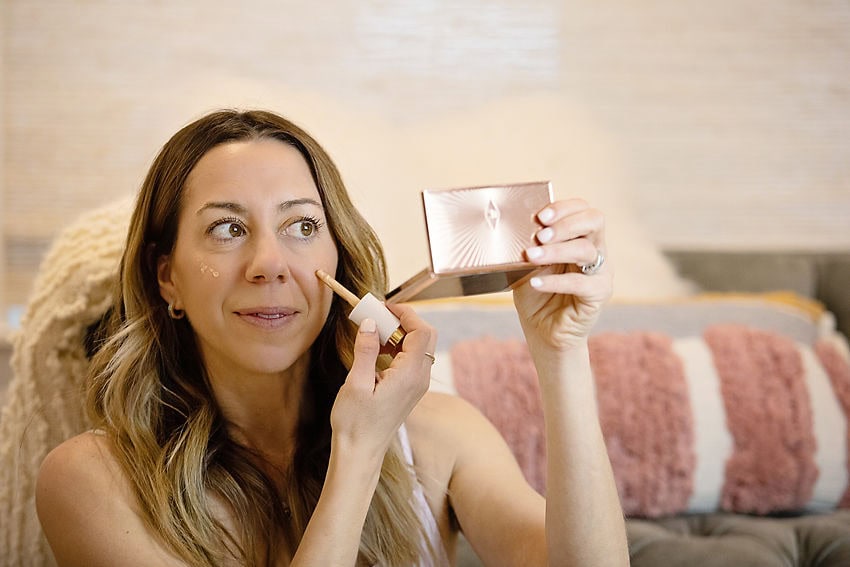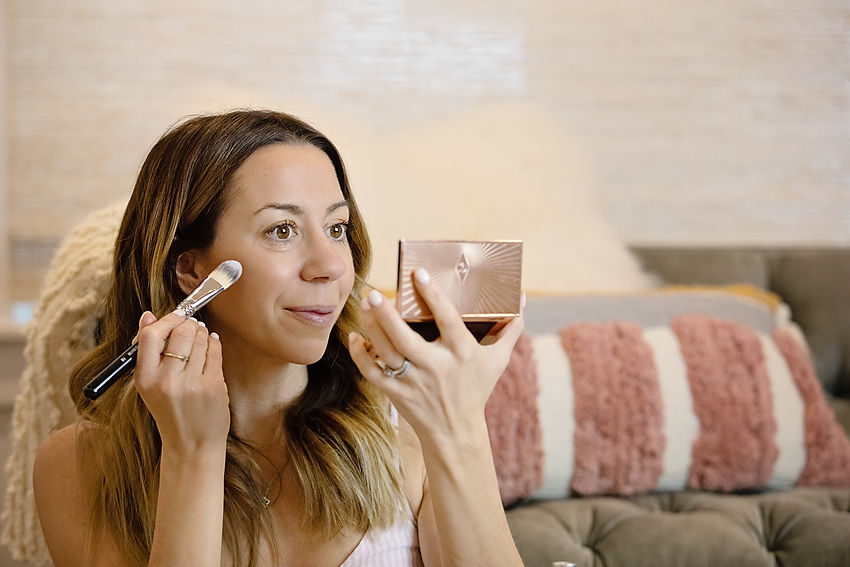 Step 5 // Mwah!
Swipe of lipstick – again, obsessed with Charlotte Tilbury and done! I alternate between Pillow Talk (the universally flattering shade) or Very Victoria.
And 5 minutes later, this is what you get! No frills, just slightly warmed up, dewy, easy. What are your make-up faves? Do tell!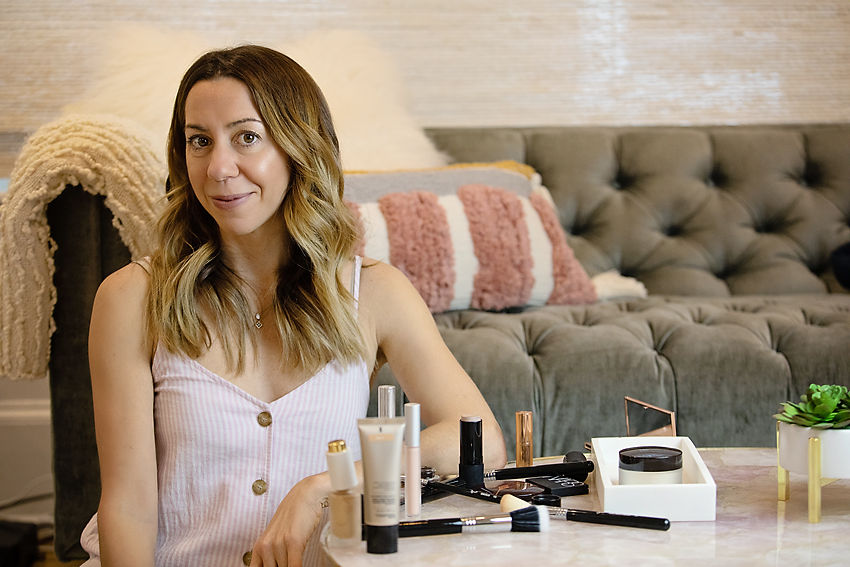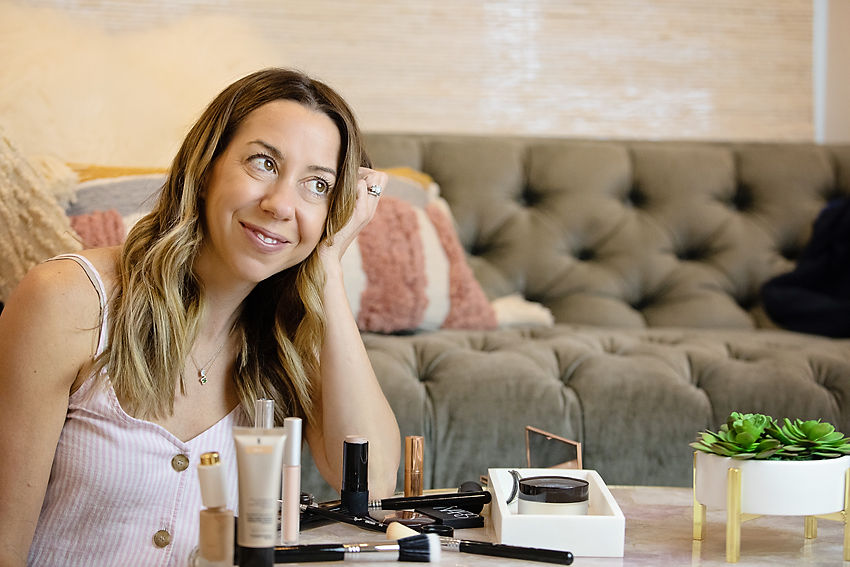 Shop all the products in this post here…