I'm currently sitting here at my desk trying to really feel the capacity of the news I am about to share. I think the best way to approach this is to just come out and say it, then feel it. Right? So here goes: On May 9th….I am launching….. a clothing collection (!!!!)…. with the Gibson brand…. to be sold at…..NORDSTROM!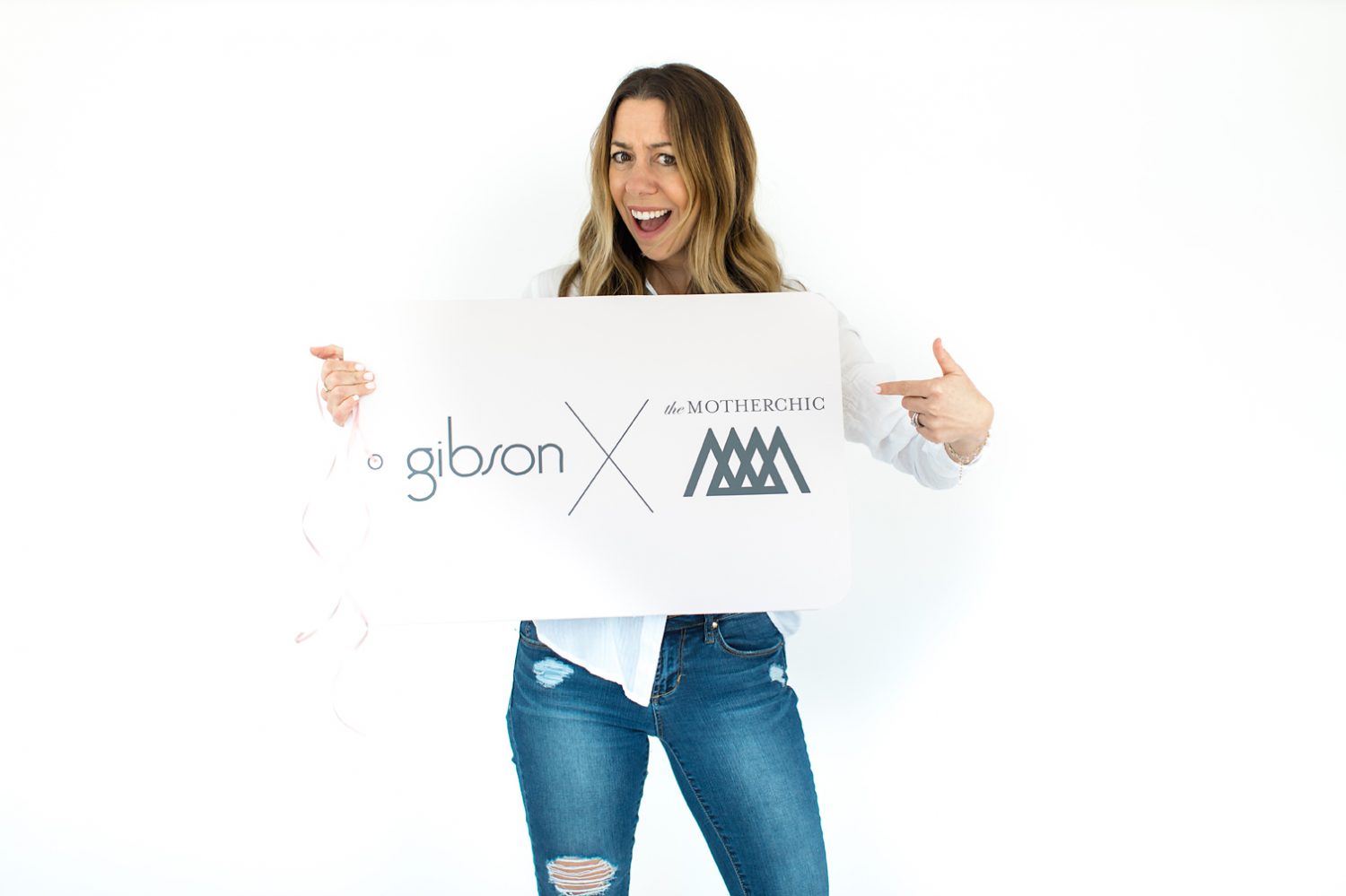 Ok yep. Now that I've written it, it seems more real and I couldn't be more grateful and elated. First just watch this fun little video, then read below for my mushy jumbled attempt at spilling my thoughts on this project that has been in the works for more than 6 months.
I started this blog purely for fun. I had no intentions of it ever being anything more than a distraction for putting laundry away during nap time. I simply wanted a creative outlet during those trying, trying years when my kids were super little and super delicious yet super dependent on…. ME! Over the past 6 years I have had the opportunity to connect with hundreds of thousands of women from across the country just by sharing things that I love and things that make me happy and feel more confident. By day, I sit behind my computer screen and create content that I hope inspires you all in some small way.
If there is anything I have learned through this blogging journey it's that my "it-could-never-happen-to-me" attitude was wrong. There have been so many times that I have looked at my husband and said, "I wish I had a boss who could just tell me what I'm supposed to be doing". When you have your own business you are constantly questioning yourself, doubting and comparing. What centered and grounded me through so many periods of "why-am-I-even-doing-this" type of thinking was all of you. The inbox messages saying that my blog has helped someone find their own style or regain confidence or just brought a smile on a bad day… these are the things that fueled me to continue sharing.
In putting myself out there day after day (mirror selfie after mirror selfie, if we are being honest), I have learned via your comments the styles that resonate with you all the most. Comfortable, casual, chic, effortless – these are just a few words that come to mind when I think about the pieces that appeal to you all. There have been so many times when I wished I could just tweak a piece of clothing by making in an inch longer or more bra-friendly, or a better fabric or a little less…. BORING! But doing so would be a pipe-dream because what I think I was dreaming about in some subconscious way was creating my own collection.
But, this pipe dream is becoming a reality and it is 100% because of all of you! This collection is representative of all of you and inspired by all of you and I cannot wait to share it with you next month.
So here is the scoop on Gibson X The Motherchic…..
First, let's just talk about the Gibson brand. Whenever I post their pieces they sell like crazy for good reason. Their pieces are all about versatility, comfort and style and so many of their styles have quickly become reader favorites. Owner, Suzie Turner, is pure genius and all about women supporting women through collaborative efforts. Gibson was established 16 years ago and they have an amazing story. Make sure you get to know them on their website and shop. I had the pleasure of working with Suzie and her Gibson team during the International Women's Day Collection and am thrilled to be bringing you an entire Gibson X The Motherchic Collection this May.
What can we expect from this collection?
You can expect pieces that fit all of those adjectives I mentioned above…..comfortable, casual, chic, effortless. Most of the pieces in the collection are ready for you to just throw-on-and-go and can easily be dressed up or down with accessories. We have a LOT of dresses of all lengths coming your way plus not-so-basic tops that you will live in this spring. We paid close attention to detail and truly kept all of you in mind when designing this collection.
Did you actually design it? How did the process work?
Yes! We worked extremely closely with the design team at Gibson. It has been such cool process! Abby (my right hand girl on the TMC team) literally sketched a group concept (she has a master's degree in fashion design). Then the amazing designers at Gibson used those sketches to come up with working designs which were then translated into real life clothing. The excitement when the first round of samples arrived at my door – so freaking cool. When the samples would arrive, I would try them on and we would video tape our feedback, then send them back to the Gibson team to make tweaks and updates.
One of the most fun parts of the process was working together with Gibson to choose fabrics and colors, stitching details and other fun accents. It has been great to share what we know about our audience and work toward a collection we know you'll love and it's been worth every second!! I am so excited to share every single piece with you and our and it is going to be SO hard to keep it concealed until the actual launch. Ok fine… maybe some sneak peeks here and there?!
Where will it be sold and when will it be available?
The collection will be sold at Nordstrom on May 9th (mark your calendars!) and be ready to treat yourself for Mother's Day. Make sure you are following The Motherchic and Gibson on Instagram so you don't miss any special announcements! Now would also be a good time to get on my email list because I can promise that is where the sneak peeks will be happening. Maybe even a chance to see the collection first?!
What is the price point?
We got you girls… everything is WAY under $100 and the quality is top notch. So many double-take details!
What else do you what to know?!
I am sure I am missing something as my head is just spinning with excitement right now. I really can't say it enough, but from the very very bottom of my heart, I am honored to be able share this with all of you. It is BECAUSE of all of you that I have the opportunity to create this collection with such an amazing, inspiring brand.
And with that…… #gibsonXthemotherchic coming at you May 9th!