Longtime followers know that Brandless is one of my favorite places to shop for household staples. For those of you who haven't heard of Brandless, think high quality products at affordable prices. Almost everything is under $5! I get lots of messages asking about my favorite Brandless items so I thought it would be fun to make a top 10 list. I had to include the "so far" disclaimer because they are always adding new products to the mix – hello organic baby food and matcha powder to name a few. Here are the Brandless staples that I buy over and over again!
The Scrubs: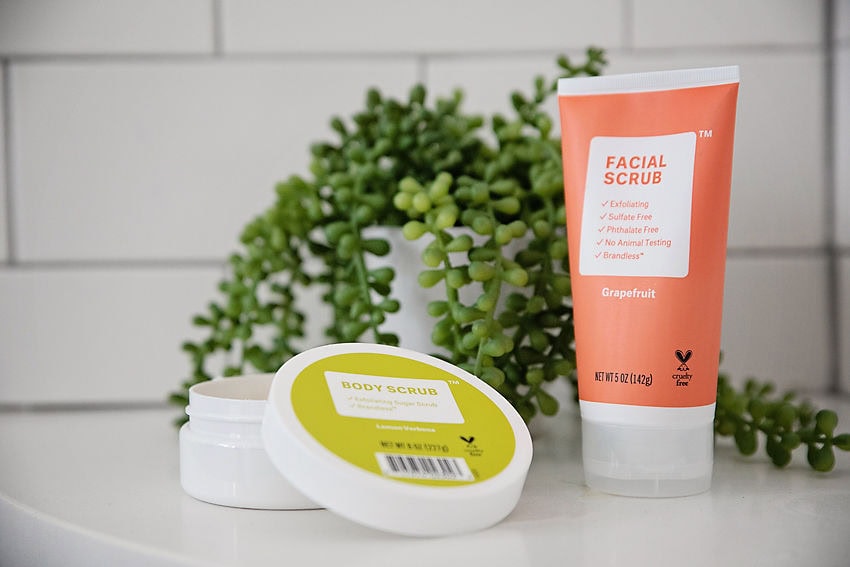 Scrubs feel like such a treat! The facial scrub and body scrub are two of my tried and true favorites and are free of all the nasty stuff and feel super indulgent. If you missed my post on how I used these for teacher gifts, you can check that out here.
The Candy:
No explanation need here. My kids go nuts when the Brandless candy bags arrive. Bonus points that it's all v. pretty.
The Gift Bundle:
This Gifting Bundle is genius. How many times do you need a last minute gift but no gift bags in sight! Every household needs this set. The bags are happy and fun and can be personalized for any occasion!
The Baby Food (and, yes, it's organic!)
Ok so we don't need baby food in my house any more but I was SO excited to see that Brandless now sells it (organic, of course)…. and puffs… and the CUTEST diapers!
The Cookies:
I don't even like coconut and these Toasted Coconut Cookie Thins are insane. Try to not eat them like chips. TRY. And don't get me started on the Chocolate Chip Cookie Thins. I will admit, these are thin and break apart easily, but what they lack in looks they make up for in taste.
Dog Treats
New to the crew – dog treats! How convenient that they can be delivered right to your door. Check out the full pet selection here.
Brownie Mix (and other pantry staples)
I've got quite the stock of Brandless pantry staples, and while they are all great, the brownie mix (also available in gluten free) and organic maple syrup (just $4!) are my faves. Ok fine, I have a sweet tooth. But really – at the regular grocery store I pay upwards of $9 for organic maple syrup. This is such a great deal!
Metal Straws
Now trending…..metal straws! Time to stock up, friends! And yes, it comes with one of those cute little cleaners.
Cleaning Supplies
Dish soap, hand soap, granite + stone cleaner oh my! It's so much easier just to stock up on these household cleaning staples in one spot. I love the minimalistic label for that 'gram worthy countertop appeal, oh and they are also super effective.
Pizza Night Bundle
Saving the best for last. The Brandless Bundles are so much fun and they are always coming out with new ones. The Pizza Night Bundle would even make a fun gift for someone! It includes everything from the tray to the pizza cutter to the spices! All you need to provide is the cheese!
Do you all use Brandless?! I am always looking for new things to #addtocart so please share your favorites in the comments!
Thank you to Brandless for sponsoring this post. All opinions and product selections are my own.