I've written a lot about running the past because it is hands-down my favorite workout. I know that might seem crazy to some people – to many people, running is the last workout on their list. Ok yes I used to run track so running is in my bones, but these days I am not running for speed. I'm running for mental clarity and the physical benefits are just added bonus. I've partnered with lululemon, one of my all time favorite athletic wear brands to share why I run, and here's why….
A thirty minute run is the only time in my day where I can just let my mind do it's thing. Once I hit that sweet spot pace (these days are more like a 9 minute mile), heart is pumping, pony tail wagging, on the verge of breaking a sweat – my mind just goes to that meditative state. I come up with some of my best ideas when I run and am able to make peace with whatever is causing stress in my life. Every time I finish a run, I am a happier, less stressed person.
For me, every run most definitely has a reason and when I start to crave a run, I know my mind is telling me that it needs that time to just open up and think which is something I have a hard time doing with 4 kids. I can't count to 10 without someone needing me. It's a time where I have no distractions and that includes what I am wearing.
Full disclosure, the first lululemon item I ever bought was purely for the cute factor. Then the 37 pieces later were for performance. Ok ok it's great to have both. For reference, I wear a size 4 in everything so I would size up if between. The Hotty Hot Short is so lightweight you can barely feel them at all. That means no chafing, no riding up, no nothing. I also love that the Stash to Dash sports bra has removable padding and a little secret compartment for your key which means you can park your car and run hands free. Both tops (the Swiftly Tech Racerback Tank and Swiftly Tech Longsleeve Crew) I'm wearing are anti-stink, super breathable and come in so many cute colors.
On a recent trip to Florida one of the things I was most excited about doing was running outdoors after a long, cold winter at home. One if the most "iconic" running spots in Sarasota is running over the bridge that connects to Longboat Key. It's motivating to see other runners do their thing, and not to mention, the views are spectacular. Turquoise water, boats, beautiful buildings, art – I almost didn't even need my epic playlist (almost).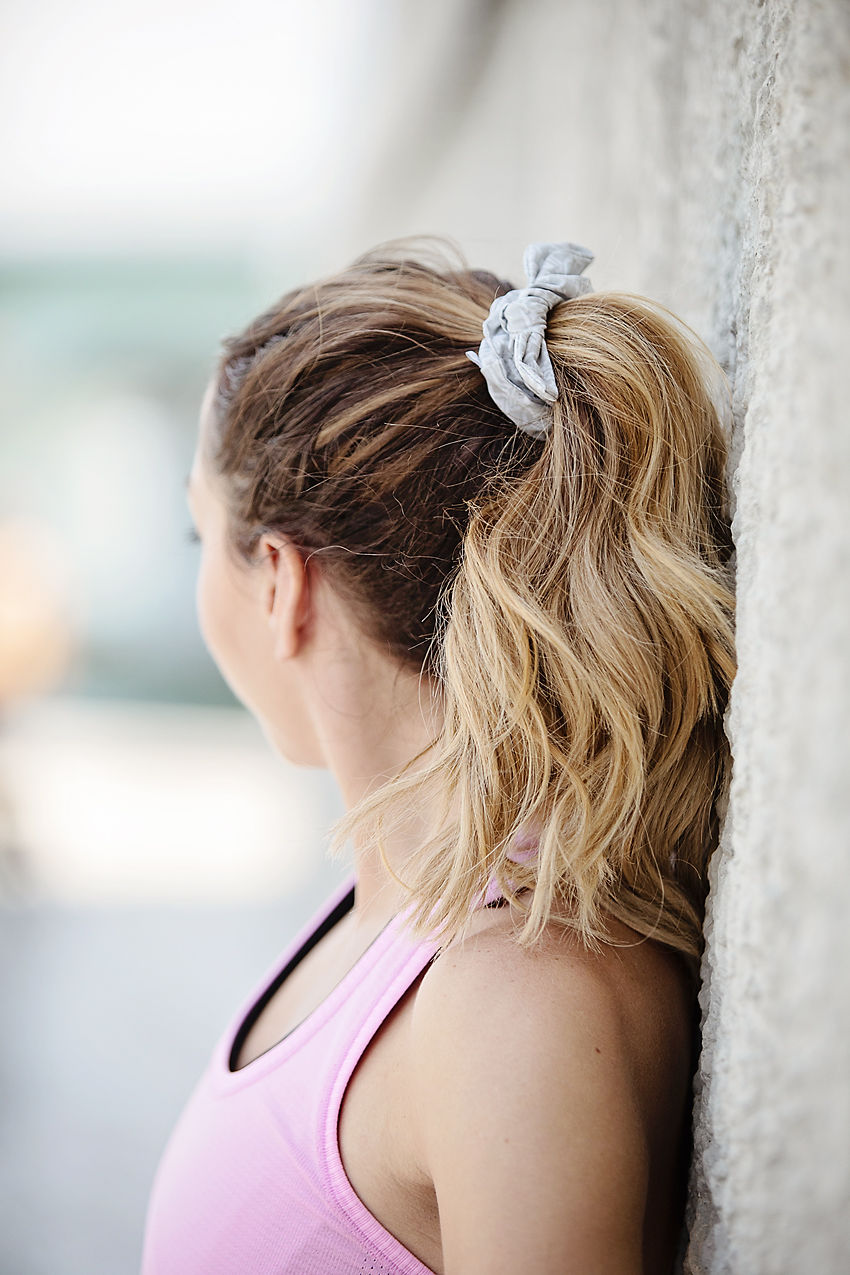 Long-sleeve top | Tank | Sports bra | Shorts | Scrunchie | Sneakers
Are you a runner? If so, why do you run and where is your favorite place to run? If you are not a runner and want to start, my best advice would be to take it slow at a conversational pace and alternate between jogging and walking. Great scenery, great playlist and a great challenge is a perfect place to start. I use the Strava App to track my miles, connect with fellow running buddies and set goals. It can be used for running or cycling and helps to keep me motivated. So what are you waiting for? Time to pick up your sneaks and head out the door.
Shop more lululemon favorites below
Thank you to lululemon and ShopStyle for sponsoring this post .