Thank you to Sephora and Shopstyle for sponsoring this post.
I think we can all agree on one thing… hotel shampoo just doesn't cut it. No offense to hotels, but these locks just need a little bit more love. Which is why when I travel, I love to bring a few of my favorite beauty items with me. Yes, these are all TSA-approved (meaning under the 2oz limit). Between jet-lagged skin and dry cabin air I always feel like I need a refresh after a flight.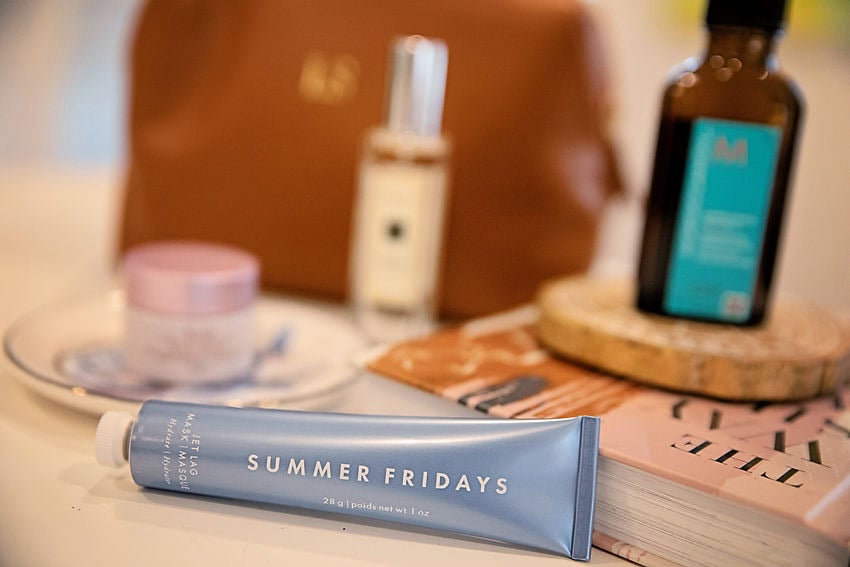 With the Sephora Beauty Insider Spring Bonus event happening at Sephora, now is the time to test out a new product, restock on some favorites, or maybe splurge on something special. Now through May 6th visit Sephora in-store or online for a special discount. All you have to do is become a Beauty Insider member, easy sign up here.
Here are a few favorites that I stocked up on that I use not only when traveling, but almost every day!
Moroccanoil Treatment // Still trying to figure out how they made this oil treatment that doesn't feel oily at all. This Moroccan Oil Treatment is like a spa day for your hair. I use it as a nourishing treatment for my hair and love how it makes my hair look shiny without looking weighed down.
Fresh Rose Deep Hydration Moisturizer // Everything is coming up roses, amiright? Even if I drink a gallon of water on the plane my skin always feels dry, but one slick of this on my face and it is instantly moisturized. I am talking baby's bottom soft.
Jo Malone Peony & Blush Suede // Nothing makes me feel better than little spritz of my favorite scent. Jo Malone has been my go-to perfume for years. I love the soft floral notes but with an undertone of luxe from the suede scents.
Summer Fridays Jet Lag Mask // When in doubt, erase dull dry skin with this magical mask. Even if you aren't a jet setter, this mask will make your skin feel renewed and radiant. And we all want radiant, glowing skin. So, something else we all can agree on. I love that you don't need to rinse this off – just apply and go to sleep!
Shop more favorites below…