I am probably one of the most relaxed, chill people I know. That was until I had kids. Now I freak out about everything. What is it about having kids that changes the way we think about everything? Ok silly question. It's the immense, unquantifiable love that we have for these little being that makes every benign thing seem scary. From eating grapes to staircases to unsecured toilet lids to ANYTHING without a lid in for that matter to riding bikes to reading the news (I just can't) to allowing your kid to drive in someone else's car….I am constantly worrying and wishing for that bubble that I know will never exist.
Besides chamomile tea, magnesium supplements, and…. wine, I have found comfort as a mom in focusing on the present and the beautiful (and not so beautiful) moments that we have right now. When my mind starts shifting to the terrors of things like 7th grade math homework or heck, MIDDLE SCHOOL in general, to getting drivers licenses or worse (gasp) DRIVING WITH THEIR FRIENDS, to going off to college and beyond, I bring my mind back to the now. Right now I take comfort in these sweet, (mostly) innocent faces that I can bribe to "dress up" for Mother's Day with the promise of a chocolate donut later in the day. And seeing these boys in little button downs, with belts and "shorts like daddy wears" I would contemplate buying a donut shop if I could get them to dress up every day (insert the pitter patter of mom's heart).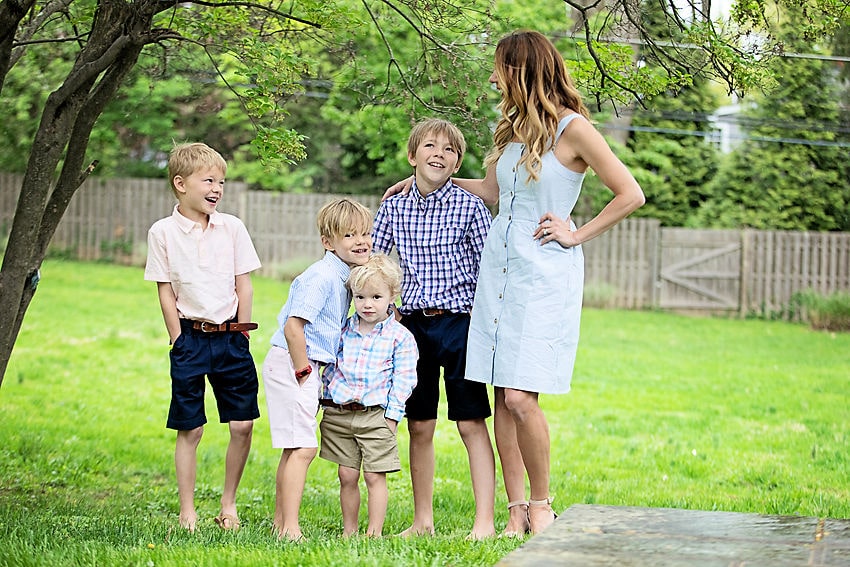 J.Crew Factory makes dressing my boys so easy because everything they carry is cohesive. My oldest son would rather eat a bug than wear the same shirt as his little brother, so I am able to pick out a variety of shirts knowing that they will blend nicely in the event that someone wants to document the moment and take a photo. You never know when that holiday greeting moment will strike!
The women's spring arrivals are always my favorite to look at because they have SO many cute dresses. Spring is always full of dress worthy occasions and whether you are a seersucker girl or gingham or stripes, there is something for everyone.
I'm not exactly sure how I will be spending my Mother's Day this year, but I have this view at some point in my day, I'll be a happy girl.
Wearing:
Dress (wearing size 0 – runs big) | Earrings | Shoes
Boys:
Plaid Button Down (wearing size 10) | Pink Polo (comes in lots of colors – wearing size 8) | Seersucker Button-down | Plaid Button Down (on baby – wearing size 3) | Shorts (all wearing the same) | Belts
And because I couldn't resist…. if you are looking for some gift inspiration for Mother's Day, I rounded up my favorites below! Also, makes sure you check out the latest promotion – 3 days only! 50% OFF swimsuits for all plus 50% OFF women's sandals!
Thank you to J.Crew Factory for sponsoring this post.