Surprise!! We aren't done sharing our clothing creations with you just yet! It was hard to limit all of our ideas to one collection so we are bringing you a little bonus round called "All The Days". We are so blown away by the response of the pieces in our Gibson X The Motherchic Live & Love Collection that launched at Nordstrom last week. While those pieces are vibrant, happy and occasion worthy, the All the Days Collection is your every day essentials. Part two of Gibson X The Motherchic is made up of the pieces that you are going to LIVE in…..all of the days.
Gibson recently launched their own retail website so this portion of our collaboration is available exclusively on Gibsonlook.com! And yes, my friends, shipping is free!
So what is the All the Days Collection? It's a mixture of tops, tanks and loungewear made of the softest fabrics, fun prints, and double-take worthy details. Contrast stitching, eyelet accents, CAMO, leopard print oh my! Each day this week, we will be featuring one of the items from the collection so make sure you check my blog and facebook page at 8:30PM EST daily to see a closer look at each piece.
Complete SHOPPABLE look book is below. Just click on any item you see and it will bring you straight to that item on the Gibson Look site! Best if viewed in fullscreen. See each piece with fit comments below the look book!
Jeni Perfect Crew Neck Graphic Tee
The first piece is an embroidered tee that reads "All the Days". I came up with this phrase because I was tired of shirts that only celebrated certain days i.e. "Weekend", "Friday", "Vacation"… and ok, I love those days too (and own all of those shirts), but what about Tuesday? This shirt is a reminder that every day is a gift. Drink the good wine, celebrate small victories, take joy in those little moments that seem like nothing, but are truly everything.
And now the part that I can't write without crying. After the design team at Gibson took my phrase and turned it into the cutest little graphic tee with embroidered script, they asked me to name the piece. I named this tee "The Jeni Tee". Jeni, my friend, is no longer with us, but she one of those people who truly lived. She didn't save it all for Friday. In honor of this amazing woman and the husband, 4 children, family, millions of friends and legacy she leaves behind, this tee is a reminder of everything she has taught me about life and truly living all of the days.
Shop it here:
Jeni Perfect Crew Neck Graphic Tee
Dutchy Knit Peplum Tee
This relaxed knit is the top you will gravitate towards daily (good thing in comes in three colors!). This is what we call a "not so basic, basic" because it feels like your favorite tee, but the double-take worthy details set it apart. Cuffed sleeves, high/low hem, colorful seams, Motherchic reader approved prints ;). This tee just gets you. Sort of like moms. Which is why I named it after mine. Fit is relaxed, size down if between.
Dutchy Gardenia White Peplum Tee
Abby Everyday Soft Tee
The fabric is like butter to the touch, and this 3/4 length drop shoulder dolman style tee, is one of those wardrobe staples. Whether you like stripes or solids, we paid close attention to detail by adding a notched hem and contrast stitching. Throw it on and go – this top is reliable, fun, and always there for you. Just like my sister Abby. Size down unless you like more relaxed fit.
Abby Stripe Dolman Tee (XS left, M Right- Model is 5'6)
Abby Navy Dolman Tee (XS Left, XL Right (model is 5'10)
Casey Soft Bow Back Tank
This top is all about life's little unexpected joys. And if anyone seeks out things that "spark joy" it's my sister, Casey. Your favorite everyday tank just got REAL cute. Just wait until you see the back! Comes in pink and stripes and is made from the same Gibson signature soft fabric. True to size, size down if between.
The Lounge Separates: Elizabeth Racer Back Tank + Rachel Ruffle Hem Jogger
Why not lounge in style when you can lounge in style AND be ridiculously comfortable all at the same time?! Named after my oldest and youngest sister, this is what you will wear on the book ends of your day. Because every day should start and end feeling your best. You can wear these separate or together or mix and match! Size DOWN in the tank (runs long), joggers run true to size.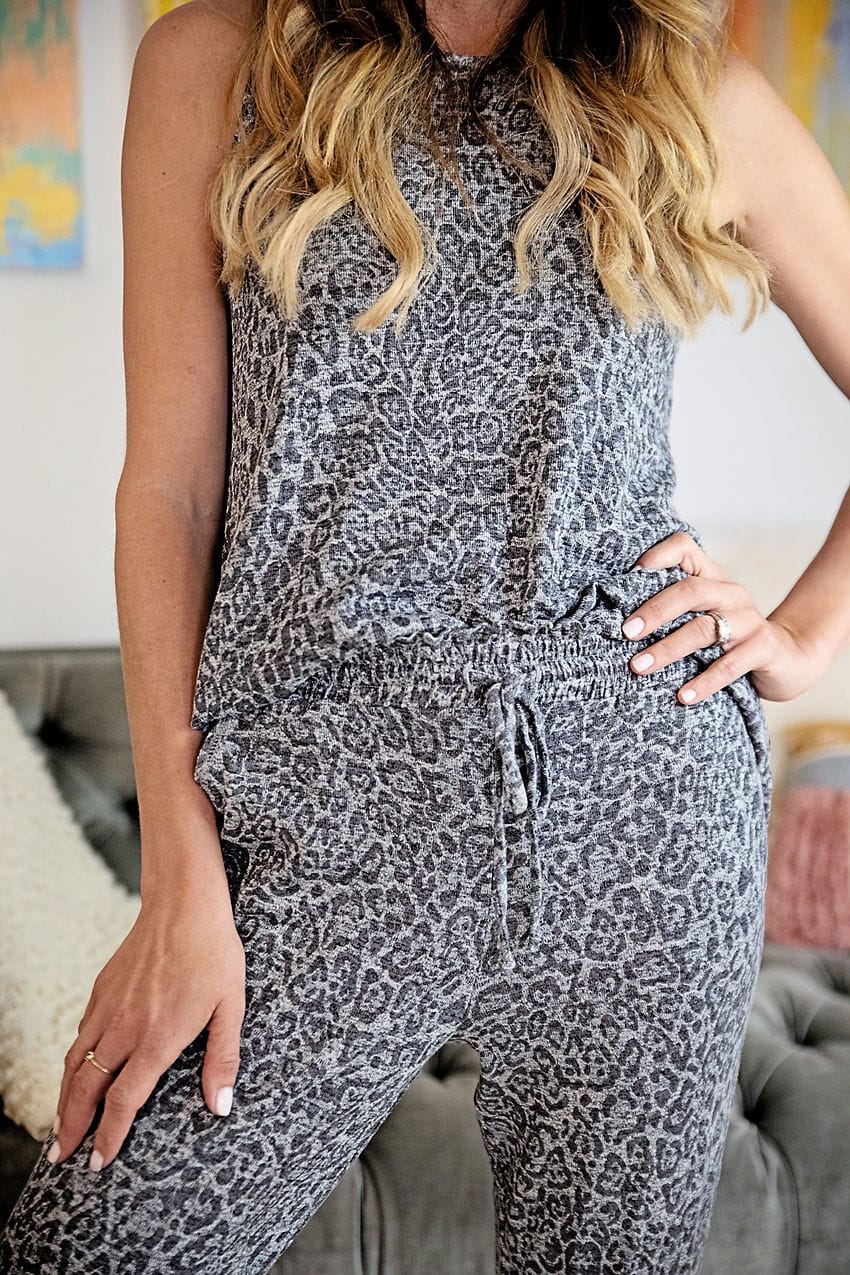 Elizabeth Leopard Tank |Rachel Leopard Joggers
Ok I promise there aren't any other surprises, but we wanted to debut this on Mother's Day so you can wind down with family and treat yourself! Gibson, it has truly been a dream to work with you and to debut this collection with you on Gibson Look. Here's to savoring ALL the days…..
Shop it all here: