Thank you to Backcountry and ShopStyle for sponsoring this post. 
My kids have been dying to go camping. The fun mom in me is like, "Yeah let's do it! We'll throw some sleeping bags in the car, a couple tents, maybe a few cans of bug spray and baked beans and be off." The easily overwhelmed, over-thinking mom in me knows it requires a LOT more prep than that (and even more laundry to be done on the backend). That said, why deny my kids of a memory making experience in the great outdoors? Backcountry is always encouraging people to get outside and do things, and I have to give it to them… they make it pretty easy even for the most overwhelmed parents out there. Plus they are having a pretty epic Memorial Day Sale right now where you can save up to 50% off gear and apparel.
I promise I'm not making excuses, but our insane sports schedules limits our time to actually go on a real, legit camping trip. So I decided we could start with baby steps in the form of a backyard campout. My kids were THRILLED with the idea, and I was even more thrilled about not having to eat canned baked beans and having a clean toilet with 4 walls. Consider this our practice round for the real thing, right? I ordered a spacious 3 person tent, a few adorable sleeping bags, and rounded up all of my gear that I already had from Backcountry like my Yeti cooler, wine tumblers (a camping must, right?), ground blanket etc….
Getting it all set up was half the fun. And if you are looking for a great gift for a kid, these sleeping bags are amazing. My kids played in them for hours pretending to be worms and having sack races (or something like that). They also come with a section in the bag to insert a foam sleeping pad for extra comfort. See, I knew this trial run would be good for us! Now I know I need those too.
We lit a fire, listened to music, played cards, and made 'smores…..okay, okay, maybe camping is something I could get used to!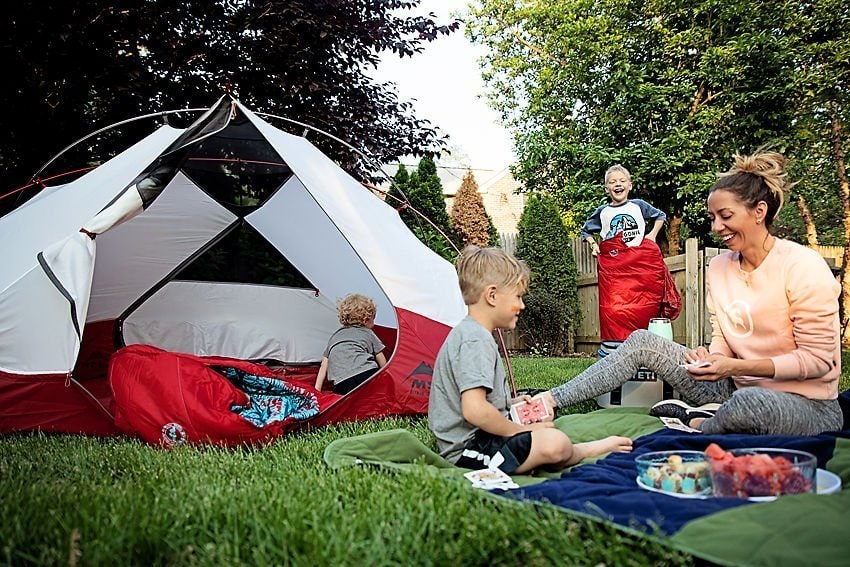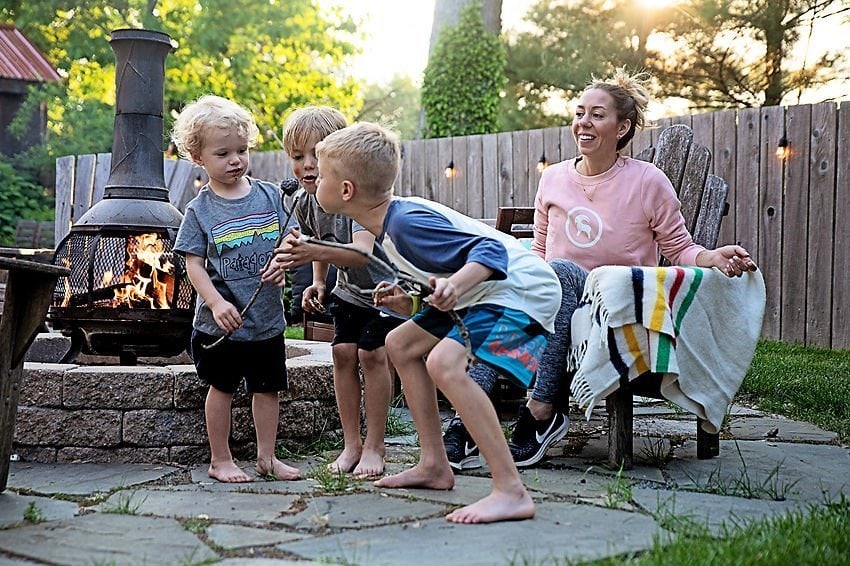 Then the kids heard kids playing in the neighborhood, put the fire out, and there I was, all alone in the middle of my backyard. But hey, at least it wasn't the woods!
This is such a fun summer activity whether you say close to home 😉 or go for the real thing. Backcountry has all of the camping gear you need and if you need help with figuring out what you need for a specific trip, they have gearheads (a.k.a. nature experts) who are on call 24/7.
My family and I make our best memories outside and I am partnering with Backcountry to do the same. To help with this, we are offering 15% off your first purchase with code LINDSEY15 (exclusions apply). Don't forget to take advantage of the Backcountry Memorial Day Sale going on right now, too!
Shop all of our camping gear here:
Shop our outfits here: