I am going to put it lightly… throw out ANY notion of "looking cute" before you go to Disney. The heat, the unexpected rain storms, the clingy children, the sticky snacks are just a few of the factors to expect. I get it though, you want to get the family photo op and not look like a complete hot mess. This is why we put together 4 fool proof outfits for Disney. I can't negotiate with Mother Nature but I can prepare you for her. We found the best tanks, shorts and even dresses to beat the heat. Add a few key accessories like hats, backpacks and the BEST shoes for 10k + steps. We even rounded up our favorite sunscreens for babies, kids and adults. Now off to the Happiest Place on Earth…
Outfits for Disney #1
Show our spirit and your swiftness with this perfect outfit. A cute crop tank pairs perfect with these on the move shorts. The accessories are the best in the business and so many readers said don't forget the poncho. Definitely need to check out this bag, a mix of a cross body and a back pack #genius.
1 Tank | 2 Shorts | 3 Hat | 4 Backpack | 5 Sneakers (size up if in btwn) | 6 Poncho
Outfits for Disney #2
Blend in to stand out! A terry dress is easy to popover a swimsuit. A wide brim hat with protect from the summer heat (also its packable) and you will be able to walk all day long in these sandals. Carry all the necessary sunscreens, water bottles and more in this camo backpack.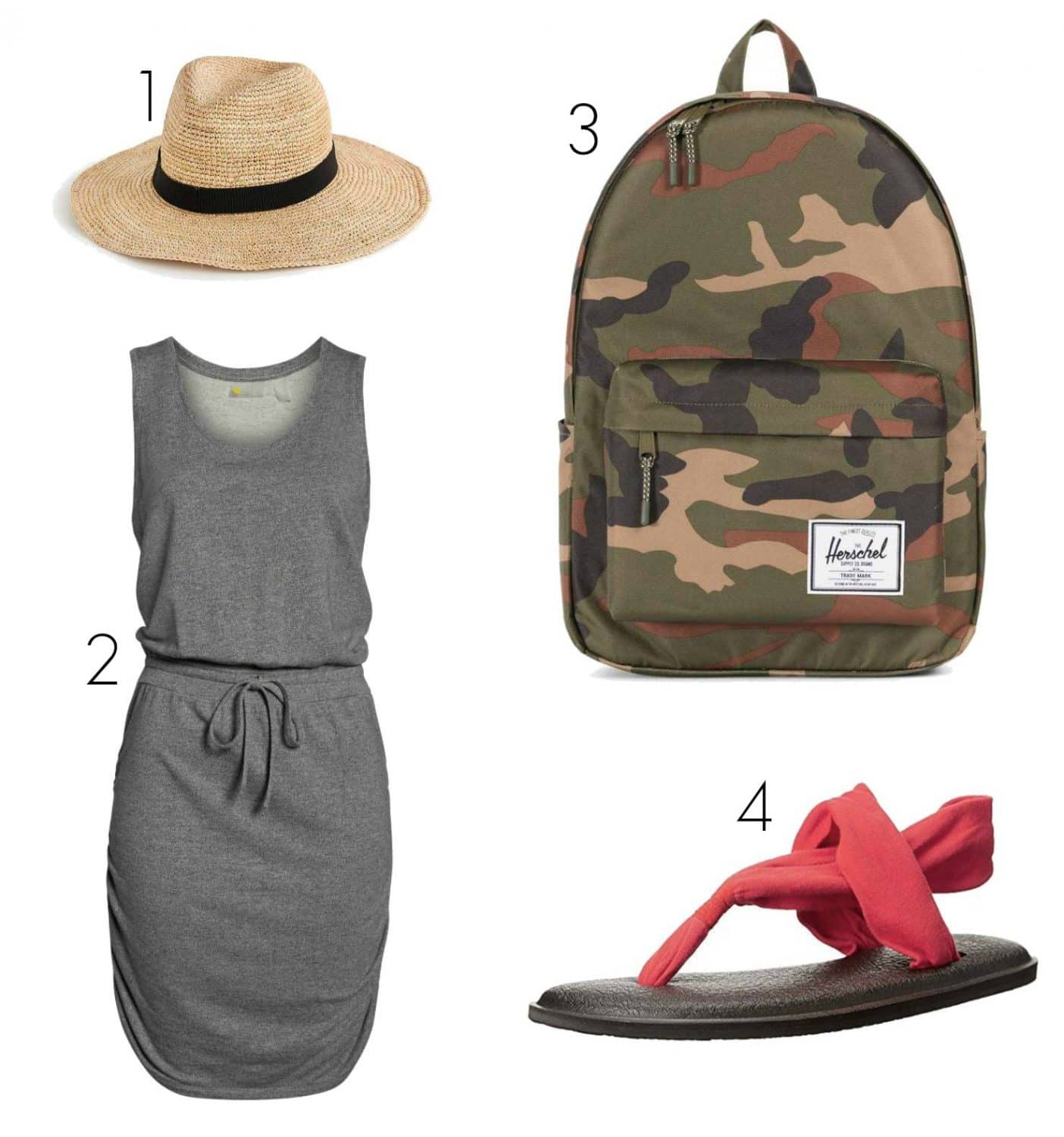 1 Hat | 2 Dress | 3 Backpack | 4 Sandals
Outfits for Disney #3
The Lion King is coming out in a few weeks so I would suggest gearing up now! But also loving the pop of red in this somewhat neutral outfit. Tevas get a new update in leather and I for one am totally on board with this version. Again had to include a poncho, but this one is under $20 so it's basically a no brainer! The backpack is made of a durable nylon fabric so it's tough enough for crowds and lots of rides.
1 Tank | 2 Shorts | 3 Sunnies | 4 Bag | 5 Sandals | 6 Poncho
Outfits for Disney #4
If Sporty Spice made a come back I think she would wear this outfit. I had to include this quick dry towel for Splash Mountain recovery. But also these shoes can be worn without socks and are the most comfortable ever. I've recommended this backpack for years because it comes in every color under the sun and a variety of sizes.
1 Dress | 2 Sneakers | 3 Sunnies | 4 Towel | 5 Backpack or here
Now, if you want to know my real thoughts on Disney plus some other outfit inspiration, check out this post!
Don't forget the sunscreen…