Tween fashion. Those two words have popped up in my inbox lately. What do tween girls wear now? Where do they shop? In my house it was all hand me downs and I hoarded all the jeans. Which explains my denim problem now, but I digress. I did a little digging, okay A LOT of digging and found some pretty cute digs for tween girls. This a funny age where you want to dress like an adult, but it's not quite appropriate but you also don't want to dress like a child. I think Britney said it best, "not a girl, but not yet a woman".
The key for shopping for tween girls is to let their personality show through color, patterns, and silhouettes. We put together some fun pairings of on-trend items mixed with classic pieces. We stuck to some of our favorite tween retailers: H&M, American Eagle, Urban Outfitters, Target, Macy's, Nordstrom, Boden, Old Navy and J.Crew. It also doesn't hurt if you can pick up a few items for yourself, since your daughter may want to wear them one day too.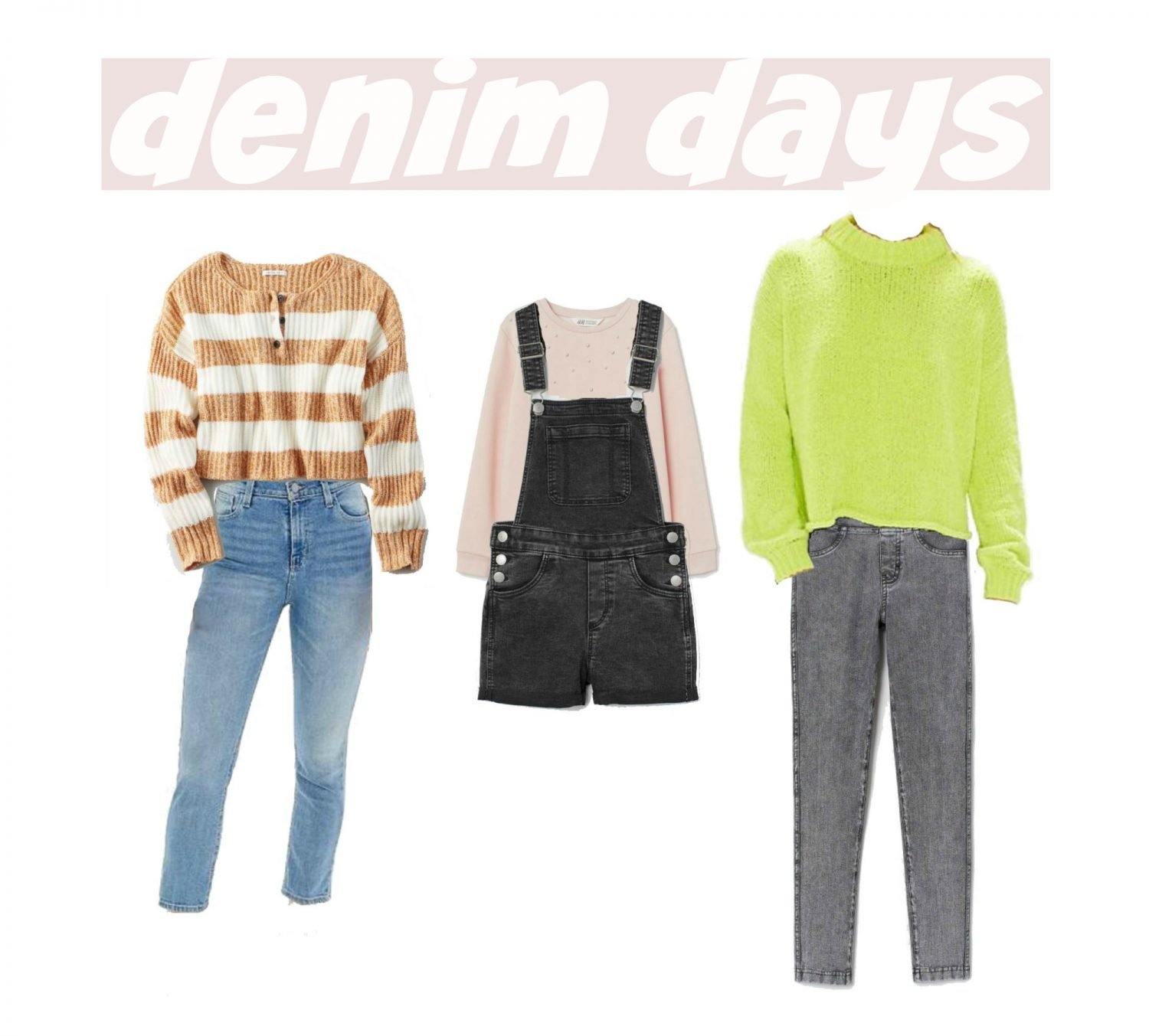 We love pairing classic denim with cropped sweaters. Playing around with washes, straight leg fits, and overalls is fun for tweens to show off their personality. Neon has a been a trend I keep seeing, but feels more appropriate for a younger audience. This neon sweater is the perfect pop!
Pink Pearled Sweatshirt | Overalls
Neon Turtleneck Sweater | Grey Skinnies
Leopard Sweatshirt | Leggings | Sneakers
Leopard Tee | Denim Skirt | Birkenstocks
Yes, I am going to want these outfits in my size too! Leopard is very on trend and a great fun print for tweens to wear. Black leggings are great for any age and a great alternative to jeans.
When I was in middle school they did not make athletic gear this cute! Print mixing and fun textures are all the rage. Let's be honest most kids are in some sort of sports gear 99% of the time.
Palm Leaf Jacket | Camo Shorts
Textured Pullover | Nike Dress
Varsity jackets may be a thing of the past, but varsity inspired clothing is everywhere! I love these looks paired with a classic sneaker. And for a super cool activity check out these DIY vans! Each pair comes with a customizable kit.
Graphic Tee | Piped Shorts | Converse
Ruffled Sweater | Jean Shorts | Adidas Sneakers
Getting a tween girl "dressed up" for an event can be tough! When in doubt, ruffles. If you have an event coming up best to plan ahead so that there are no ruffled feathers!