Thank you to Elemis and ShopStyle for sponsoring this post.
The older I get, the more I need to baby my skin. Yes, sometimes I get jealous of my husband that he can just brush his teeth and get right into bed. Me on the other hand? I'm doing my 15 minute ritual of cleansing, examining, toning, examining some more, hydrating, applying night masks etc, etc… And as I get older, the more I pay attention to the ingredients I am putting on my skin. I am very aware of toxins in many products and have committed to make the switch to more plant-based products. The only caveat – I want them to ACTUALLY work!
Enter: ELEMIS (the #1 Luxury British Skincare Brand). They source ingredients from both above and below the earth's surface to create skincare products that actually work while adhering to the strict EU guidelines (no parabens, phthalates, mineral oils, formaldehyde, artificial dyes etc…) You can read more about the ingredients used here.
Looking for a place to start? The Pro-Collagen Marine Cream is one of their award-winning best sellers and Motherchic readers can all save 20% with code CHIC20. This product is made with "under the sea" ingredients that work to minimize fine lines and wrinkles, firm the skin, and hydrate. I was blown away by how lightweight it is, but also feels super luxurious. My skin immediately feels smoother and more "plumped" – so much so that I even dare to leave my house make-up free. Well, just to the bus stop, but that's a start! This product absorbs quickly and can be applied both morning and night. However, if you want a richer cream for night, I highly recommend the Pro-Collagen Oxygenating Night Cream. If you are looking for something with SPF for daytime, you can find that option here.
Tip: Always use upward strokes when applying moisturizer for maximum absorption.
When you find a shoe you like, buy it in every color. The same thing applies to skincare, right?! Here are a few other Elemis products that I've been using and loving….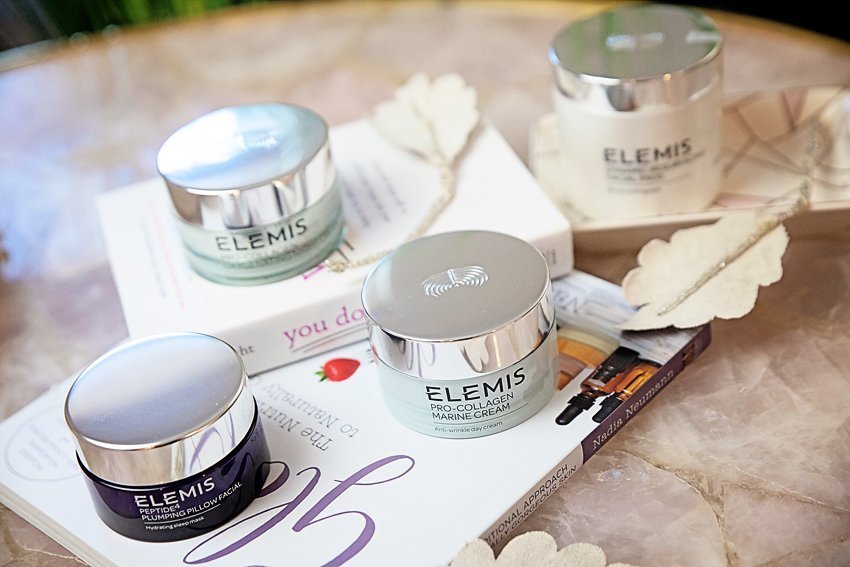 The Peptide4 Plumping Pillow Facial is a hydrating gel mask that locks in moisture while you sleep. This makes a great gift for the girl who has everything or is impossible to shop for! It also comes in a travel size which is perfect to pack for after a long flight.
I'm all for products that promote skin radiance. The Dynamic Resurfacing Facial Pads are extremely gentle (read: no burning or tingling) yet work to remove dead skin cells and reveal your freshest face.
Shop more Elemis Products below and don't forget to use CODE CHIC20 to get 20% off your order!