I have had two extremely (awesome) surprising purchases this fall. The first are these amazing and comfortable satin pants from Abercrombie & Fitch. Yes, you read that right. A brand made even more popular by an LFO song (I am really taking us down memory lane right now) made it's way back to 35 year-old me. Give or take a few years. Oh! and they are on sale today for $34.
The second purchase is this bodysuit. Holy moly is this thing comfortable! Even better, it has full booty coverage. That's right, a non-thong, seamless bodysuit that hugs and clings in all the right places. It also comes in a beautiful, festive wine color and a crisp white, so you can pair this with just about anything! This brand is truly a favorite of mine and I promise you will love it too!
I decided to pair these two amazing purchases of mine in a super chic, easy outfit. The cherry on top (or, the jacket on top) is all yours to choose!
With a Faux Fur Vest
This isn't any ol' vest, my friends! It's reversible – suede on one side with a pop of fur, or fur on one side with a pop of suede. Either way you wear it, this adorable vest is the perfect addition to any kind of outfit. It also comes in a few more colors, and I may or may not have my eye on the black. I'm not going to lie, wearing it on the fur side has me feeling all kinds of #extra and close to Real Housewives status. Just a lot, lot less drama.
With a Denim Jacket
Vests not your thing? Or maybe not looking for a super dressed-up outfit? Throw on a dark denim jacket. It gives an effortless "I don't give a chic but still look amazing" vibe. Pairing denim with a dressier fabric like satin can give any ultra-feminine look a little more edge. Sometimes a little edge is all a gal needs to take on the world (and holidays), right?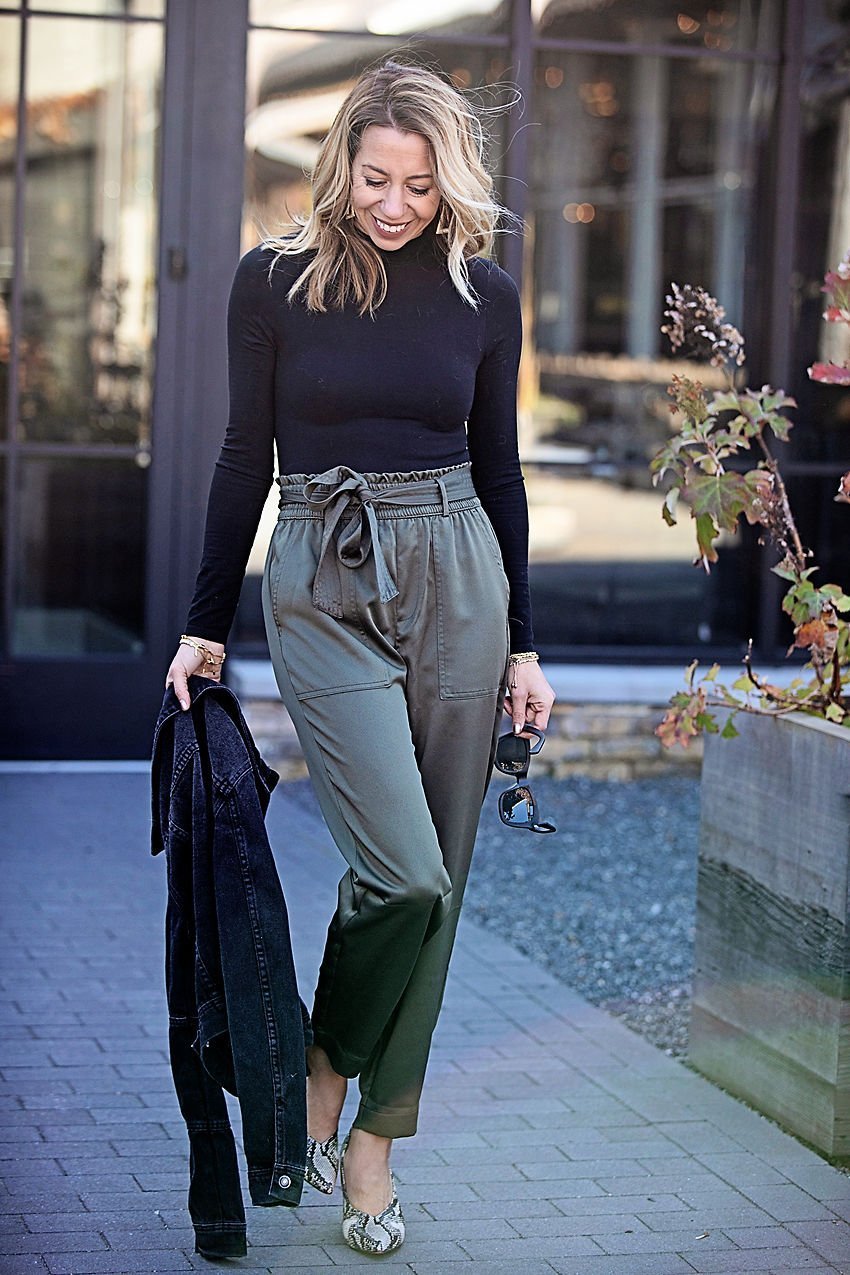 Bodysuit | Pants | Heels | Vest | Denim Jacket | Sunglasses | Earrings
Shop More Fun Bodysuits
Shop More Party Pants