Thank you to Macy's and Shopstyle for sponsoring this post.
Before school every morning, my second son always gives our family the daily weather report. "Yes!" he shouted. "It's going to be 55 today. I bet that's the warmest it's going to be for the rest of this entire year!" You know what? He is right! The chill is officially here to stay and while I am still trying to convince myself that I like winter… I really hope it doesn't stay until April. I am definitely one to use the excuse of winter to stay inside, bundled up, next to the fire, with a hot toddy. But this year I am going to put my excuses aside and *try* to enjoy the cold air. Because we all know come May I will most likely be saying it's too hot outside. If we are headed outside, I am going to need some cold weather gear, let me re-phrase, "cute" cold weather gear.
Macy's has the digs to keep you warm all winter long. Cozy sweaters, check! Hats, scarves, gloves, a plenty! Winter boots, bingo! They also have all these things on SALE! Let's just say Black Friday came early this year with the Black Friday Preview Sale where you can get 20% off with code SCORE.
When dressing for winter weather I like to start with cozy staples. This Bar III sweater checks all the boxes for me. I am loving the classic chevron pattern and textural material. And if I needed to love Spanx leggings any more, they went ahead and made this tuxedo striped pair. And if you give a girl a pair of faux leather leggings, she is going to need boots to match. There really is no better match than these Sorel Tivoli IV boots that feature: faux fur lining, waterproof, slip resistant sole and memory foam insole! And because this girl can resist a pop of color I had to pop on this can't-help-but-smile striped beanie.
Sweater | Spanx Leggings | Sorel Boots | Hat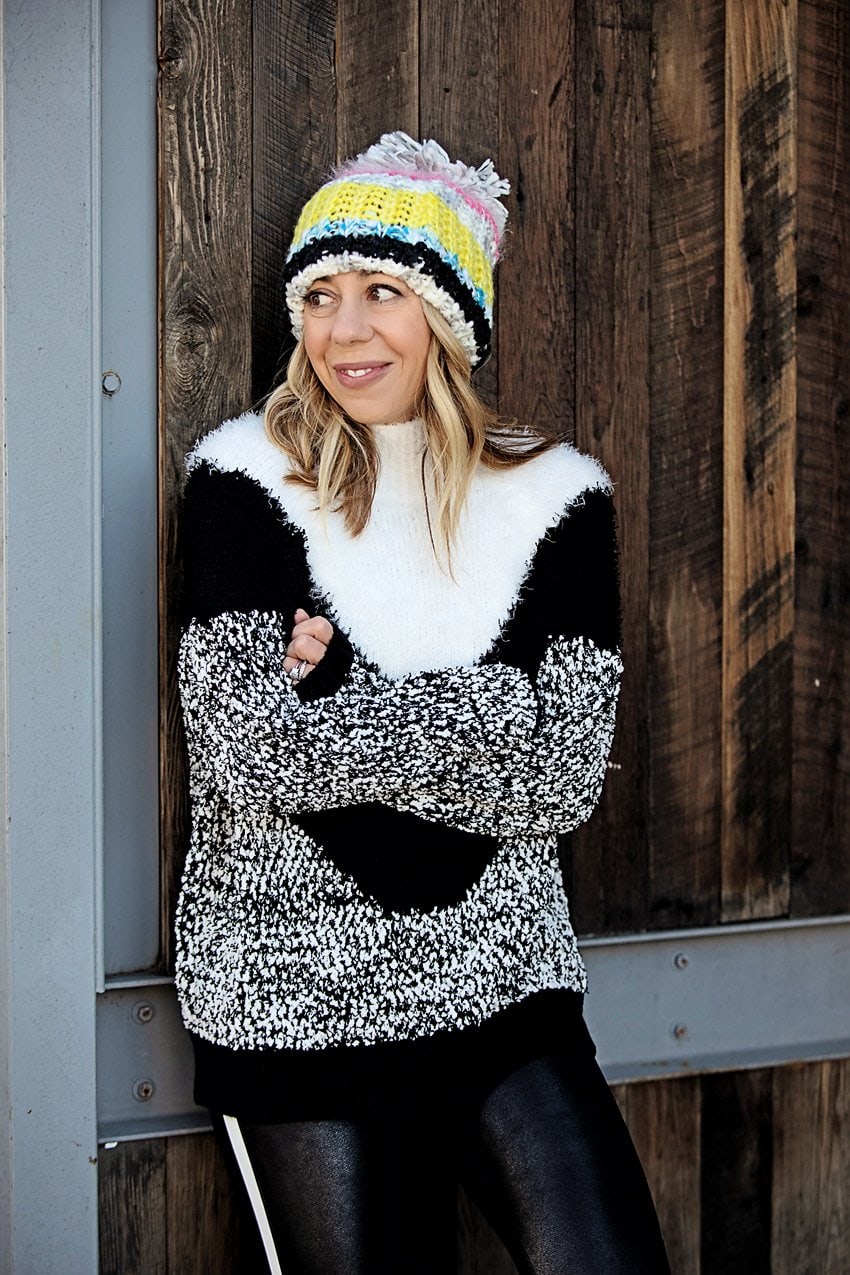 Shop the Post
Check out More Cold Weather Favorites below