As 2019 comes to a close, I think it's important to do a little self-reflecting. It's sort of like reading an essay you wrote a long time ago – some parts you are super impressed by, some parts you wonder what the heck you were thinking, some parts might make you cry, but at the end of it, you give yourself a pat on the back and know there is always a second draft coming.
Why is it that when we take a step away from things, they suddenly become more clear? I've had one of the more difficult years of my life and have written about the anxiety that came with it in a couple of posts (here and here). As I work to make myself whole again, I have tried to share some of the things that have helped me feel like my happiest self. In turn, I have learned so much from all of YOU which spurred me to create our newest Facebook group – The MotherGood, where the intention is to share ideas about wellness and self-care. We've been hinting at a fun challenge that we can all do together and it's finally ready to go!
This has been months in the making, but I am thrilled to finally announce the Motherchic Yoga Challenge starting in January.
Details of the Challenge: This free challenge will be 30 days of online yoga ranging from 10 minutes to 60 minutes per day (and yes, there will be a few days off here and there). This program was designed in collaboration with the instructors at Bulldog Yoga and is a mix of restorative "slow flow" classes to sweaty "power yoga" classes that will invigorate your body and mind. One of things that makes Bulldog Yoga so popular (besides the instructors) is the great music you'll want to sing along to.
Participating in this challenge is free (Bulldog is offering a FREE 60 day trial to support our challenge) which means you can start practicing your yoga now, take some time for yourself during the craziness of the holidays, and be ready for the challenge when we kick it off in the new year. I'll be here to root you on and even have some live classes planned that we can do together. But as always, things are more fun to do with friends so spread the word and let's all do this together.
If you've been following my instagram you know I am an avid user of the bulldogonline.com platform. As a working mom, getting to the gym or attending a class is impossible on most days, but I can always make the time to do yoga in my home…..and 4 kids running around me just makes it all that more….. entertaining?! Whether I practice for 10 minutes or 45 minutes, 100% off the time I feel better physically and mentally.
Over the years the Motherchic community has been an enormous part of my life and I wanted to kick off the new year with something that we can all do together – something that will make us more centered, grounded, and maybe even little sweaty.
I want to share this experience with all of you and do this together! And if you are thinking to yourself, "I don't do yoga" or "I don't like yoga" or "There is no way I can commit to a month of yoga" to all of that I would say…. you have never tried Bulldog Yoga. You don't need to be a "yogi" to do Bulldog yoga. Heck, my husband is even in some of the videos and has never done a lick of yoga in his life…. Plus it's free, so why not give it a try?
You can sign up here and make sure you get on our email list (check the "wellness + self-care" box) so you can get all of the details of the challenge (i.e., suggested schedule, what I'm doing every day, etc.) sent to your inbox when we start in January! In the meantime, check out the classes and start practicing so you are geared up and ready to start 2020 with a sound body and mind. As as I mentioned before, join our private Facebook group, The MotherGood for encouragement and other wellness tips along the way.
The goal is nothing other than this…..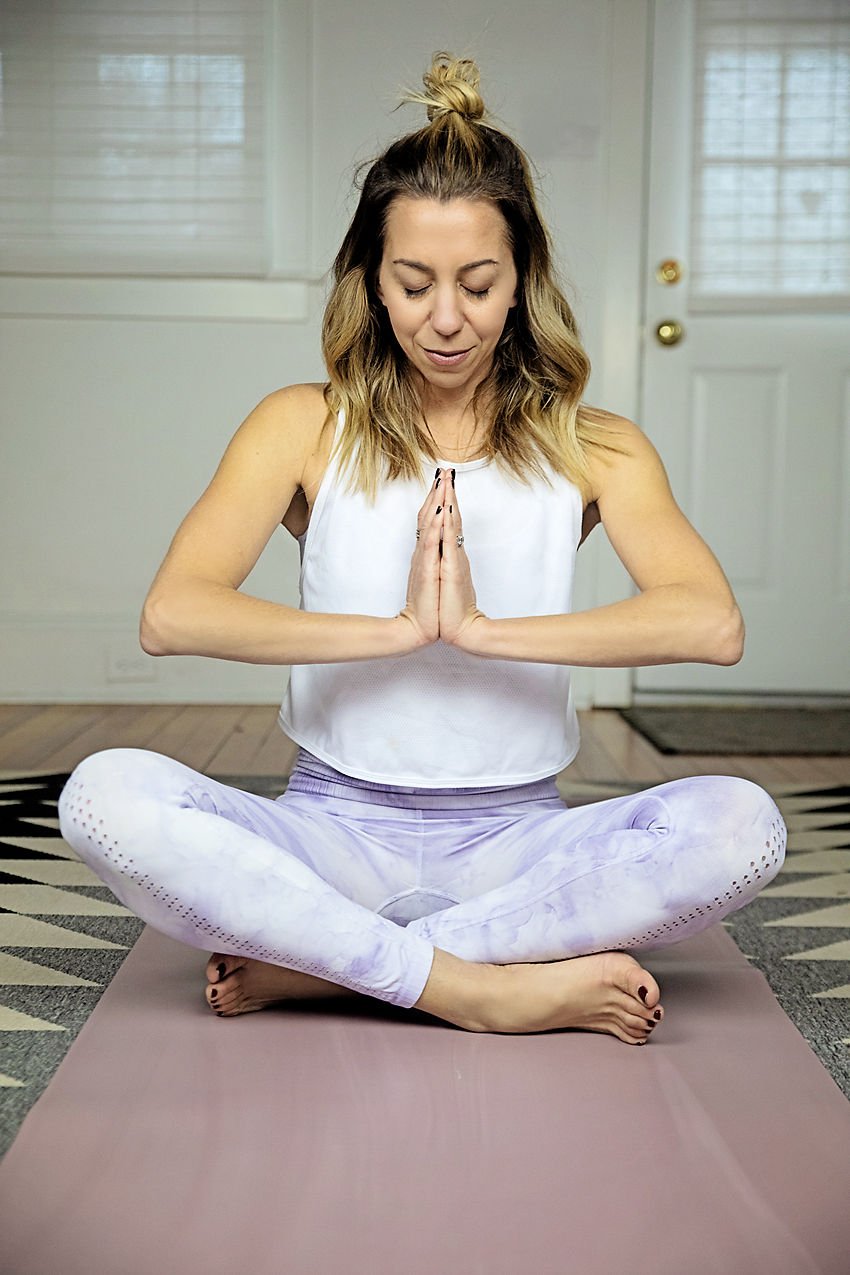 Centered, sound, and strong. Won't you join me?