Thank you Nordstrom and ShopStyle for sponsoring this post.
The holidays are here and the gifting-buying frenzy is over….well, kind of. I am sure there are a few more gifts that I need to check off my list, but more importantly comes the question of what to wear on Christmas Eve and Christmas Day. My family likes to kick back and keep casual because our table is full of lots of adults and even more kids, so the chaos is well, chaos. I enlisted the help of my super stylish team to each put together their own version of "Christmas casual". All of these looks are from Nordstrom, and don't forget – you can always buy online and pick up in store (with curbside pick up!) for any of your last minute outfit needs. Nordstrom curates their very own guide to holiday dressing, and they even have guides for gift ideas for anyone on your list and at any price point. Also, it's 10 points per dollar time, so there's that!
Lindsey's Outfit
I am a jeans and a sweater girl through and through, but since it is the holidays, I will step up my game with a pair of coated denim and a statement sweater. The jeans are like a mix between jeans and leather leggings all in one. And if you notice a theme in this post it was totally unplanned, we all just happen to love burgundy. It is the perfect color for the holidays and beyond… dare I say Valentine's Day.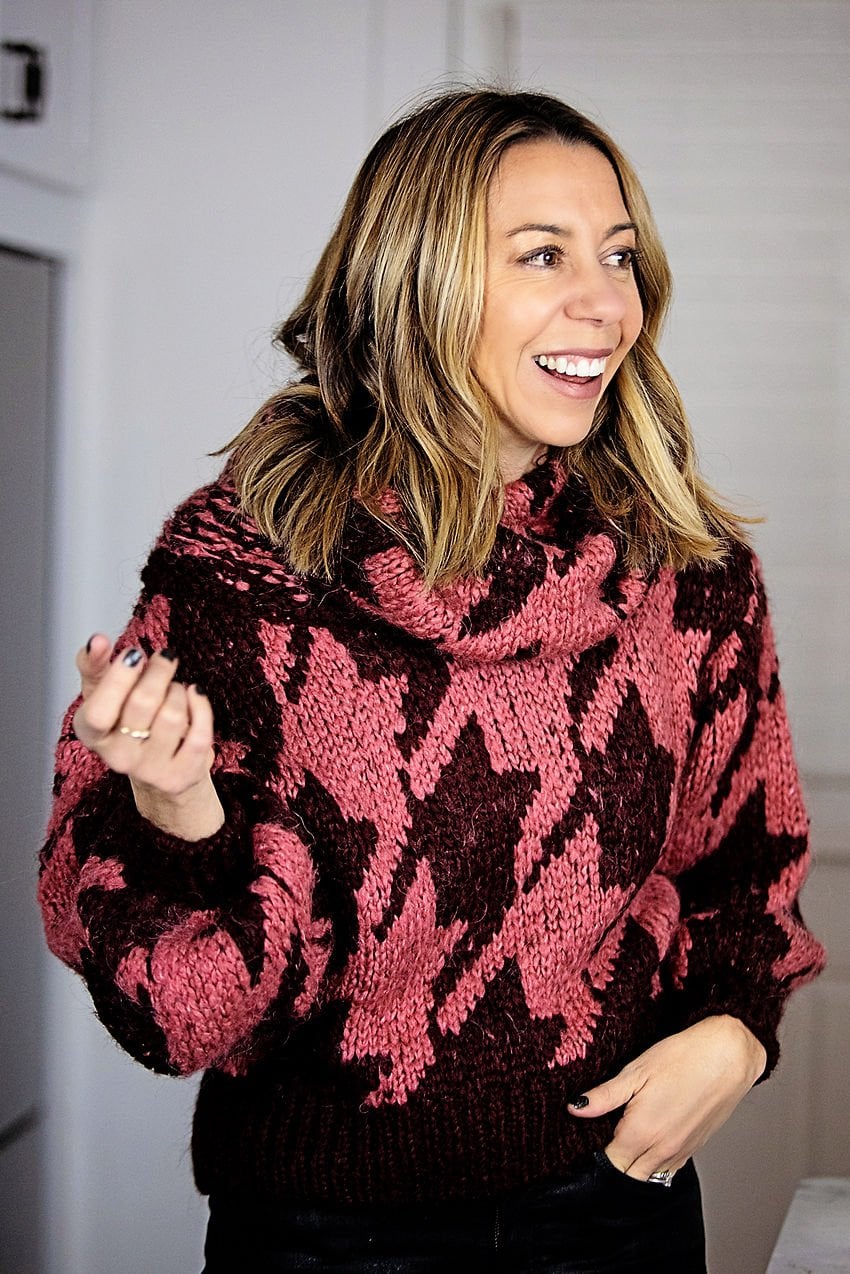 Wearing
Christine's Outfit
I would say it's pretty rare if you catch me in a pair of jeans. Not because I'm fancy (though I like to pretend I am), but I am just a super girly-girl. I love to dress up, so even when a party calls for casual attire you can bet I'll still wear a dress or a skirt. This velvet skirt is surprisingly comfortable it's so soft, and the fact that it's stretchy doesn't hurt either. Pairing it with a chunky, cropped sweater is my way of dressing this skirt down and still maintaining ultimate comfort. You have to feel this sweater – it's like butter!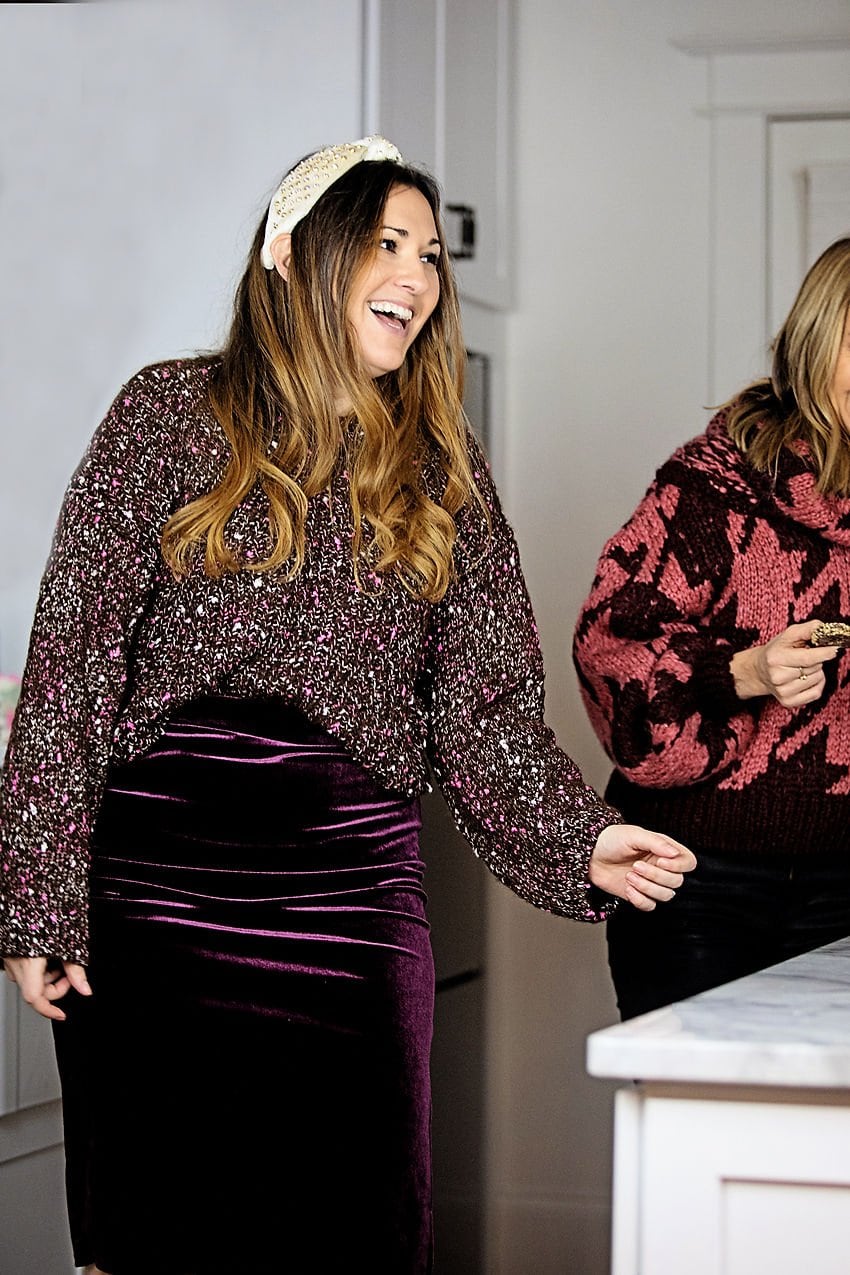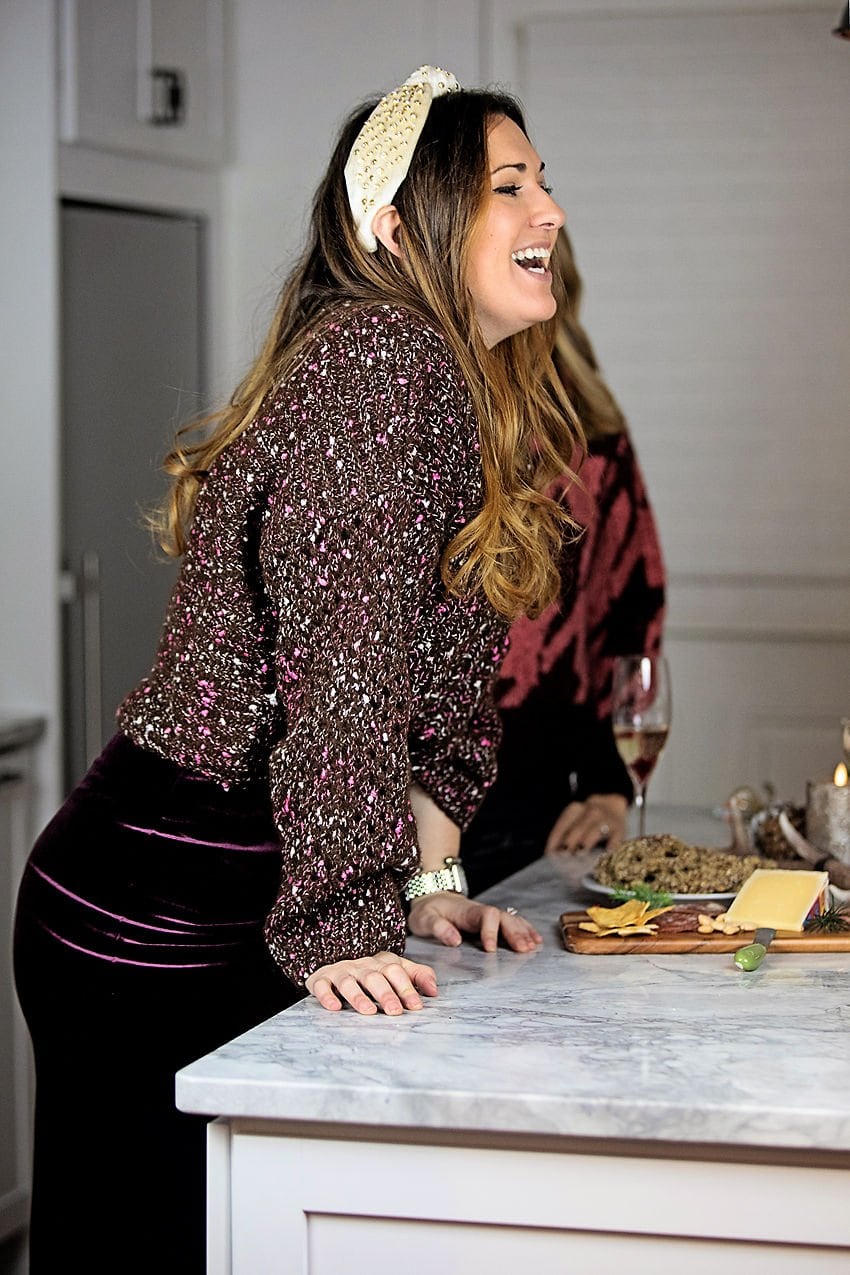 Wearing
Abby's Outfit
On the other hand, jeans are like leggings for me. On the weekends, I am in jeans. During the week, I am in jeans. So at Christmas you will most likely find me in……jeans. Yes, I am Lindsey's sister so I guess our love of denim runs in the family? And the easiest way to dress up denim is with a fancy top – or in this case a fancy bodysuit. Yes, this blouson top is actually a bodysuit which makes it even easier to chase down the kids and wrestle with my nephews (yes, this actually happens). I never have to worry about my top getting untucked. Surprise, surprise I paired my outfit with a pair of fancy booties with a heel small in enough in case we go out for an after dinner stroll.
Wearing
And what's a holiday party without a little bit of fun?!
More Holiday Favorites
What do you all wear for Christmas? You fancy or casual?!