Hello, January. We are getting a late start on what we hope to be a monthly addition to The Motherchic. One of our goals for the year is to help you make purchases that give you versatility and a lot of mileage – enter the January Capsule Wardrobe. I know I share a LOT of outfit inspiration, especially on our Facebook page, but these monthly capsules are designed to hone in on those core items. If we had to play favorites, here you go.
Over the course of the next three weeks, I am going wear the crap out of these pieces. I want to show you how to mix and match them, dress them up, dress them down etc… These 17 pieces (9 clothing items, 2 pairs of shoes, and 6 accessories) to be exact, are going to be on heavy rotation.
Another one of our goals is to show styles on different body types. We have a few longer term plans in our think tank, but mostly we just want to see these pieces on YOU. If you purchase any of the pieces on our capsule (or any piece we recommend), post a photo on social and use the hashtag #themotherchicstyled and tag @themotherchic. We will randomly select one person each month to send a $100 gift card to the retailer of your choice!
Are you ready to meet your January Capsule Wardrobe ? Here you go!
The Motherchic January Capsule
These 9 clothing items were curated with the modern women in mind – the gal who sometimes needs to look polished and sometimes needs to be casual. And we can all agree that A LOT of times we need to be comfy, but the hope is that you can pull from your own wardrobe (leggings, basic tees, joggers etc…) to stretch these pieces even further. Below we will break down each piece but category and give you a few reasons why it made the cut!
Tops and Blouses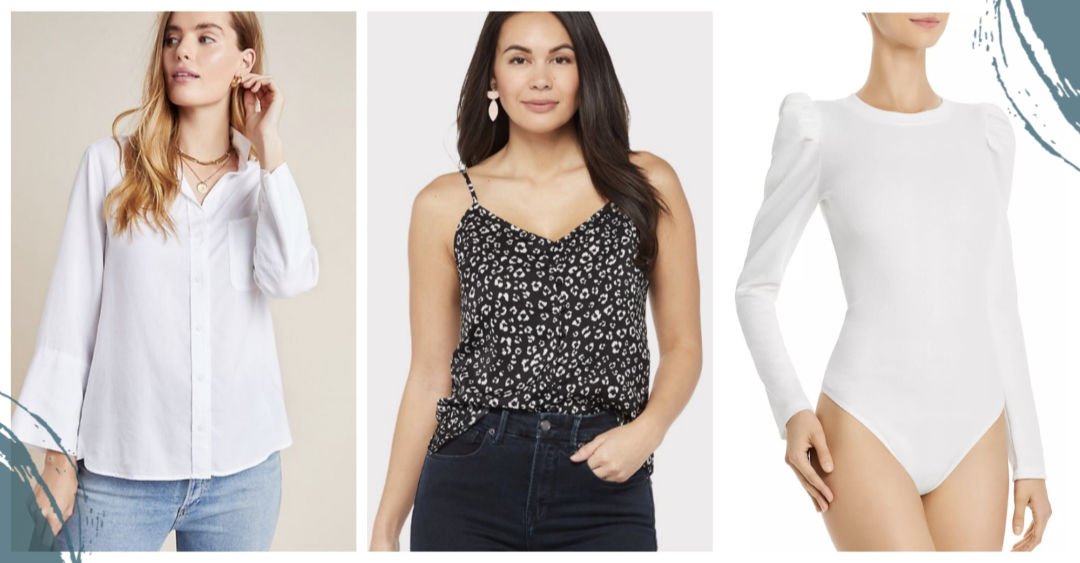 Classic White Shirt // We are always on the hunt for the perfect white button-down. It is classy and can be worn to work, but also on date night (un-button one more button, cuff the sleeves, and throw on some pumps and fun red lip). But back to why we picked THIS shirt in particular – it comes down to the fabric. It is made of tencel which means it is butter soft. The shape is super flattering and even though it's on the pricier side, this piece has staying power.
Printed Camisole // Leopard is the new neutral, but we loved the subdued vibe of this black and white print. I can't wait to pair these with the joggers in our capsule with a pair of pumps and a leather jacket. Or maybe we will try some print mixing and wear it under the plaid blazer with jeans. Time will tell, but this piece is all about F.U.N.
Puff Shoulder Bodysuit // Based on a quick reader poll, you guys are into bodysuits. Good thing, because SO ARE WE!! In an effort to be on trend, we selected the puff sleeve body suit for a touch of femininity. Puff sleeves are a big trend for 2020, and we are trend dabblers meaning, I might not do a big puff, but a little one? Sign me up. Wear it alone with jeans or under a blazer or cardigan and it will quickly become the base layer you never knew you needed.
Jeans and Pants
Straight Leg Jeans // We know you all have denim in your closet, but this vintage fit is not your average skinny. We loved the lighter wash and are excited to show you how to pair them without a variety of shoes, even shoes that will take you into spring!
Joggers // I've had a pair of dressy joggers on my wishlist for a long time now. You could wear these with a sweater and sneakers, but also with heels and a blazer for work. Either way you are going to be comfy, because that's the beauty of this silhouette!
Side Zip Work Pant // Ask and you shall receive. Many of you have expressed interest in me sharing more workwear clothes. While I don't have to dress professional for my job, I can show you what I would wear if I did. Everlane is a sustainable brand that I've been shopping at for years. The quality of their pieces is top notch and these classic work pants look like a promising staple. Stay tuned for how we style them!
Jackets and Sweaters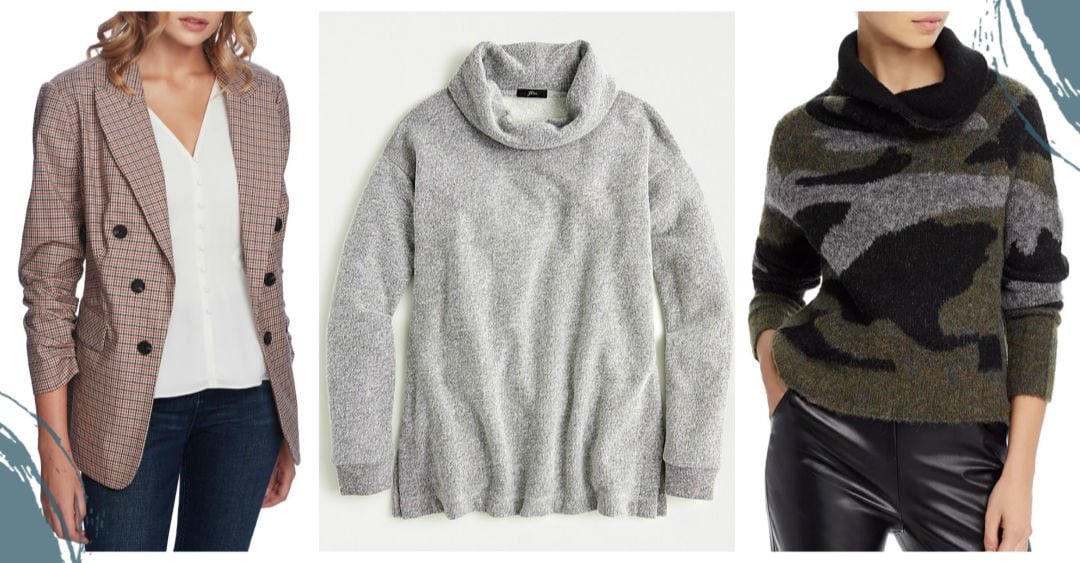 Plaid Ruched Sleeve Blazer // If it has cinched sleeves, I'm in. A blazer is one of those pieces that looks just as great over a white button down as it does over a fun graphic tee. A similar one by the same brand flew off the shelves during the anniversary sale and we are crossing our fingers that they keep bringing this one back – it's got just the right amount of feminine details.
Fleece Funnel Neck Pullover // This wouldn't be a Motherchic capsule without something cozy that covers the booty and can be worn with leggings. Don't ask why – just add to cart.
Camo Sweater // Little known fact, there is a spectrum of camo. This sweater lives on the more sophisticated side. Can you picture it now……this sweater, leather pants, cat eye sunglasses, chic black boots….ok now open your eyes. Obviously I'll also be pairing it with my trusty denim and sneaks – or my new joggers and booties? What I am trying to say is, get ready to see this sweater a LOT.
January Capsule Wardrobe Accessory Picks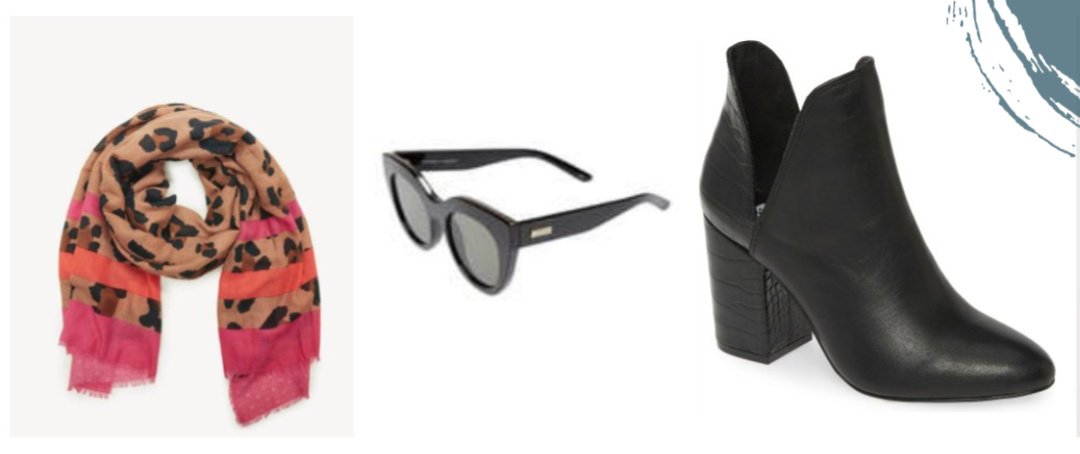 Scarf // This scarf solves for the "My outfit is cute, but it's missing something" problem. This scarf is double duty because not only does it add a pop of color, but it also adds a fun print. Fingers crossed this cutie doesn't sell out too fast.
Sunnies // Winter sunnies are a thing. These are going to make you feel like a million bucks. That is all.
Boots // Ok so honestly we added these boots based on the ratings and had a HARD time choosing a color. Ultimately we went with the croc black for a bit of texture. We love the cut out detail and are ready to take these boots a walkin'…..
Belt // We are all about belts with a little something extra. We loved the western embellishments of this one in particular. It's definitely an outfit maker – already envisioning it with the Madewell jeans and bodysuit!
Slides // Who has time for tying shoes? These snakeskin slides will give our white tops just the pop they need. Recommend sizing up half a size.
Bracelet // You could wear a sweater. You could also wear a sweater and a bracelet. Can you guess which combo we like better?
Vegan Bag // What's better than one vegan leather bag? TWO vegan leather bags. This tote comes with smaller inner bag that is guitar strap friendly. So YUP, it's a two for one and we will be carrying these bad boys on repeat.
Hat // We did mention this is a January capsule. Where we live it's C.O.L.D. This neutral hat goes with anything but our favorite part is actually the inside. It's lined with the fuzziest fuzz and calling it now – you will never want to take it off.
Are you still with me? I did NOT expect to write that much but clearly I am excited about our January Capsule Wardrobe. Starting next week you will start seeing these pieces in real life a.k.a. on social media (bad joke), but I really hope to see YOU guys wearing them and showing us your own personal spin. Make sure to use #themotherchicstyled and tag @themotherchic so we can find you and enter you in our monthly giveaway – $100 to one lucky winner!
Pin It!