Thank you to Bloomingdale's and ShopStyle for sponsoring this post
Ok, so this is coming from someone who didn't "technically" make any New Year's Resolutions, but maybe the fact I didn't, says something. And this is not me trying to toot my own horn and say that I have NOTHING to improve upon, it's just that when I do, I don't wait until January 1st to fix it. I am a big believer in being proactive and self-reflective – it's the best way I know to keep myself in check. I guess my unspoken resolution is to keep doing those two things. Below I've listed a few things I do all year long to keep me at my healthiest and happiest…..
Keep yourself accountable. Write down your daily to-do list and cross things off when you finish them. Having a visual is extremely powerful. When you look back at your list at the end of the day, TRY not to tell yourself, "Damn, I'm awesome." Go ahead, try it…. says the person who is known to write down things she has already done just so she can cross them off (sorry not sorry).
Go all in, then scale back to something attainable. Last year I struggled with anxiety (and it still lingers from time to time), but when it was at its worst, I put all of the energy in my entire being into making myself better. I saw doctors, I meditated, I went for long runs, I did acupuncture, I listened to podcasts that talked about anxiety, I switched my diet, I started taking herbal supplements, I went on medication – I was full FORCE. And now, I am a million percent better because of the anxiety "toolkit" that I wear around my belt. That said, doing all of these things that I dedicated so much of my day towards, isn't sustainable (or needed anymore). I pulled back to achieve a healthier balance by making time for other things I love to do. I still do all of these things, just not as much.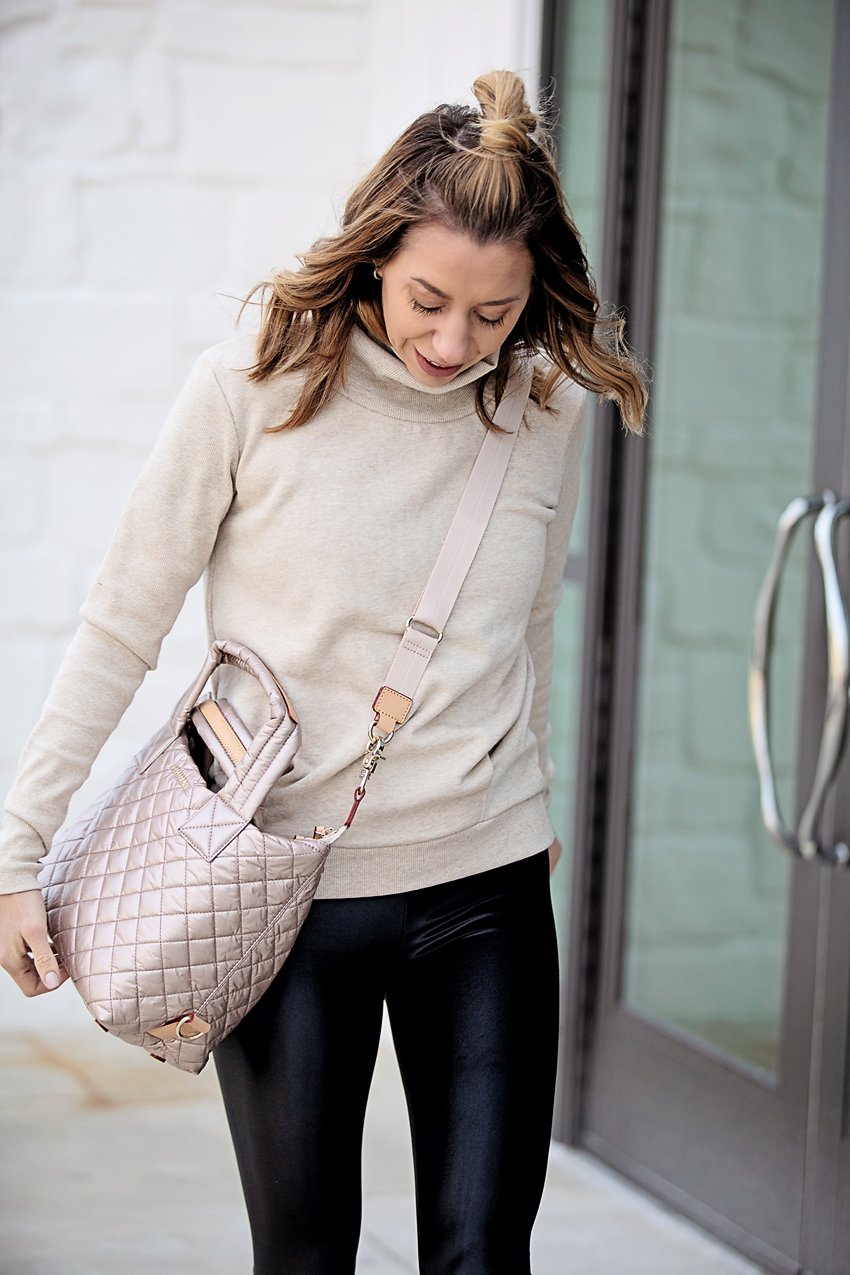 My point is if you are trying to start something new, dedicate a lot of time to it in the beginning until habits are established. Apparently, it takes three weeks to create a new habit. Then scale back to something you can maintain long term. Take the yoga challenge we are doing, for example. Is it attainable to do a 30-day yoga challenge 12 months per year? Probably not. But once the challenge is over, doing yoga 3-4 times per week is going to feel like cake – and let me tell you you are going to crave it – sort of like cake!
Give yourself all of the tools you need to succeed, so you aren't scrambling. If you are focused on eating healthier, make sure your fridge is always stocked with healthy options, so when hunger strikes your only option isn't Doritos (although I could think of worse things). If you want to work out more, commit to a set time each day and make sure you have all of the gear you need, so there are no excuses. If you are trying to have less screen time and more human interaction, set yourself up for success by putting your phone on a different floor of the house during certain hours of the day or download tools to help you track your usage – the results of that alone are enough to make your skin crawl.
Something that I am personally always working on is balance. My job could consume me 24/7 if I let it. My four kids can (and do) consume me 24/7. With little time left over for things like oh, my husband (!!), my family, my friends, my "me-time," workouts… sometimes I feel like my days are just a race against time and trying to squeeze a lot into a little container.
So, what gives when it's all super important? I'm pretty sure that's why they invented dry shampoo and super chic workout leggings. We can also give ourselves some grace and not strive for that elusive idea of perfection. If you made a list, put on the yoga pants, bought the kale, kissed your kids, had a meaningful conversation with another person in real life, and ended the day with some chamomile tea (or a glorious glass of red), then I think we are all doing the best we can.
And it goes without saying, that getting up, splashing cold water on your face, and putting something on that makes you feel great is a no-brainer way to start your day. This look includes a few pieces from Bloomingdale's activewear section that I live in because the fashion-forward vibe can help me squeeze it all in and still feel good about myself. I can go from a yoga class, to run errands, to kids' activities all without even changing. Like I said before, that's the beauty of dry shampoo super chic leggings. Try to stop me now…..
Shop the Post
Aqua Athletic Jacket // Equal parts fashion and function. This jacket is all about the details – mesh panels, subtle camo, and it's partially lined in the softest fuzzy fabric. Wearing and XS but size up if between.
Koral Leggings // Show me any legging with a coated finish and Ill swoon. That added sheen gives me just the edge I need some days. The fact that you can wear these to work out and also bop around town feeling fab was my initial draw. The high-rise fit, 5-star ratings, and extreme comfort factor are why I can recommend them with confidence to all of you. Wearing XS – size down if between.
Alo Turtleneck // The fact that I have three of these, speaks volumes. I love the high standing neck for extra coziness when going out into the cold after a workout. The pleats give it a fun feminine detail and set it apart from your basic pullover. Wearing size XS – TTS.
Aqua Foil Cropped Top // I'm all about celebrating year-round, and what can I say, this top reminds me of champagne bubbles. It has a built-in shelf bra with removable pads. I love the muscle fit, so I can move with confidence no matter what workout I am doing – running, yoga, spinning. Wearing size small (I always size up in bras).
MZ Wallace Tote // The perfect crossbody for the multi-tasking girl on the go. I love this entire line and Bloomingdale's has the biggest selection I've seen in terms of styles and colors. I love this smaller version for running errands because it allows me to be hands-free. Also great for travel/site-seeing.
P448 Sneakers // Hands down my favorite fashion sneaker. I gravitate towards these on a daily basis. Ask my friends at the bus stop. I may not have make up on, but I've got my glittery kicks. These shoes make me happy and are well worth the investment. Recommend buying your regular size if whole size, or if a half size – go down to nearest whole.
Shop More Activewear from Bloomingdale's Below: