Hi Guys! Happy Friday. I don't know about all of you, but I feel like I had a really productive week. Maybe it has to do with the fact that I have been making tons of to-do lists and my accomplishments are documented? Or maybe it has to do with the fact that we really did a lot around here. My team and I have a great, yet unconventional system of getting it all done and we have been in a sweet groove. When that happens in any part of my life, I tend to get bored. I get the itch to change things up. We decided to take advantage of our efficiency by building "creative blocks" into our day so we can bring you guys more great things. Some of these things include better emails (and if you are not on our list, you should be! Get on it here), plans for showing styles on more women, more meaningful collaborations with brands I love, an extension of our yoga challenge, and as always, sharing fashion, but in a way that you can truly see which pieces in your closet are worth the investment.
It was a fun and rewarding week, and as promised, here is "What I Actually Wore". For reference, I am 5'4 and wear size XS, 2, or 25. You can assume the pieces below fit TTS (true to size) unless noted otherwise.
Sunday
Laundry and cleaning day. Why get dressed when you can wear a cute sweatsuit all day?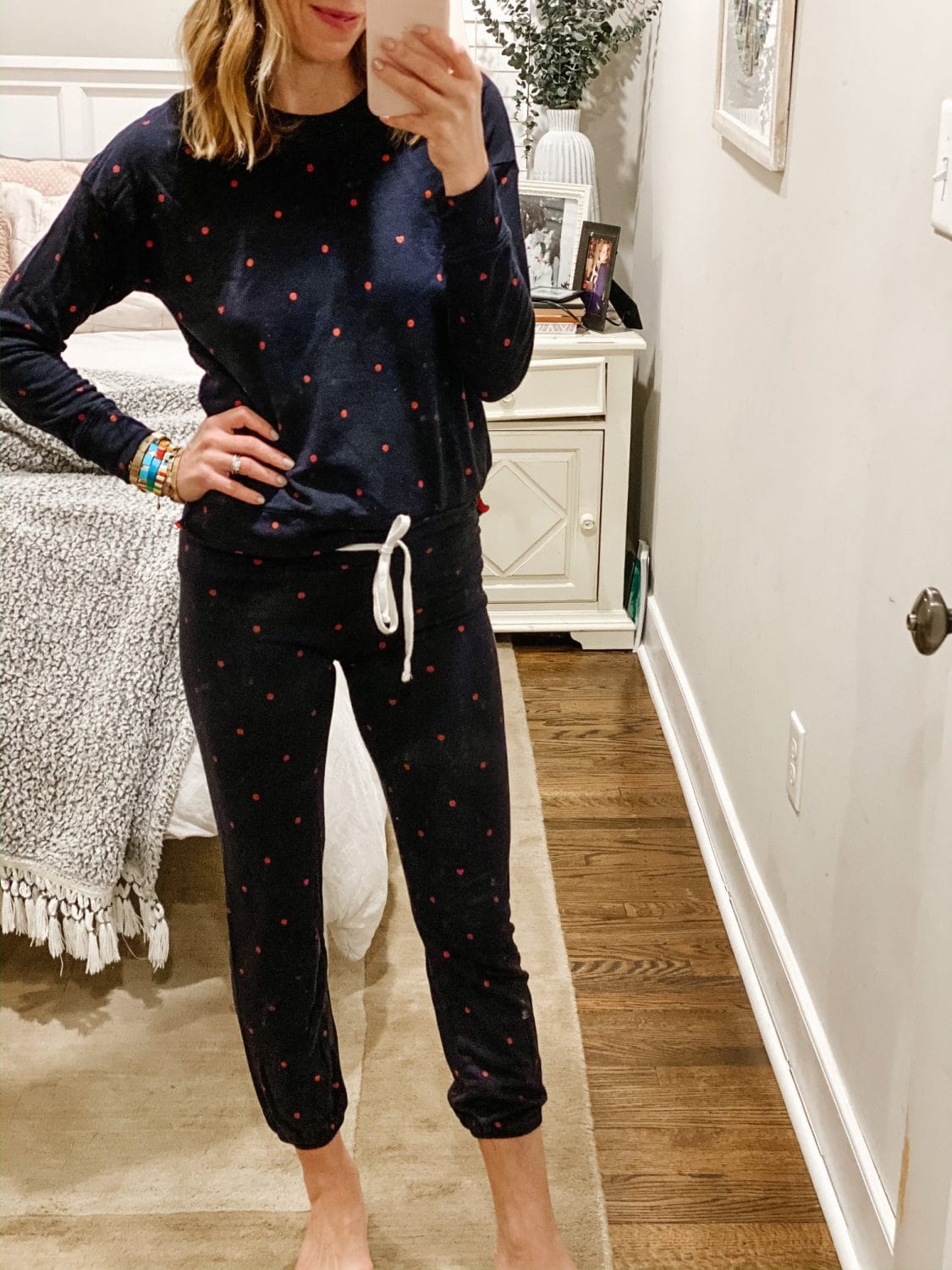 Sweatshirt | Joggers (both on crazy sale!)
Monday
I was planning a some content for the week ahead and knew we would be featuring this blazer in a big way. Here was me experimenting with styles, but check out how we styled this blazer 5 ways here! (note to self, clean my mirror!)
Blazer (wearing XS – size up if between)| Tee | Jeans | Booties (sold, linking similar)
Tuesday
Arguably the most boring day of the week? I tend to wear something feisty on Tuesdays just to spice it up.
Leopard Hoodie | Coated Jeans | Sneakers
Wednesday
One of those days I worked out and never made it to the shower. Even so, good vibes all around.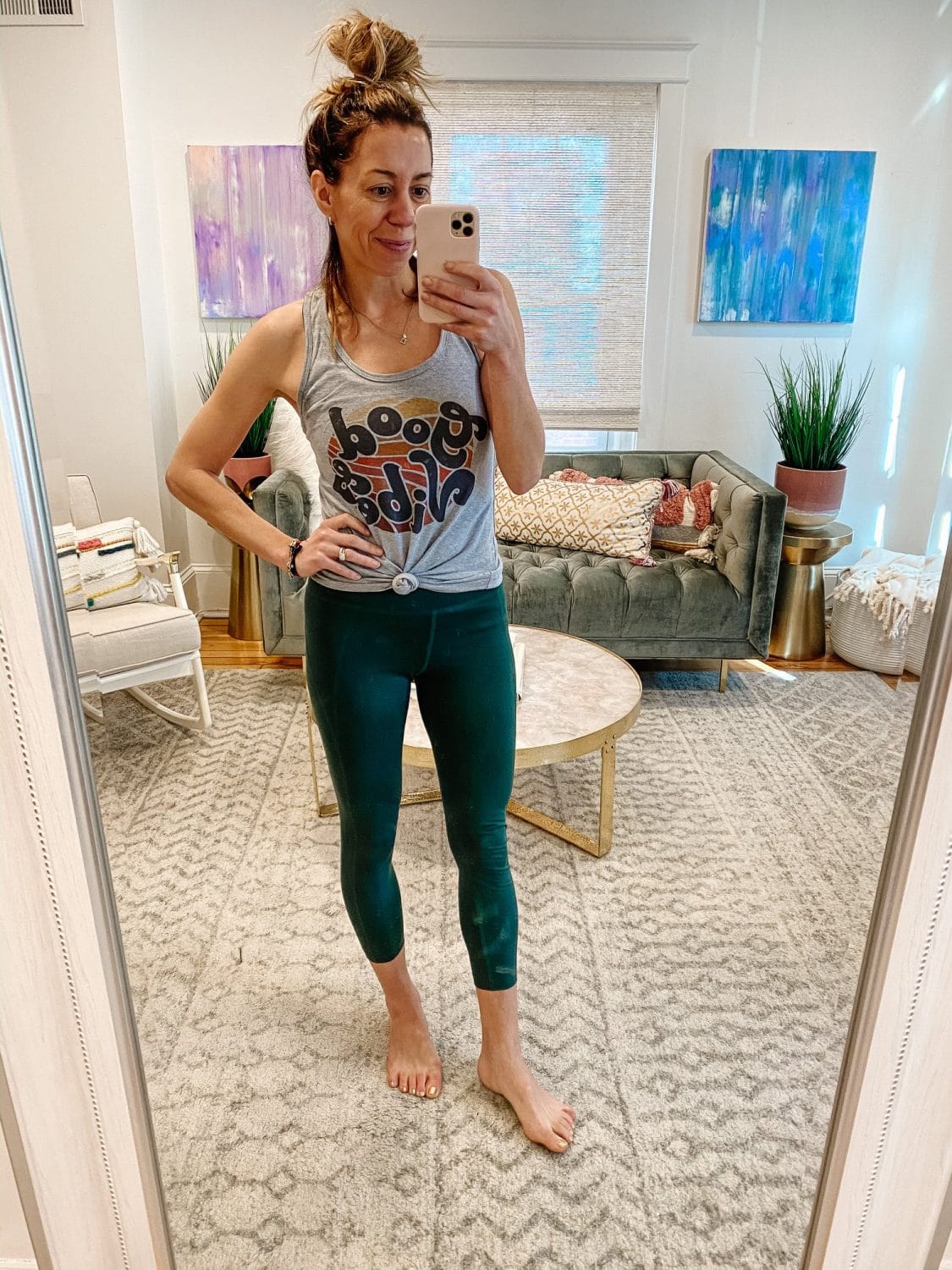 Thursday
Hiding unwashed hair like it's ma job. Also, this zip up hoodie went on sale, so I took a picture to show all of you, and then never took it off!
Friday
Started the day forgetting that my son needed a teddy bear at school. After dropping him off at 9am and seeing the lip quiver, I ran to the GAP (thank you for being open at 9am) and scored one for him 50% off! By 9:06, he had a teddy bear in his hand, and after that parenting fail fix I knew I was ready for anything. So, I did a bootcamp workout, met Alison for a photoshoot, did computer work (emails/write blog posts etc…) then ended the day showcasing some of my favorite pieces from Evereve on my instagram stories.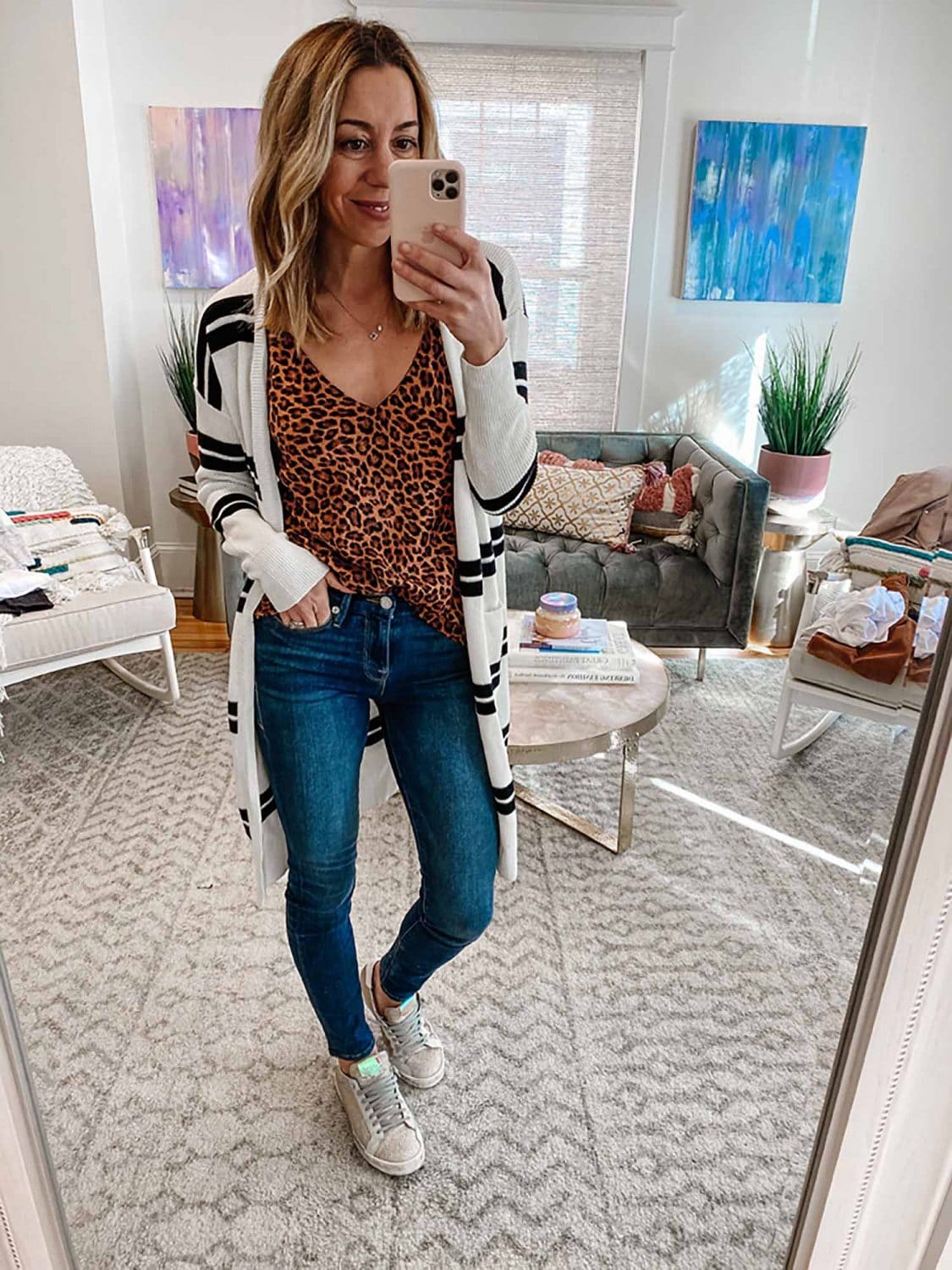 Cardigan | Camisole | Jeans (size down) | Sneakers (20% off when you add to cart!)
Shop more of my OOTD's here! Happy weekend, friends.