Ladies I have heard you loud and clear – you want more workwear! But not your normal workwear. You are looking to spice things up and I could not be more excited to help! I put together eight fashionable but functional outfits for you to rock at your office without getting a call from HR.
Not-so Basic Neutral
Wearing all black doesn't need to be a drab! Play it up with different textures and patterns, like a faux leather skirt and a fun belt. And when in doubt, add a little puff sleeve to your outfit!
Blouse | Skirt | Heels | Belt (linking similar) | Necklace (linking similar)
Chilly Chic
I have to admit that we keep our office nice and toasty (maybe a little too toasty) but some of the girls at TMC have had the otherwise normal experience in past jobs — the office freeze-out. Getting a personal space heater is one way to solve the problem, but a classic long cardigan is even better.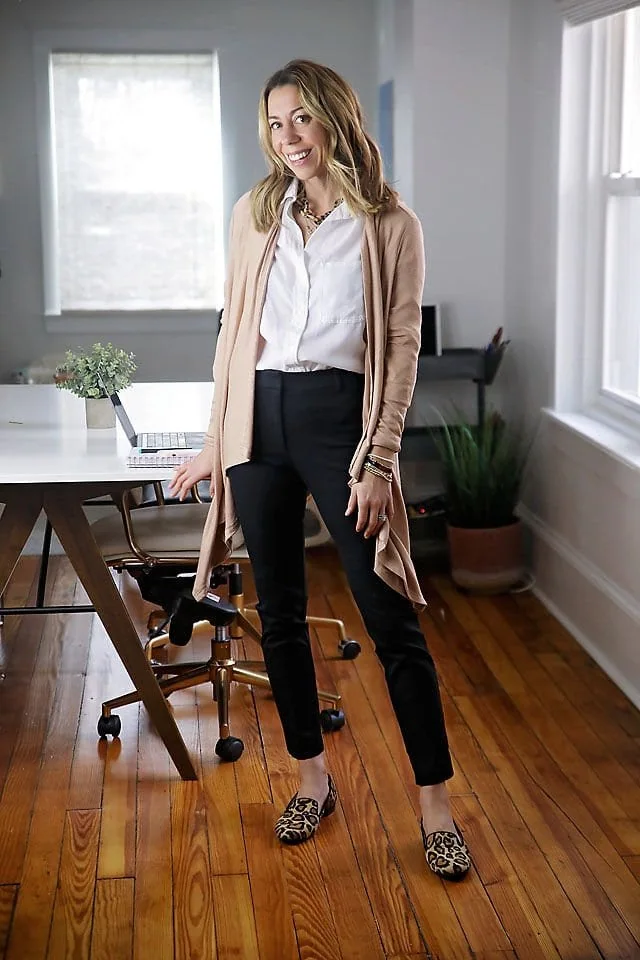 Button Down | Pants | Necklace | Cardigan (linking similar) | Flats
Board Meeting Beauty
Let's talk meetings. Getting overly dressed up in a suit is not always the comfiest option, am I right? That's where this outfit comes into play — comfy AND boss babe all in one. These pants are pull-on and seriously feel like you're wearing lounge pants, without looking lazy or sloppy. Throw on a plaid or tweed blazer and you are going to nail this meeting!
Bodysuit (size up) | Pants (sooo comfy!) | Heels | Earrings
Print, Texture & Pattern – Oh My!
Another example of how neutrals don't need to be boring! I bought these lace pants around the holidays, but have been wearing them well-after so many different ways. After adding a leopard tank and statement necklace I kept the rest of the outfit clean. Adding on a black blazer, heels and a sleek bag to finish the look.
Tank | Lace Pants | Blazer | Heels | Necklace | Bag
When In Doubt…Leopard Skirt
If this outfit doesn't get you excited to get dressed for work, I'm not sure what will! I love that the ruffles on this pink turtleneck bring a little femme touch to an edgy leopard skirt. Tone the rest of it down with neutral shoes, and add a belt as your statement accessory. Hump Day has never looked so chic.
Sweater | Skirt | Belt (linking similar) | Heels
Hold, Please
Thank you for holding, Lindsey speaking. How can I help your fashion needs? Oh, you need a classic suit look with an edge? Just add a pair of leopard loafers. Thanks again for calling and letting me assist you today!
Blazer | Button Down | Pants | Loafers | Necklace
Neon Is a Neutral
We all know now that leopard is a neutral, but dare I say neon is as well? Maybe I'm crossing a boundary here, but something about a very bright sweater with a fun pair of pants makes work *that* much better. Although I'll let you in on some advice. Maybe don't wear it when you are trying to sneak out of the office early on a Friday 😉
Sweater (cropped, size up for length. Also on sale!) | Pants | Heels
No More Monday Blues
The cure for the Monday blues is to…wear blue. Yes, true to the Pantone Color of the Year, calm your nerves by dressing in layers of this blissful shade. Plus you'll look amazing, and that's a win-win in my book!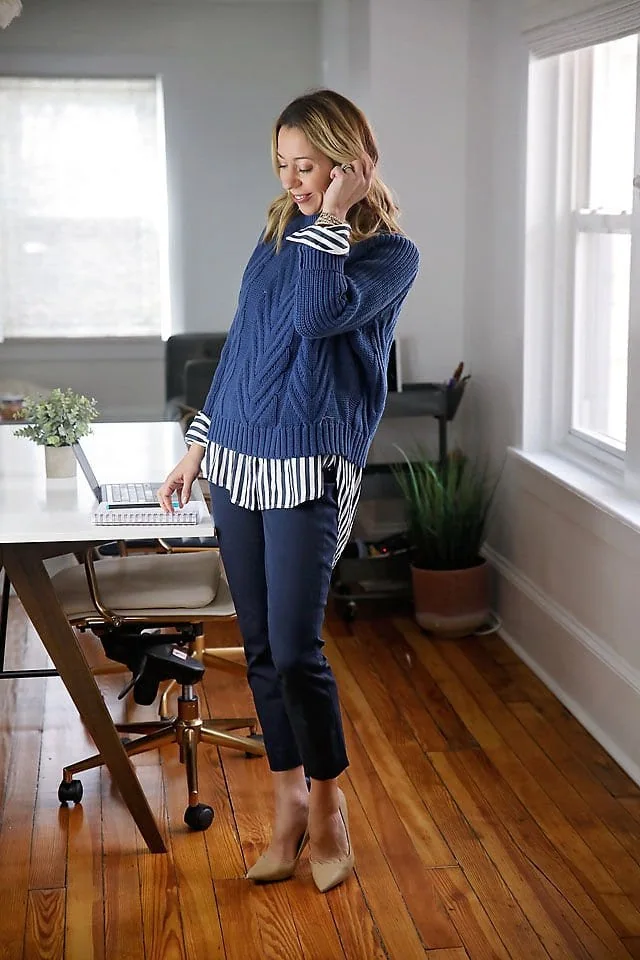 Button Down | Pants (wearing regular length) | Sweater | Heels | Necklace
Shop the (fun!) Workwear Edit