Thank you to Nordstrom and ShopStyle for sponsoring this post.
Ok so maybe it would be juicier if I was sharing what is in my purse, but honestly there isn't much else in there besides a wallet, old string cheese wrappers, and Chase (from Paw Patrol). What's in my gym bag, however, is a little bit more intentional and refreshing – obviously.
Can we first all agree that often times we don't go straight home after the gym/yoga/barre/spinning etc… Sometimes I hit up Starbucks, or the market, or the nail salon, or the wine store (very convenient that it's across the street from my favorite yoga studio). My point is, sometimes I do a little "spruce and go" before a taking a full blown shower. My gym bag contains all of my secret weapons to get me from a sweat session to points A,B, and C without looking like a hot, smelly mess.
Meet the contents of my gym bag….
DryBar Detox Dry Shampoo // This works double duty. Not only does it cool my scalp and hide the sweat, it also has a fresh scent. I usually give my hair a quick blast with a hair dryer, then spray, pause, and work it through my roots.
Ursa Major 4 in 1 Facial Wipes // One swipe over your face and you'll be cleansed, smoothed, exfoliated, and hydrated. No walking around town with dried salt on your cheeks.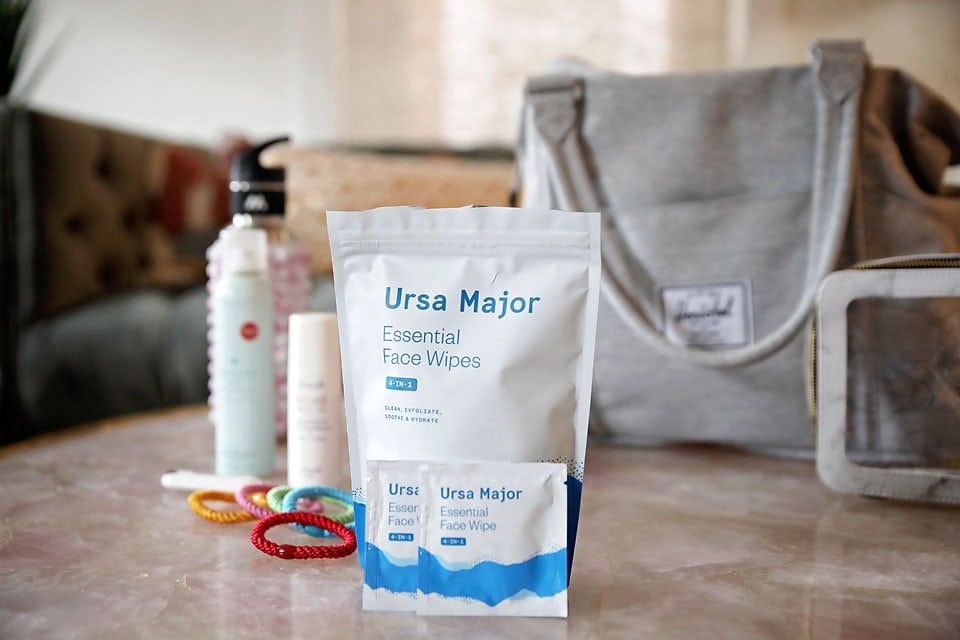 Fresh Sugar Roll on Deodorant // Because a little extra protection can't hurt. This has a fresh, citrusy scent that is very light. It's infused with natural sugar and is alcohol free. Translation: you'll smell sweet and it won't burn!
Kosasport Lip Fuel Hyaluronic Lip Balm // This is as far as I go in terms of wearing make-up post workout. It's a super moisturizing tinted lip balm. And it looks kinda sporty – hence why I keep it in my gym bag.
L.Erikson Grab & Go Ponytail Holders // These are the creme de la creme of ponytail holders (especially if you have medium/thick hair). Not only do they come in cute colors, but they do not damage your hair and your pony will stay put! Also, they have 200+ 5 star ratings, so there's that.
MoBot Foam Roller Water Bottle // Yes, you read that correctly. This is a 2 for 1! It's equal parts foam roller/water bottle. What I am trying to say is you can hydrate and give yourself a deep tissue massage simultaneously. Honestly, what will they think of next? I got the 32oz size so I have a little extra H20 on hand if I don't go straight home.
Tula Eye Rose & Glow Eye Balm // After a workout, even though I feel great, I don't always look great. This eye balm (a TMC team fave) is instantly cooling, and brightens my under eyes just a touch so I can get away without a full face of make up.
No Show Socks // I always keep a stash of fresh socks in my gym bag. One of the questions we get asked a lot is about no-show socks. For sporty shoes (sneaks), I love these!
What else is part of my post-workout routine you ask? Besides chatting way too long with friends and turning what should be a 60 minute class into a 90 minute social session, I like to swap get out of my sweaty clothes, especially if it is cold outside. Something loose fitting, like joggers and a hoodie does the trick. I also throw on a hat so my body doesn't go into complete shock when winter air hits.
Wearing:
Hoodie (TTS) | Joggers (TTS) | Sneaks (size down) |No Show Socks| Bag | Hat | Water Bottle
It goes without saying that Nordstrom never ceases to amaze me. I love that I can get my most fashionable wardrobe staples AND products that support a healthy lifestyle all in one place. Check out their entire wellness shop here, and my personal favorites below.
Shop More Wellness Favorites Here: