I feel like we are on a hot streak… if hot streak means you can do something twice in a row. We told you we were going to give you capsule wardrobe options every month. January Capsule wardrobe, check! February capsule wardrobe, check! Then we told you we were going to do a round up of how we wore said capsule. January, check! February – coming soon. We told you we were going to give you more work wear inspiration, check! We told you we were going to do a 30-day yoga challenge, check! And guess what?! We are at it again. See – hot streak.
We really tried to narrow this month's capsule items to a few must-have basic items with a few trend pieces thrown in. We balanced between investment pieces and some inexpensive options. At the end of the month we will do another round up of how I wore each of the items and a full review. Let's meet The February capsule wardrobe….
The Leather Jacket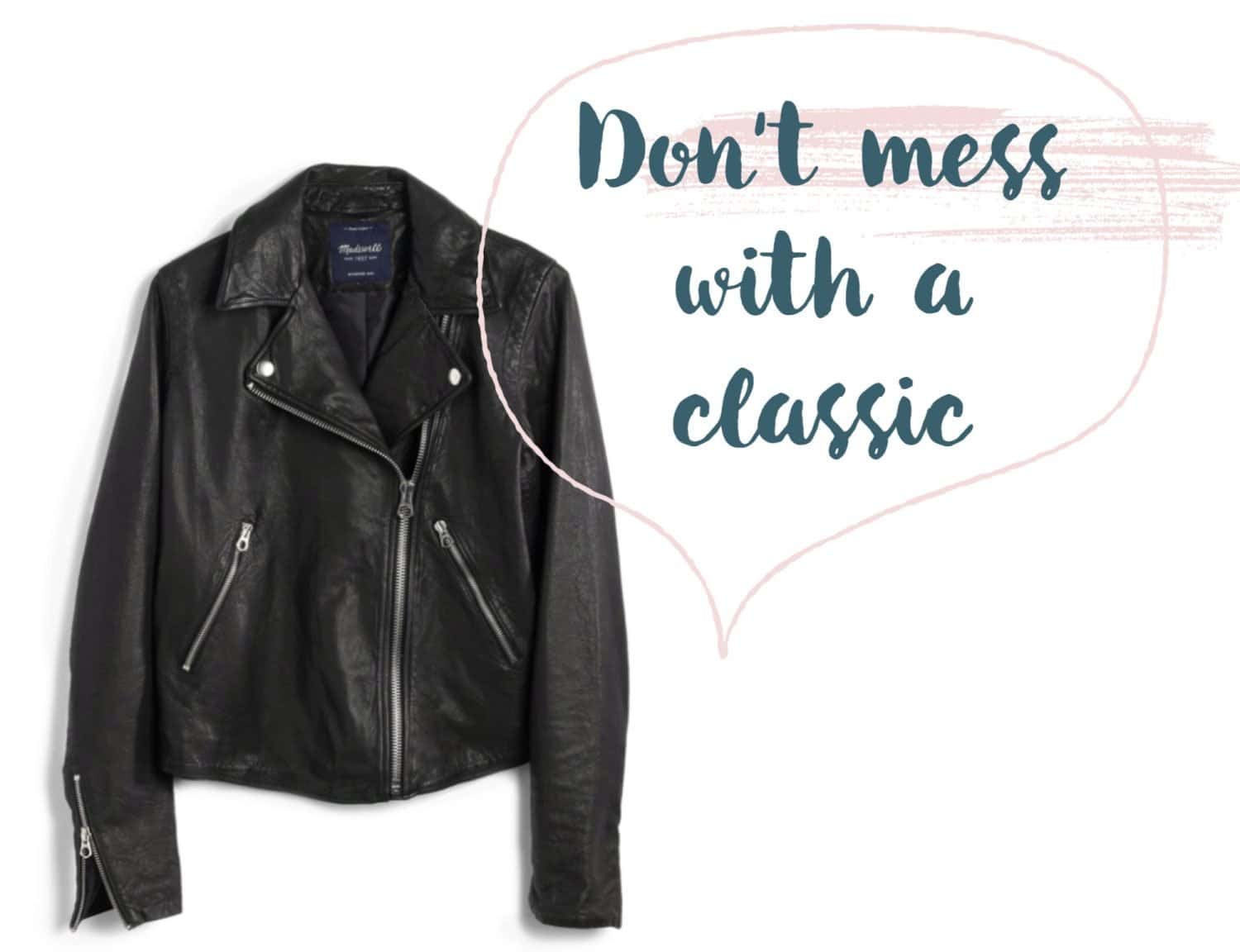 Shop it here (less $ version here)
Where do I begin with this leather jacket? Yes, it is a major (major) splurge, but I will literally have it for my entire life. The leather jacket is a great option for a lot of "what do I wear" moments and I've had my eyes on this top rated one for years. Traveling to a new city? Leather jacket with a tee, maxi skirt and cute sneaks. Vegas? Leather jacket over dress. Spontaneous date night? Leather jacket with jeans. Bachelorette party? Leather jacket with cami. Concert in the park? Leather jacket over graphic tee. Side note, this leather jacket may not open your calendar to all of these invites, but if they come about, at least your outfit is ready.
The Jogger
Shop them here
Each morning starts out the same with a quick jog in my pajamas to the bus stop. Oh wait, these aren't my pajamas, but they feel JUST as comfortable. These joggers are what dreams are made of and no judgement if you do happen to wear them to bed. I wish I had these post partum for the comfort aspect and that "oh, wow that Mom is so put together" look.
The Classic Skinny Denim
Shop them here
No surprise here that this classic skinny jean will be the most worn and most versatile item in the capsule. I had to include this specific pair for a few reasons: 1) The perfect denim color with a touch of whiskering and 2) The raw hem adds a little edge, while also being office appropriate. 3) I love anything high rise.
The Little Black Dress
Shop it here
I have big plans for this little black dress. In other words, I am ready to wear it a lot! Going out on a limb with this one and hope to wear it with tights… not usually a tights person, but I'll try anything once.
The Tunic Blouse
Shop it here
I have this top in white and it has been a closet staple for a few years now. Yes, I said years. It was only natural that I needed to add a second color to my wardrobe. I love the tunic length on this, but it's also light enough for a little front tuck. If you don't believe how good this top is, just check out the +4k reviews!
The Date Night Top
Shop it here
This capsule needed a little print, didn't it? I am not a huge print lover. I like to stick to textural solids and stripes, but this ditsy floral caught my eye. A little boho, a little feminine, and a lot of love.
The Cozy Sweater
Shop it here
I may have teased this top out earlier this week and the response was mixed! I am going to challenge myself to wear this cozy sweater top a few different ways and also on a few other body types! So, stay tuned!
The Work to Weekend Top
Shop it here
The rumors are true. Leopard is not going anywhere! I love that this leopard print looks more like a texture. It will be easy to mix in with workwear pieces, but also fun to pair with denim for a casual weekend look.
The Work Pant
My inner #bossbabe squealed when I saw these flare pants. These pull on, machine washable, under $40 pants are what I like to call modern work wear at it's finest. They are a ponte material which makes them comfortable and substantial. Did I also mention they have pockets? Get ready to see these on repeat.
Shop them here
The Graphic Tee
I love a good graphic tee to jazz up an outfit. But when I saw this adorable heart printed tee, well, my heart was a flutter…..#swoon. I absolutely love the brand Z Supply for their luxe and soft fabrics so I knew this one was hands down a winner.
Shop it here
The Legging
Kudos to the readers for highly recommending these leggings. These leggings are also a ponte material, which I have come very familiar with. Ponte has the comfort of a cotton legging, but it is more substantial making it easier to "dress up". I would highly recommend these for work, but also every day wear.
Shop them here
If you give a girl a capsule wardrobe…
…she'll probably want some accessories to go with it. The new fashion book for adults. Check out the updated classics we are swooning over for this month!
If you purchase any of the pieces on our capsule (or any piece we recommend), post a photo on social and use the hashtag #themotherchicstyled and tag @themotherchic. We will randomly select one person each month to send a $100 gift card to the retailer of your choice!