If your tee and jeans uniform needs an update, look no further than your feet. Let's be honest, most days (a.k.a. all the days) we are running around like chickens with our heads cut off. And the perfect way to treat your feet is with cool sneakers. Not only does it make you feel like the mom whose got her stuff together, but you will look pretty cool doing it. Your cool sneaker guide is officially here! We rounded up our favorite fashion sneakers at every price point and break down the tips and tricks to finding the best pair for you.
Splurge-Worthy Cool Sneaker Guide
Golden Goose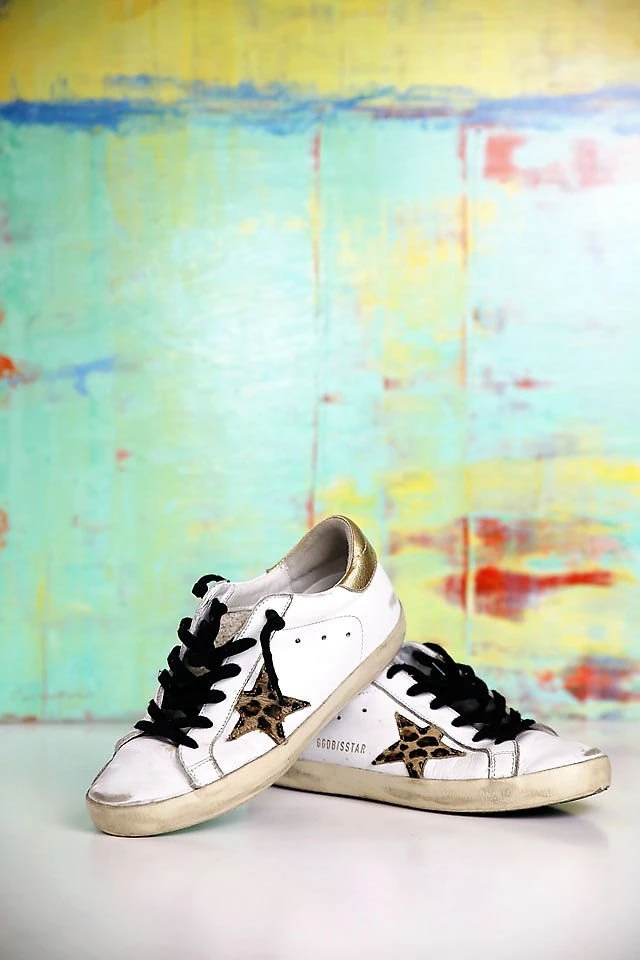 Shop Golden Goose Here
(they make new styles VERY frequently and the exact ones pictured are no longer available)
These Italian-made sneakers are the "must-have", the "it" shoe, the cream of the crop. But why? The price tag that comes with these cuties can be jaw dropping. Maybe it's the perfectly branded and recognizable star. Maybe it's the hidden wedge. Maybe it's the fact that they just look cool and no two pairs are exactly the same. But, are they worth it for the $$? Maybe?! I will say, I wear mine a TON so cost per wear helps to rationalize the price. I also sort of love that they are "dirty" because I don't worry about ruining them. That being said, there are also a lot of other fashionable, less expensive and comfortable options out there.
Fit Tip: I am a 7 and got a 37. They are real leather so they will stretch out a little. I would say if you are between sizes to get the next size up. Note: I have the "superstar low top sneaker" which is the most popular style. Some of the the other styles have a thicker sole and fit even tighter.
More Golden Goose Here:
P448
Left Zebra Pair | Right Glitter Pair
So nice, I had to buy them twice. I absolutely adore my P448s. And maybe it's because they are half the price of Golden Goose. I love that they offer so many different styles from sweet to edgy and everything in between. A full on glitter shoe? Sign me up! A subtle zebra print, done. Like Golden Goose, these are also made in Italy. I personally find them a little more comfortable to wear than GG's because the inside is padded and has a terry cloth lining.
Fit Tip: Again, I am a 7 and got a 37. Both pairs I have are suede and were super easy to break in. If you go with a leather pair, they will soften, but will take a little longer to break in. I have friends who have the leather and say it's quite stiff. I have never tried a leather pair, but the suede ones are super soft! When in doubt, size down if between.
More P448s Here:
Less Expensive Cool Sneaker Guide
Gola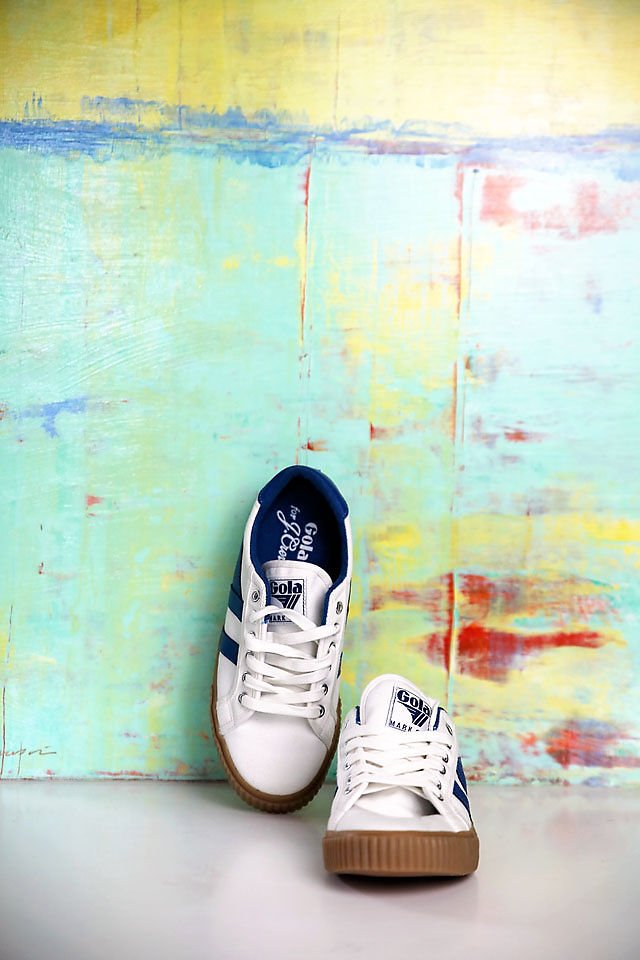 Shop The Gola Here
If you are looking for a preppier version or perhaps more classic sneaker, then Gola is your girl. This British brand rooted in sportswear is great for the girl on the go. Check out the Gola X J.Crew collaboration here.
Fit Tip: I am a 7 and have a 7. Most reviews said to size up if between as they can run a bit small.
More Gola's Here:
Steve Madden
Shop Steve Madden Sneakers Here
Leave it to Steve to make the cutest leopard sneakers. Perfectly on trend, yet with a classic twist. I bought these in New York (because you have to buy something in New York #amiright?) and haven't been able to find them online, but we found so many other fun leopard options to boot. Like the P448s many of these have a terry lining, making them extra cozy.
Fit Tip: True to size.
More Steve Madden Sneakers:
Vintage Havana
Shop Vintage Havana Sneakers HERE and HERE
I let out a definite squeal when I stumbled upon this brand. These are the winner for bang for your buck! Fun laces, funkier patterns, at a great price! I found these to be more stiff than most sneakers at first, so give them a few days to "break them in".
Fit Tip: Buy your normal size, but leave time to break them in. I also have a super wide foot and found these felt a bit more narrow than the other brands mentioned.
More Vintage Havana's:
And because the options are endless, more cool sneaks to love on….
And don't forget the cool laces to go with!
Tip: When in doubt, a fun way to change up your sneaks is to swap out the laces. We found so many fun pairs below…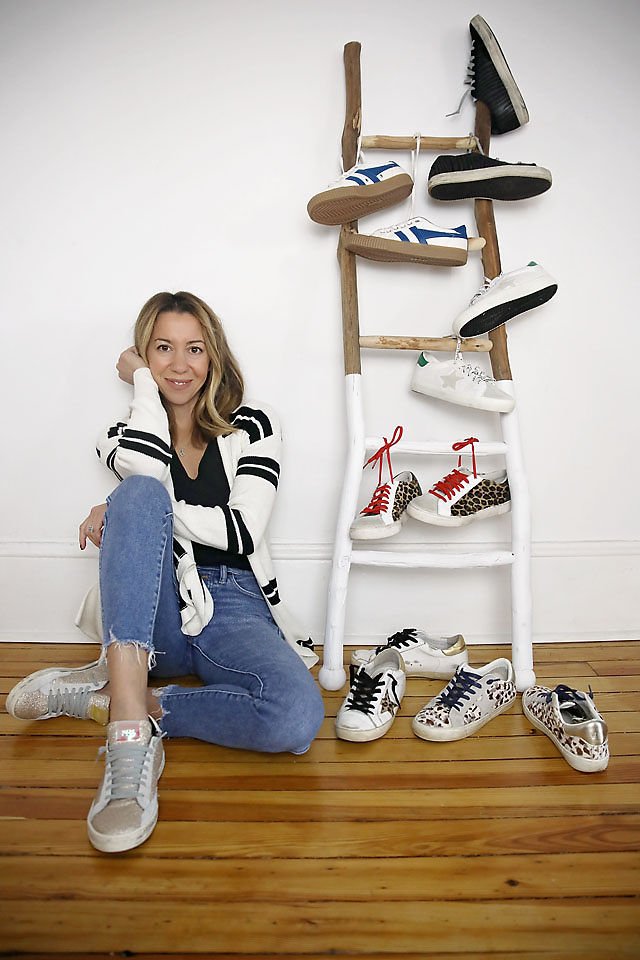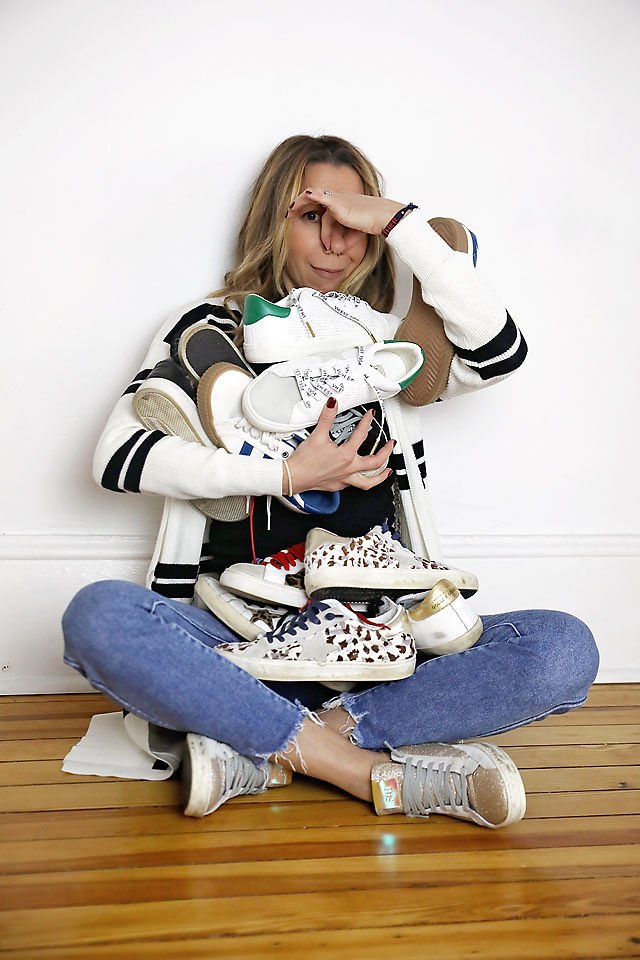 The picture above just reminded me. If you buy some cool sneakers, you are going to need some no-show socks to go with.