When we started our 30-day yoga challenge I got an idea to wear a different pair of leggings for each session in order to find the best compression leggings out there. Great idea right?! I didn't wear 30 leggings, but more like 15. I literally put these leggings to the test. Great leggings require a few must-haves for me:
Squat Test
High Rise (also see above squat test)
Comfort
But one thing that kept coming back time after time from readers was compression! And while all these leggings have some sort of compression there are definitely a few levels that I discovered after wearing a lot of pairs. Low compression are those barely there, silky smooth, uber comfortable pairs. I found myself wearing these long after the yoga session was over due to the overall comfort factor. Medium compression are the kind I like to put on right away in the morning to get me in the workout mood, but also may have to run a few errands first. I found these to be a go-to compression level for most readers. Lastly, the high compression are best for those high intensity workout classes where the last thing you want to be worried about is slippage. The best part of the high compression was that they didn't come in just your average black, but they came in moto, sparkles, cut-outs and more!
Low Compression Leggings
Not only are these a great price, but a Motherchic Team Favorite. Size down if in between. They have a slick yet soft fabric and the highest rise we have seen. They come in a flurry of prints and solids.
Shop the Colorfulkoala leggings here
So nice, I bought them twice! Yes, these are the same as the ones above, but a different color. This brand also offers a 7/8 length for those who want a bit tad shorter than full length.
Leave it Free People to create an on trend and functional workout legging. These are also more of a 7/8 length so a tad shorter than a full length. They have a pinhole pattern for breathability.
Shop the Free People Good Karma Legging here
Medium Compression Leggings
I threw a pair of fleece lined leggings in because they happened to be a fan favorite. Yes, I was able to work out in them, but mostly wore them more everyday wear.
Shop the Fleece Lined Leggings here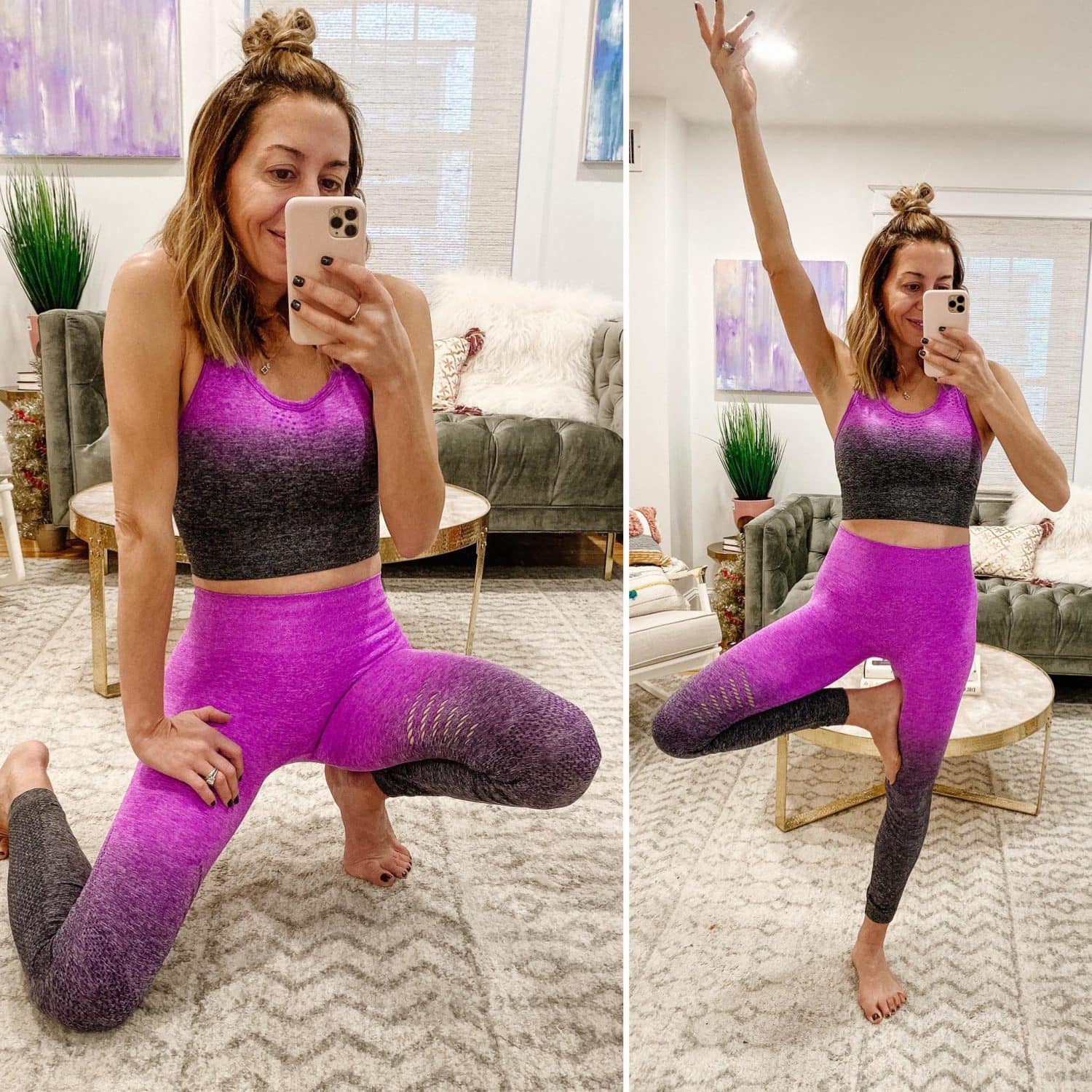 Ok the price of this can not be beat… because you can get the SET, yes top and bottom, for under $25! It is available in 4 colors and the fabric is comparable to some designer brands.
Girlfriend. Would you believe me if I told you these leggings were made out of recycled water bottles. Look good and feel good! These leggings come in so many colors and are also the 7/8 length.
Shop the Girlfriend Collective leggings here
While these leggings may look basic, there is so much technology behind them. Made from Koral's signature Infinity fabric that is known for its high shine. They have incredible compression while also giving that second skin feel. Another incredible note is that the fabric is made specially to combat against chlorine and machine washing.
Shop the Koral High Shine leggings here
Talk about a statement – these printed leggings are bold. But that's what you can expect from a brand like Onzie, who are known for bold and graphic designs.
Shop the Onzie printed leggings here
High Compression Leggings
I love wearing the Spanx faux leather leggings, but working out in them isn't really an option. Until I found this Athleta pair (which are now under $50!) with all the amazing moto-inspired details. They are made with the Powervita™ fabric which is super soft, but also has wonderful compression.
Shop the Athleta leggings here
It's true, I do love every item that I've bought from the Core10 line. Great prices, great quality and prime eligible. Even with the cut-out detail these provided great support throughout my entire workout.
Coming in at over $100 these leggings are a splurge, but goodness I have never seen anything cuter! The fabric here is un-matchable. The designer is actually a former yoga instructor so she knows a thing or two about function. If these are in your budget, they are on of my all time favorite leggings.
Shop the Beyond Yoga Ombre Leggings here
If you loved the above leggings, but didn't love the price… these are for you. The compression was AWESOME and they are exclusively sold at Bloomingdale's.
Shop the Aqua Athletic leggings here
Shop More Amazing Leggings Below