Last month we did a post on the Motherchic take on workwear and it went over so well, that we decided to bring it back this month. And likely the next month and so on. Admittedly, I usually wear jeans to work, but because I used to be a teacher I am familiar with the casual dress code vibe. You want to look put together, but you also need to be comfortable because the class isn't going to teach itself. And while this post was created with teachers in mind, it really spans across any job that has a casual workwear dress code. Before we get to the outfits just throwing this out there…. When I used to teach, the men on my team asked if I ever wore the same thing twice? Are we surprised I accidentally segued into fashion?!
When In Doubt…Leopard
Just because it's called work doesn't mean it can't be fun. This leopard cardigan adds the touch of flavor and warmth to an otherwise basic look. The green pants are a great denim alternative while still having the look and feel of denim.
Cardigan | Tank | Pants | Flats | Necklace (sold out, similar here)
Dot The I's — And Your Shirt
A great blouse is a non-negotiable for work wear. This one stole my heart with its fun textured dot pattern and sheer sleeve. I popped on these super light weight earrings and leopard slides to spice up the look.
Blouse | Pants | Flats | Earrings
I'm Not a Regular Teacher, I'm a Cool Teacher
Okay, I promise this is my last leopard look (maybe). I got these pants last year but when you find pants that feel like pajamas and are this cute, you gotta share them. Pair them with a sleek cashmere sweater to dress them up.
Cashmere Sweater | Printed Pants | Flats | Necklace
Edgy, But Make It Colorful
I had an art teacher in middle school that only wore kimonos. This look is dedicated to her. Adding a little boho spirit to the workplace with this colorful kimono. Paired with a monochromatic look makes this outfit feel work appropriate but fun!
Kimono | Cashmere Sweater | Pants | Booties | Necklace
…. or make it more casual with:
1, 2, 3 Eyes On Me
That is how we used to get our kids attention in the classroom, which made me think I should be trying this on my own kids. Spoiler alert: it only works on kids who aren't your own. Regardless, this cozy layer is a must for any chilly office or workplace. And these leggings, they are good. They are a ponte material which makes them a bit dressier than your average cotton legging.
Cardigan | Blouse | Leggings | Booties | Necklace
Field Trip Savvy
This sweater tunic was made for leggings and better yet comes in so many colors. You could literally wear a new color every day of the week.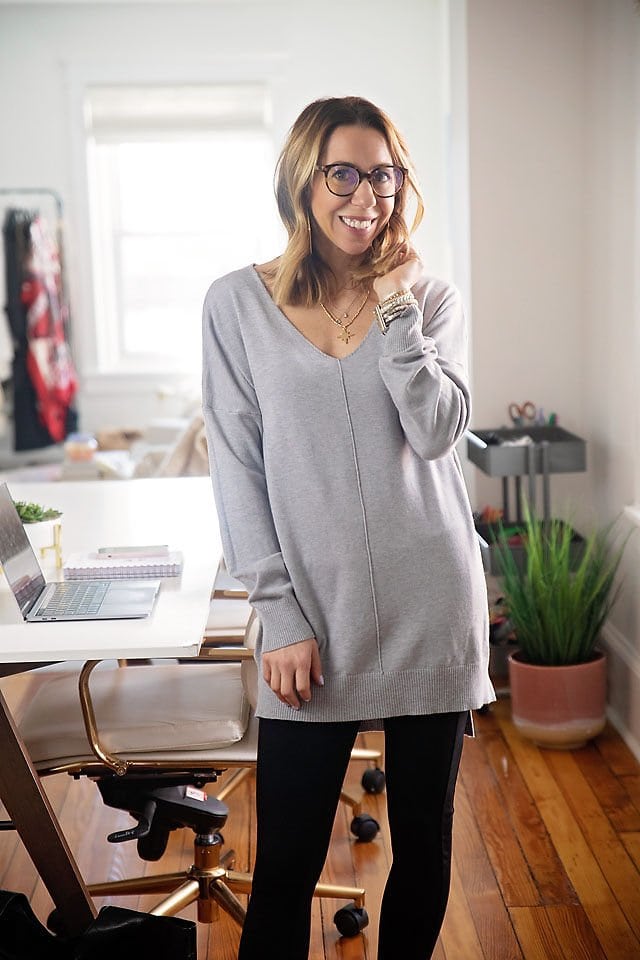 Tunic | Leggings | Slides | Blue Light Glasses | Necklace
Dry-erase Board to Drinks
This midi knit dress is a blank canvas. Throw on a utility jacket or a long cardigan to bring it to life. Don't underestimate the power a few key accessories like a pendant necklace and patterned belt.
Jacket | Dress | Booties | Necklace
…. or dress it up with:
Casual, Casual Friday
Yes, you can wear a jumpsuit to work! This one happens to be super comfy, but you can make it work appropriate with some key layers or a small heel.
Denim Jacket | Romper | Scarf | Heels
The Principal With (Fashion) Principles
These wide leg ponte pull on pants are just fabulous. For size reference I am in the xs which is a 29″ inseam. I wore a heel to keep them from dragging on the ground. Pair with a classic button up and you are ready to take on the day.
Blouse | Pants | Heels | Jean Jacket | Necklace