I know what you're thinking, and this is not a post from the 70's. And it's definitely not another Austin Powers movie. Tie dye is one of the hottest, fastest-growing trends right now that is only getting bigger. We have seen and talked about the trend so much that our team has literally started dreaming about tie dye (not a joke). From cute, springy dresses to comfy loungewear to babies (oh yes, little ones are on the trend now too) this is one trend that is hot and definitely not going anywhere. But how much tie dye is too much? We're here to answer that for you. And, of course, help you how to style it so you don't look like an accidental hippie. Although note to self, this is going to come in handy in a few months for Halloween…
Lounging Around
If you live in sweatpants as soon as you get home, this is right up your alley. I mean, you have to be comfy but still look on-trend when answering the door for your UPS deliveries, right? There are so, so many adorable tie dye lounge sets but for me I like to keep it simple with a solid white tank. I don't want to blind the neighbors when walking to my mailbox in the morning, if ya know what I mean.
More Tie Dye Loungewear
Sweat it Out
Hitting the gym in a fun pair of tie dye leggings will be sure to amp up your workout game with a 1, 2 punch! For me, putting on a fun outfit to workout in gives me a little extra motivation to not only get moving but to give it my all during a workout. Or maybe that's just what I tell myself so I can buy more of said leggings. Whatever your ultimatum is here, you're sure to look like a knock-out no matter what.
More Workout Gear
Fun in the Sun
Okay I have to say this may be my favorite. I have a feeling there will be lots of tie dye swimsuits at your local pool/beach/shore/lake/kiddie pool this summer. I love the bright but cool color palette of this little set. Almost makes me want to paint my nails in tie dye. Can you imagine those fancy nails??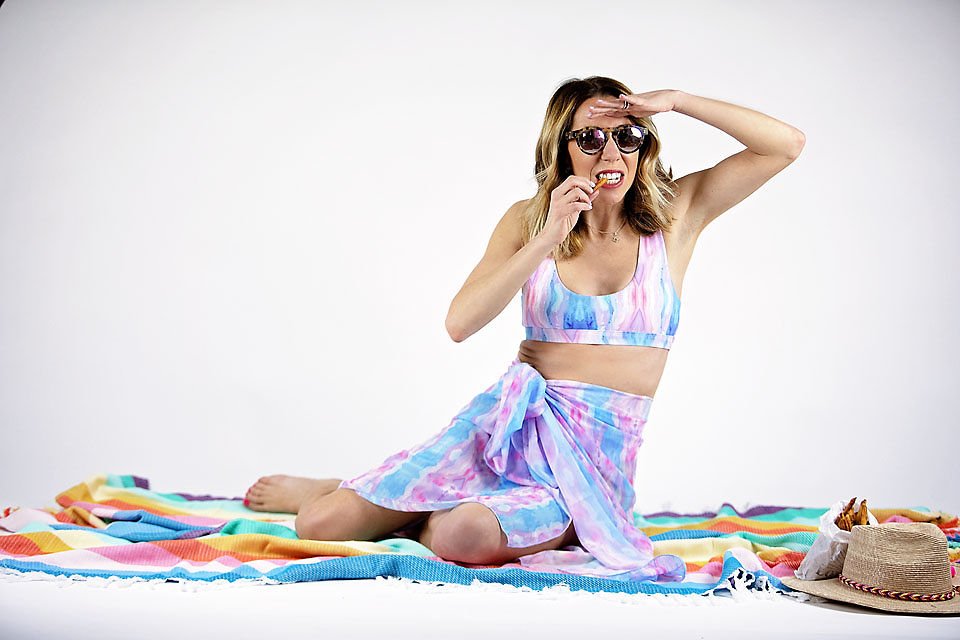 Bikini Top (size up, bottoms were too cheeky for me)| Sarong
Shop More Swim
Girls Night Out
Wearing tie dye for a night out is a PERFECT choice, but let's keep it simple. Opt for neutral tie dyes like this gorgeous little jacket. You want to make a statement, but not be mistaken for a flower child gone wild in 2020. This is the perfect place to test the tie dye waters if you're still teetering on the trend.
More Tie Dye We're Loving
Out on the Town
How to hail a taxi and immediately get one. Just kidding! Although this adorable kimono is a show-stopper for sure. I'm all about bright pops of color but adding this layer to a simple LBD adds just the right amount of boom. This is also the perfect addition to your jeans-and-a-tee formula for an elevated look that's still comfortable.
More Tie Dye Layers
Need more How To Posts? Check our latest How to Wear Fashion Sneakers