When to roll, when not to roll. When to tuck, when not to tuck. These are the types of questions we get on a daily basis. Life used to be so simple, but now there are so many denim silhouettes and bootie shaft heights. How is a girl to know which to wear with what? Let me ask you another question… Do you trust me? Well, turn around and let your body fall, because we are about to reveal the truth behind all the jean/shoe combinations. Which ones work, which ones don't and the secret behind showing the perfect amount of ankle.
Crop Flare Jeans
The crop flare jeans are a newer silhouette and most of the questions come from this pair. We like the hem to hit right above the ankle bone or higher. Pair them with a sock bootie in the fall/winter or an open sandal in the spring/summer. The key here is to either cover the entire ankle bone with the shaft of the shoe or keep it open – so shoes with an ankle strap will not be as flattering. We also think these look great with a simple sneaker or flat sandal, the height of the heel will elongate the leg , but a this is proof that this silhouette can be worn without it.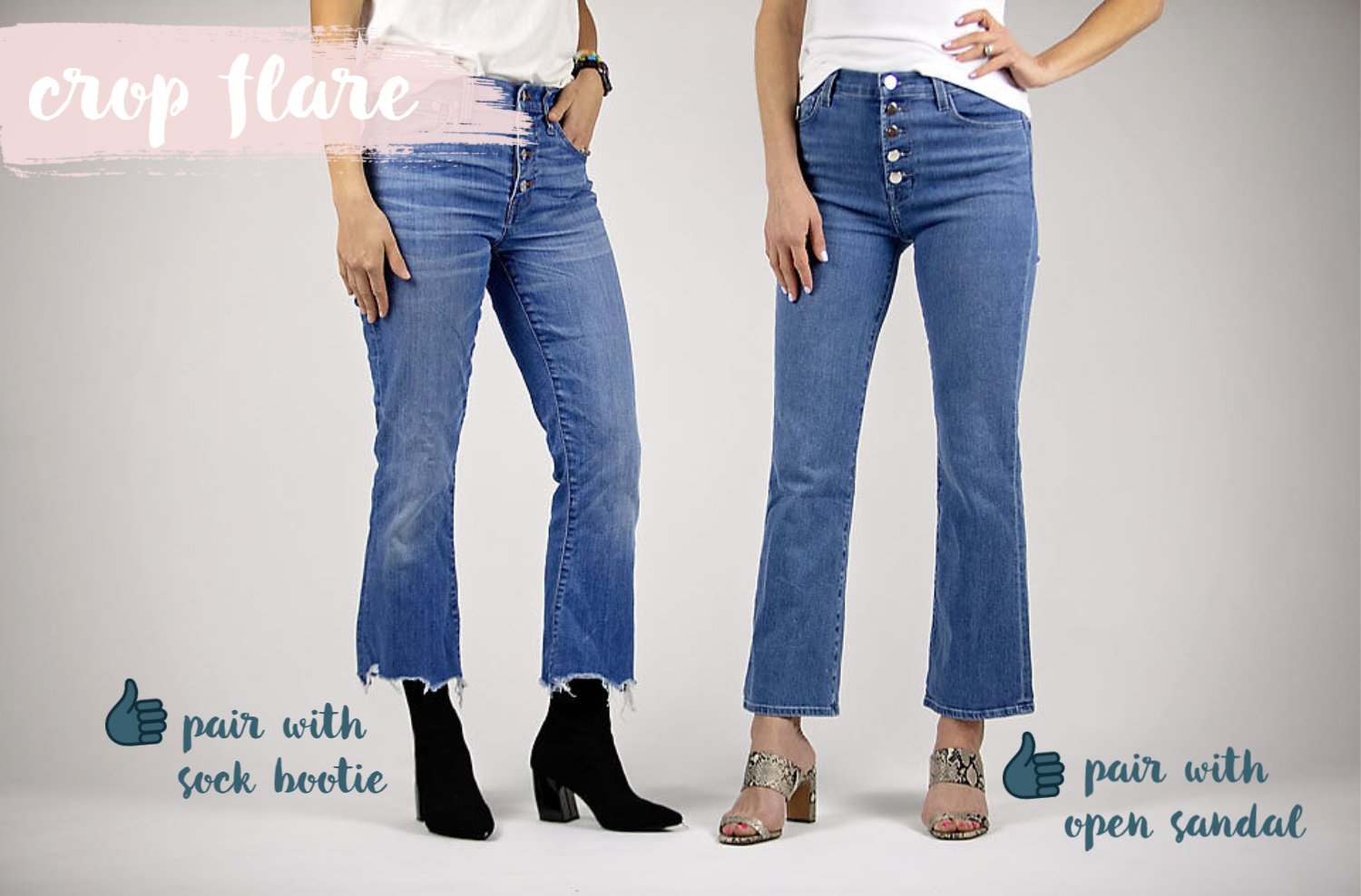 Left Jeans (sold out linking similar here)| Right Jeans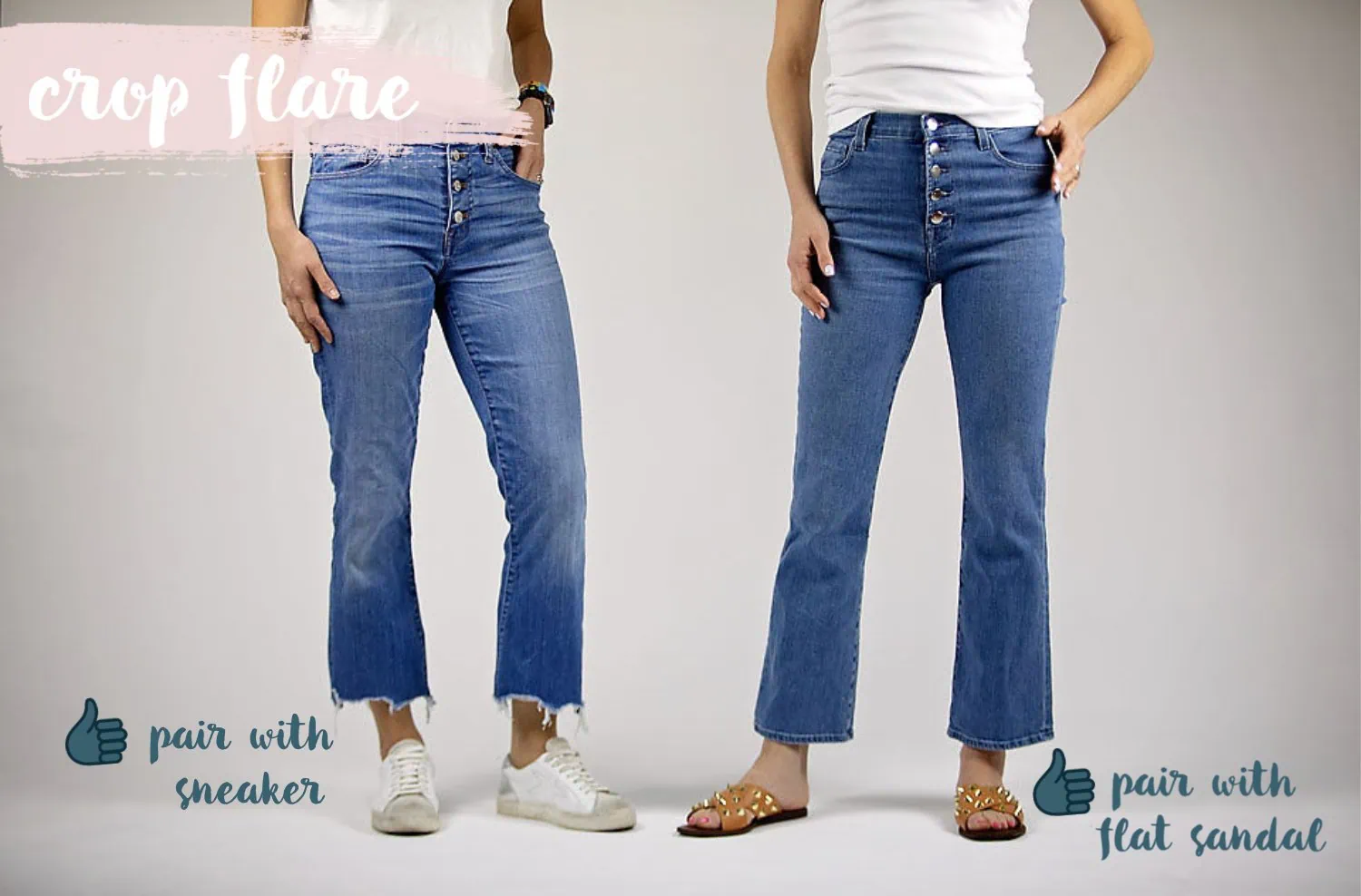 Flare Leg Jeans
This silhouette is clearly 70s inspired, but every now and again I like to take a break from skinnies and go for the full-on flare. And for those who have a curvier shape or fuller hips, the flare can be super flattering. We do recommend a heel or wedge when wearing a flare for the most streamlined look.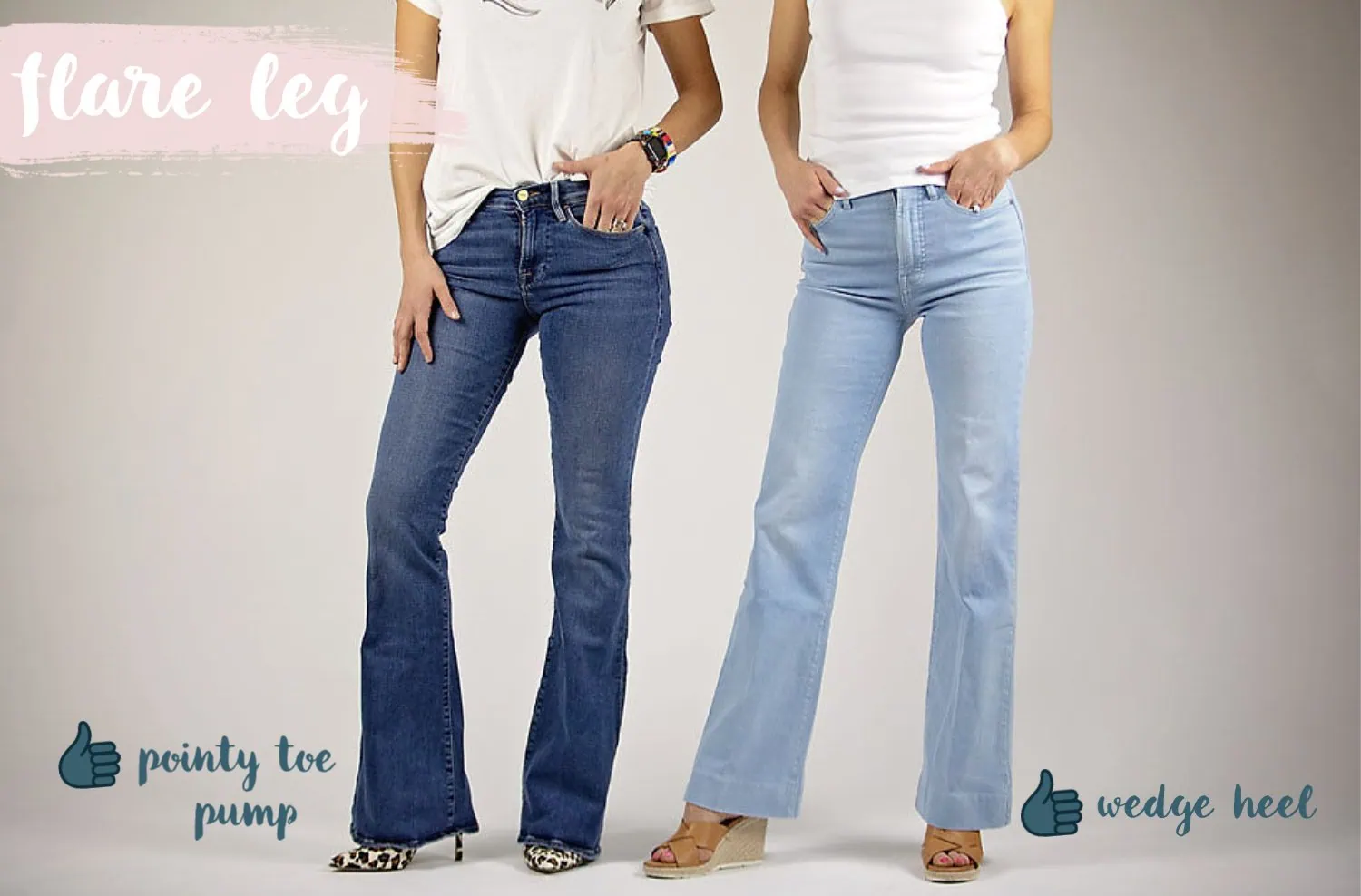 Left Jeans (sold out linking similar here) | Left Heels
Skinny Jeans with Raw Hem
The raw hem gets a lot of questions. Can you tuck it? Can you roll it? Can you cut it shorter? Does it fray? The quick response – the raw hem trend is definitely sticking around and there aren't any rules! For any jeans that are too long a quick trim is an easy fix. Just mark where you want the jeans to end with chalk or a pencil. Add about 1/4″ excess for the small fraying that will occur. Then chop, wash and you are ready to wear. This silhouette is super easy to wear with lots of shoe combos and yes, you can tuck them in a high shaft boot. The one combo we would suggest to steer clear of, is when the bootie or shoe hits directly at the hem of the jeans. We prefer a little ankle to show.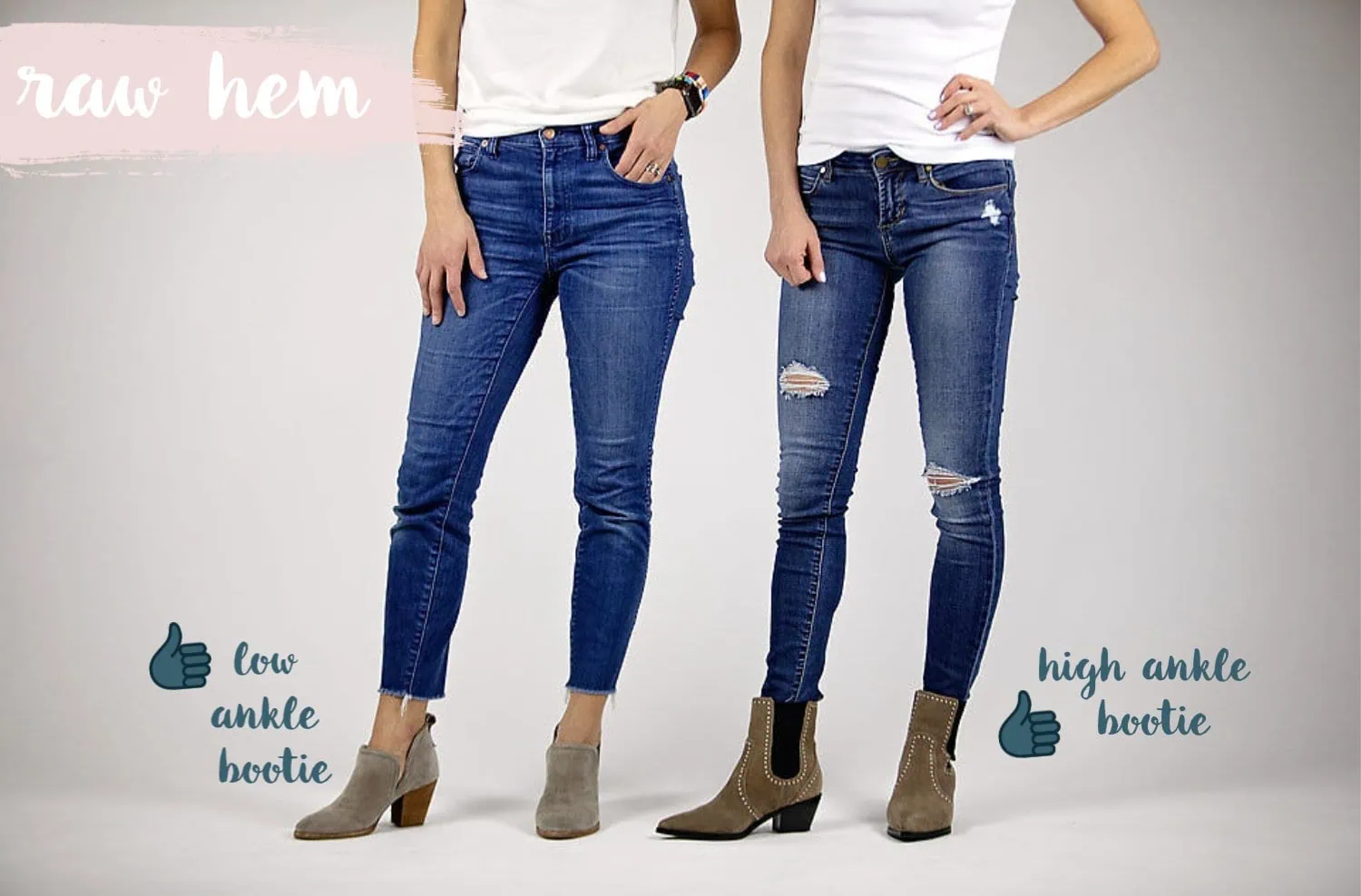 Low ankle bootie | High ankle bootie (linking similar here)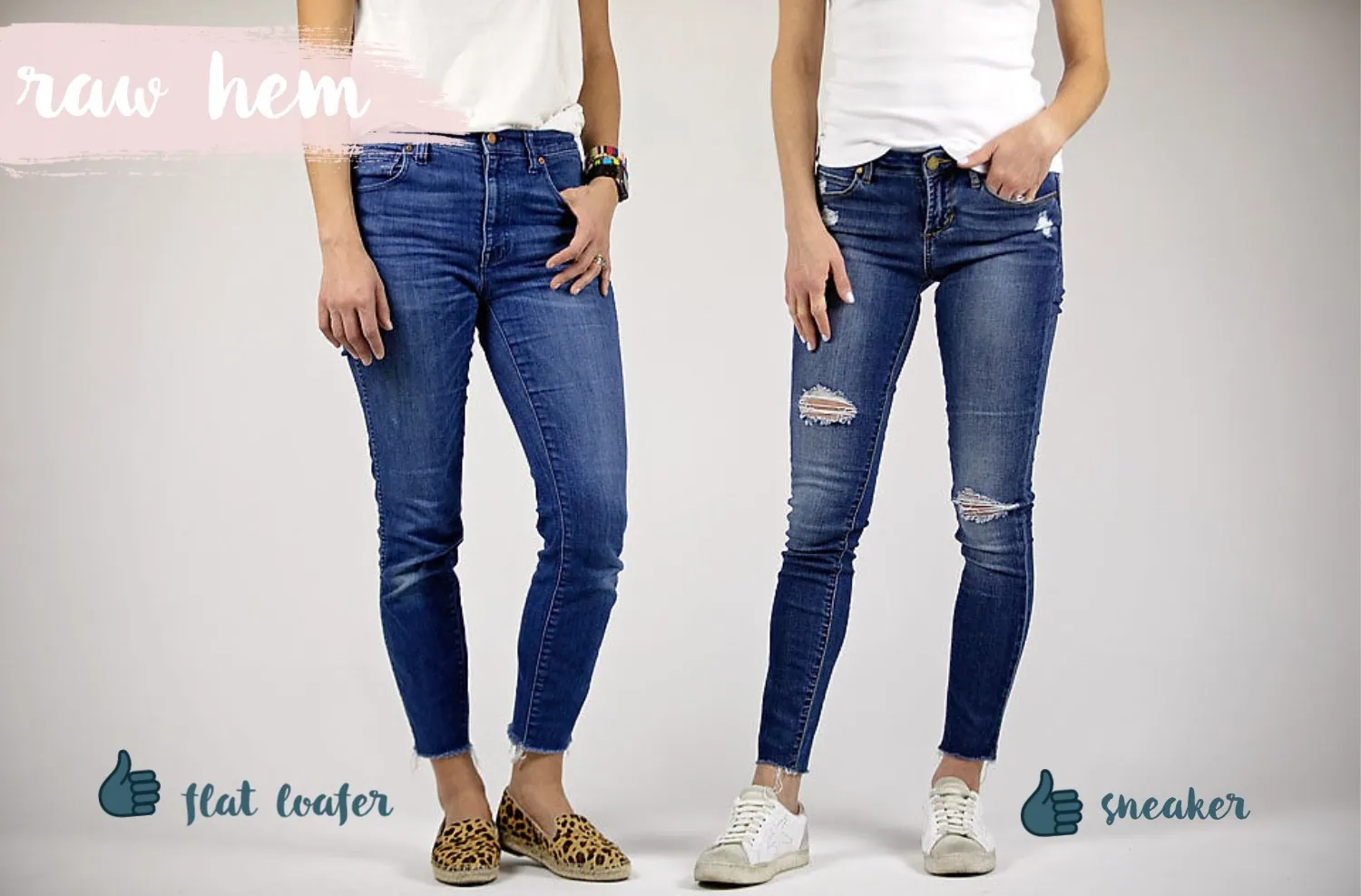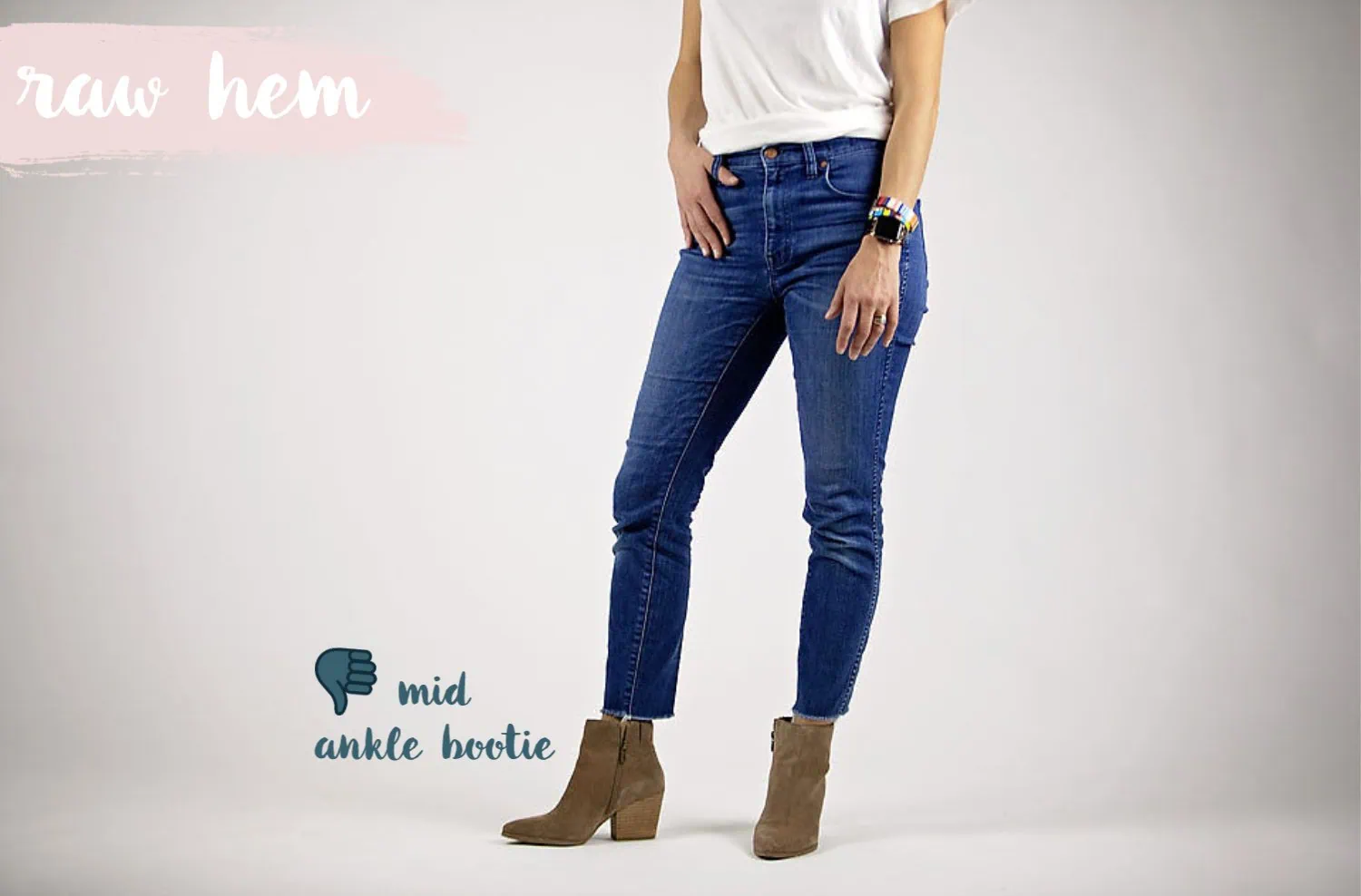 Skinny Jeans with Longer Inseam
Next up… the basic skinny, but with a longer inseam. Meaning this pair goes past the ankle. We prefer a small/single roll to show some ankle when wearing with a shoe that also hits near the ankle. When wearing with open flats the longer length or the roll works. And lastly, for a fun trick we love the "french tuck" which is creates a shorter faux hem. Test out this trick when wearing a mid shaft bootie or ankle strap shoe. Just fold the hem UNDER instead of over.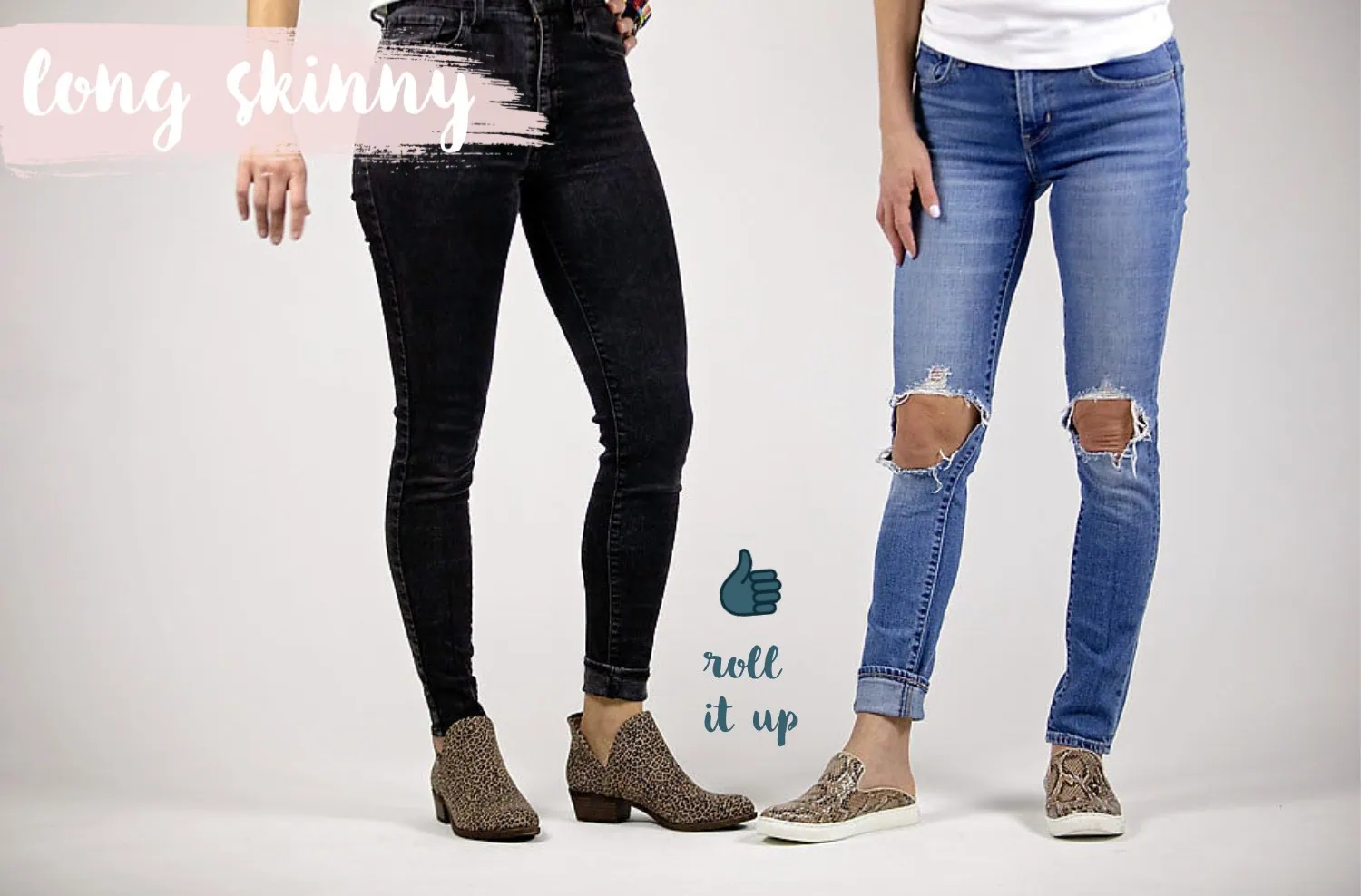 Straight Leg Jeans
This silhouette proved to be one of the hardest because the hem of these both hit right at the ankle bone. An ankle bootie with a heel wasn't our favorite combination as it created an unflattering look. Adding an open pump or sandal created an elongated look.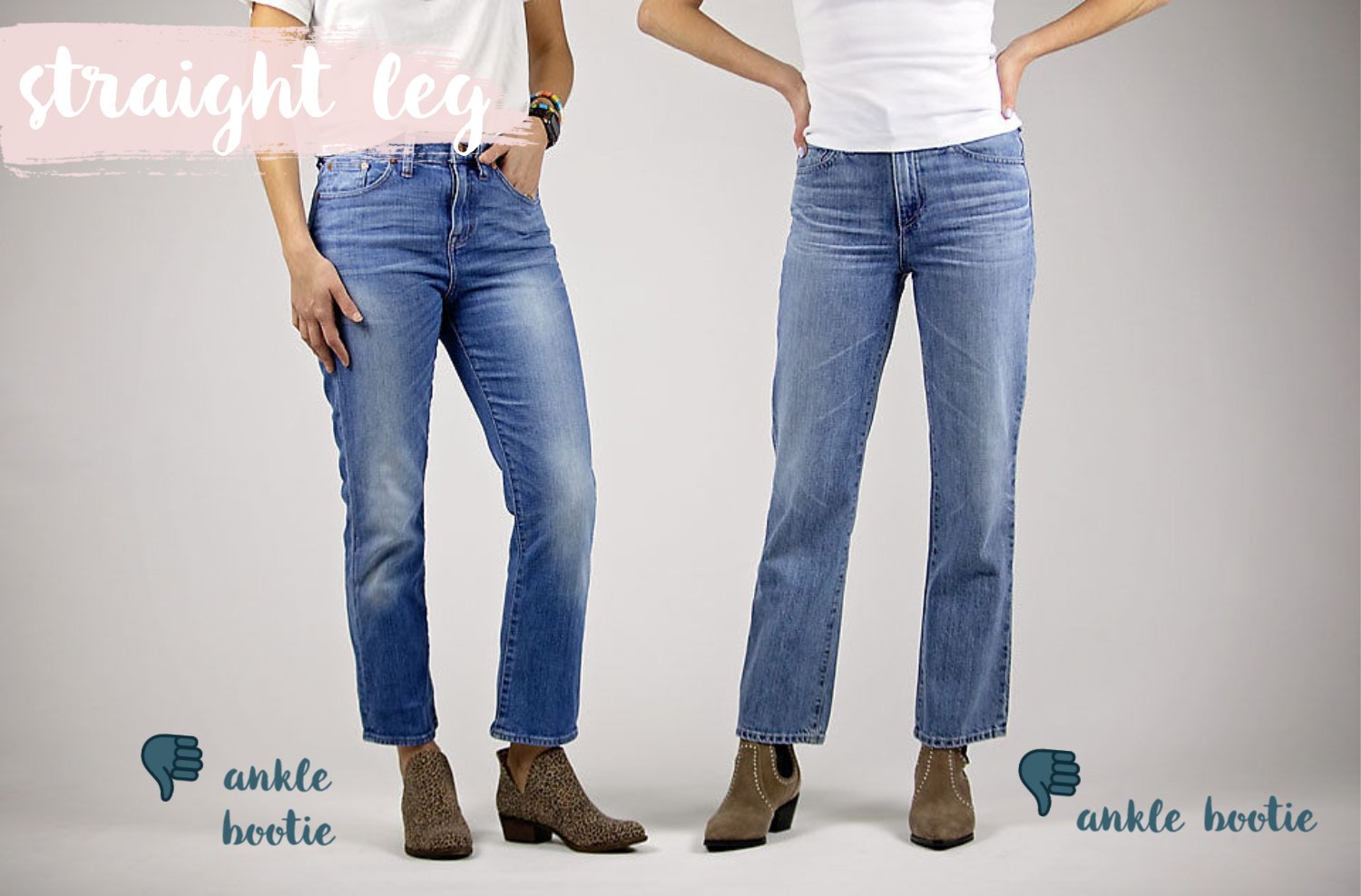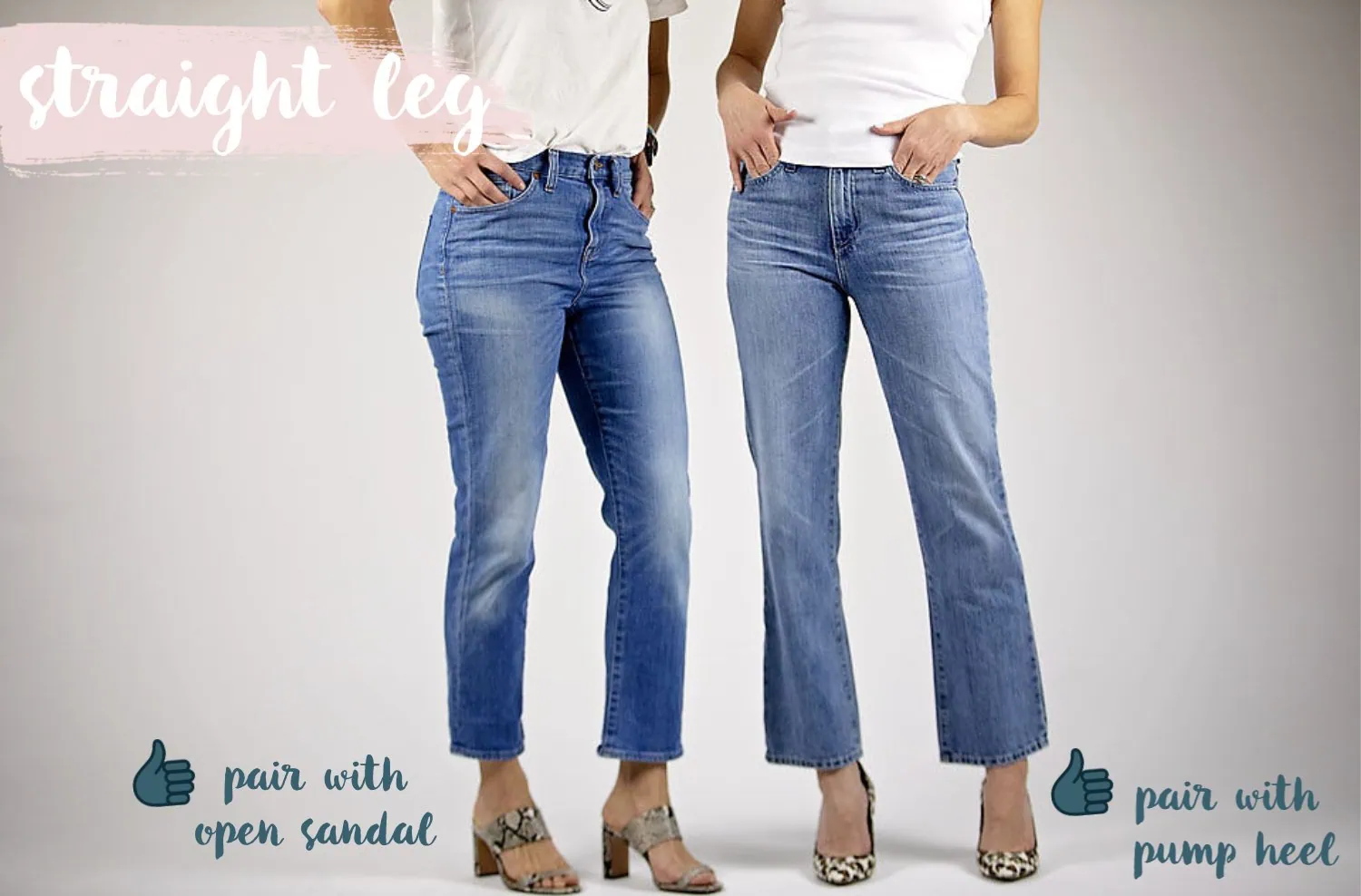 Wide Leg Jeans
If your straight or wide leg jean is more cropped then there is more room to play with shoe options. A simple sandal or wedge with an ankle strap both work perfectly.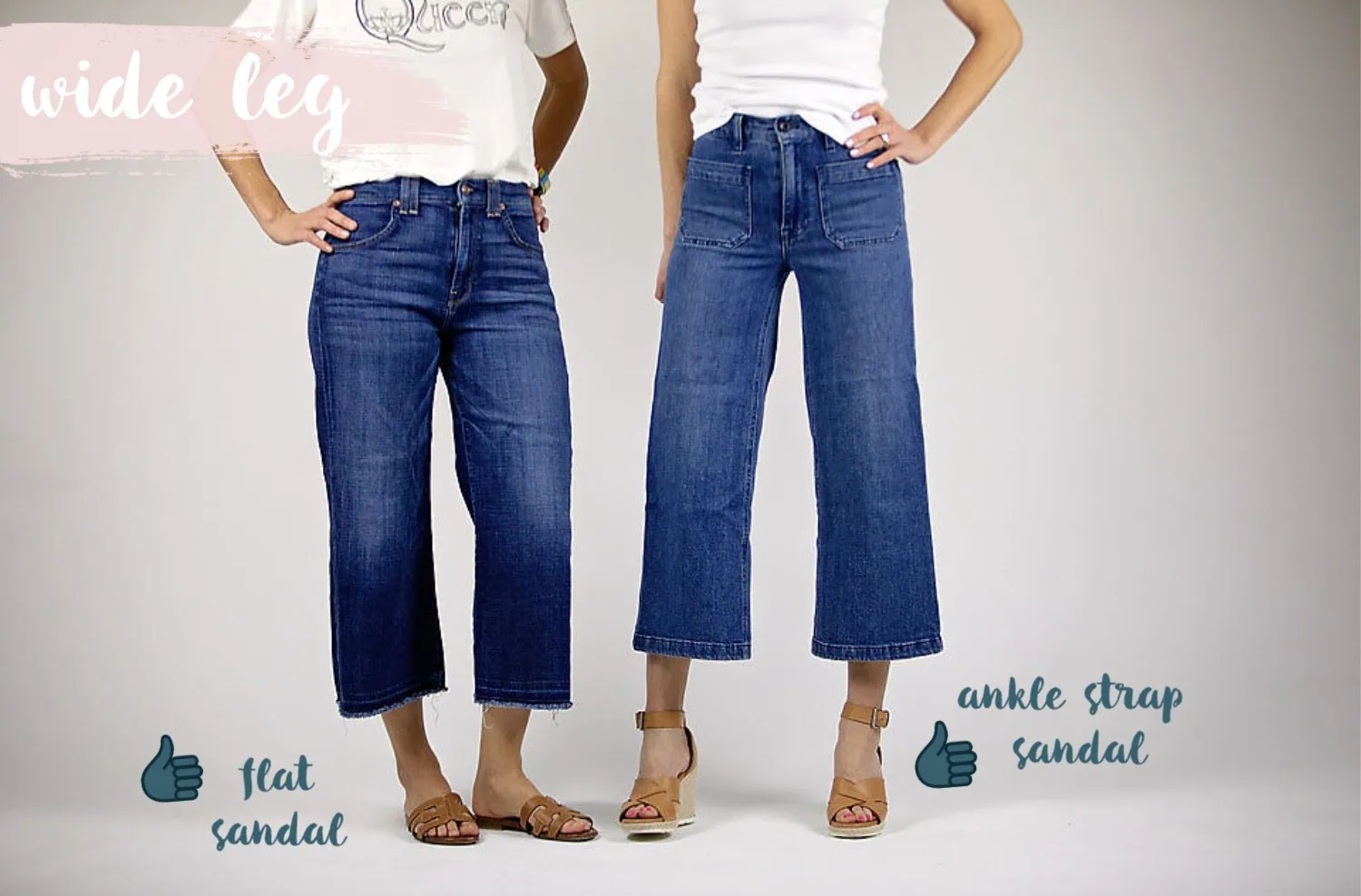 Left Jeans | Right Jeans (linking similar)
More Jeans to Love Below