Thank you to Everlane for sponsoring this post.
My kids keep asking me if I ever had school canceled for a month because of a virus. They look at me funny when say "no". I keep thinking about how hard it must be for them to wrap their brain around what is happening the world. I mean think about it, they literally had school pulled out from under their feet, and not only that, but sports, plays, dance, music, FRIENDS, and here we are face to face at our kitchen table, eye to eye trying to explain to them that, "Hello, I am your mom. I am also your new teacher. And no, we are not leaving these 4 walls anytime soon." It's almost as if they are asking if this ever happened to me to make sense of it or justify it in some small way. The bottom line is, this is not normal, this has never happened in my life before, yet I find myself trying to make some sort of "new normal".
And what does a new normal look like you ask? It's sort of like every day is a Saturday, except without sports and with a little learning, and absolutely nowhere to go. Parts of it are actually quite nice. I am continuing to work (normal), and continuing to get dressed 73% of the time (semi-normal), continuing to break up sibling fights (very normal, albeit more frequent), and continuing to interact with all of you (a normal saving grace). And in my interactions with all of you, I hear you loud and clear. You, too, are adjusting to this new normal and are wondering what clothes are appropriate to wear now AND later, and wanting pieces that are equal parts comfortable, stylish, and can take you from mom-mom, to teacher-mom, to work-ing mom, to off-duty mom – jk that last one doesn't exist, but I think we are all ok with that. Without further adieu I present, your spring wardrobe staples all courtesy of my favorite sustainable retailer, Everlane…..
Endless Saturday Combo // Perfect Tee + Booty Flattering Denim + Minimalist Sandals
The Cotton Crew // Not too long, not too short. NOT see through! Also, under $20! Stock up!
The Cheeky Bootcut Jeans // The "cheeky" bootcut is code for, these are bum flattering jeans! I am wearing my normal size and they are a very comfortable fit – as in loose enough that I can kick around in them all weekend long without feeling restricted. For a more "fitted" fit, size down. Wearing size 25 for reference. These come in 4 washes.
The Day Crossover Sandals // Chic and minimalist with an amazing, supportive footbed.
Ready-For-Anything Athleisure Look // Cotton Crew + Perform Leggings + Court Sneakers
The Perform Legging // If you've been following me for a while you know my feelings about these leggings. They feel amazing on (as in the perfect combo of butter soft fabric with compression). The fabric, that happens to be made from recycled material, is sweat wicking so you can workout in them, kick around in them, or just straight up lounge in them. Runs TTS and on sale now (2 pairs for $90 – originally $58 each). Oh, and high rise is just added bonus.
The Court Sneaker // There is something about a fresh white sneaker that gets me every time. Looks as cute with leggings as it does with dresses. Runs TTS.
Work(ish)-from-Home // Air Shirt + Denim Skirt + Day Mule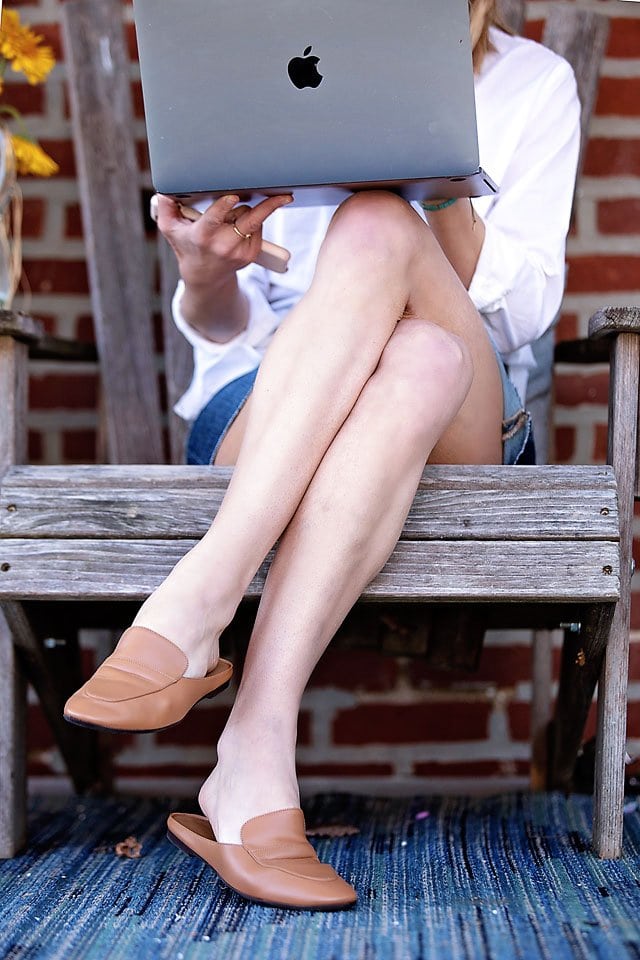 The Relaxed Air Shirt // It is exactly what it sounds like. Super light-weight so when you are on that conference call with your kids in the background, you don't have to worry about breaking a sweat (#quarantineproblems). Also perfectly polished for video conference calls – that classic staple that just needs a fun swipe of lipstick. Wear it tied up on the weekends with your favorite denim shorts.
The Denim Skirt // Working from home has me mastering the art of looking pulled together on the top half and comfortable on the bottom half. This denim skirt is distressed in all the right places.
The Day Loafer // Made with butter-soft Italian made leather (in Italy) these are a more work-appropriate upgrade from your slippers… because sometimes you need to look the part to play the part.
A Dress to Celebrate the Small Things // The Cotton-Weave Picnic Dress + Crossover Sandals
The Picnic Dress // Social distancing happy hours are #nowtrending….. Here's to dressing for the occasion so you can maintain a small piece of life as we used to know it. And when life does return to normal, this perfect spring dress will be ready for you.
Check out more spring staples from Everlane that I love below…
I hope this little capsule is helpful and I thank you all for supporting the retailers that believe in The Motherchic.