This post is sponsored by Herbal Essences and ShopStyle
When I think of my childhood, I am pretty sure it smells like Herbal Essences. I was hooked after learning that the older girls at my overnight camp all used it… the ones who were "counselors in training" and all had pretty hair that smelled like flowers wrapped up into perfect little effortless top knots. It makes me nostalgic to picture it there in my little shower caddie, right next to my shower flip flops that you wouldn't dare NOT to wear at camp, but I digress. Just like some of the icons of my childhood (Madonna for one), it's sort of crazy to think how both people and brands have been able to re-invent themselves to still be relevant in the current times. With a new trend towards clean beauty, Herbal Essences is one brand that is leading the pack with their new line of clean hair products that uses potent aloe as the hero ingredient – my favorite part is that it meets the strict EWG (Environmental Working Group) Standards for transparency and ingredient safety.
Meet the Herbal Essence bio:renew Potent Aloe Collection.
The Potent Aloe Collections have real botanicals endorsed by the Royal Botanic Gardens, Kew. Sound too good to be true? I had to try it out for myself (for a solid month) before sharing my thoughts with all of you.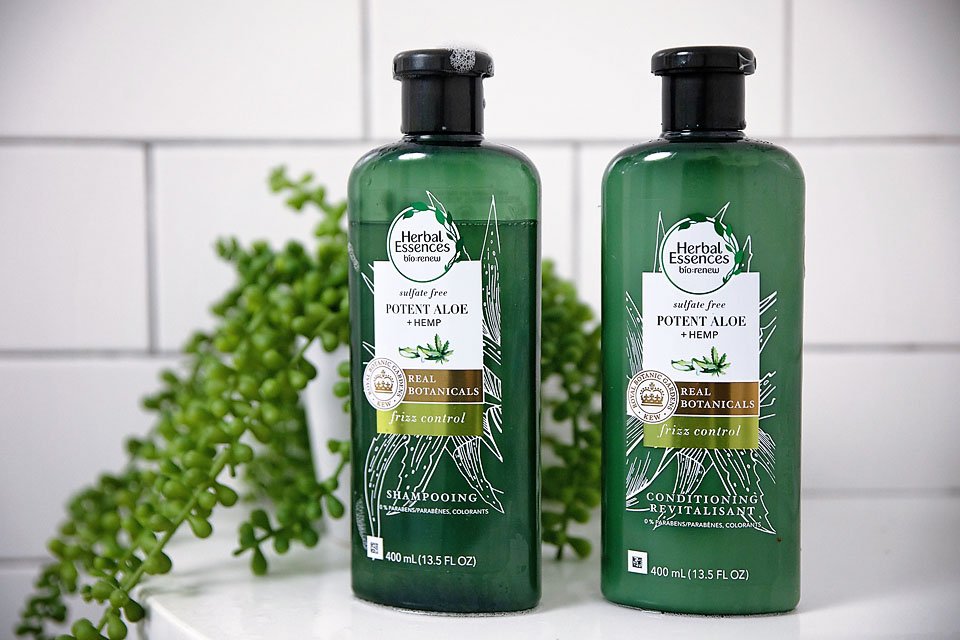 The Verdict? If you are looking for a shampoo that meets the standards of EWG VERIFIED, it's NOT easy. Incorporating this product into my hair routine was a no-brainer, especially because it leaves my hair feeling soft and healthy and has that signature "Herbal Essence scent" that has my boys snuggling into me even closer (sparkling citrus, jasmine and a hint of coconut to be exact). I have personally been trying to clean up my beauty routine because I've been learning about all of the harmful effects certain chemicals can have on our health. I look to the EWG as the holy grail for identifying the safest products out there. The fact that the shampoos meet their standards puts me at ease, and did I mention they're under $6?! Is it just me or does every "safe" product instantly mean the price quadruples! If you are intrigued, try it for the cost of 2 lattes! Actually, more like one latte these days, but I digress.
What you need to know: These products are color-safe, certified PETA Cruelty-Free, sulfate free, paraben free, and colorant free.
That was a roundabout way of saying, that yes, I am loving this line and wanted to share a quick "get ready with me" everyday hair tutorial…
After shampooing and conditioning with the Herbal Essences Potent Aloe and Hemp collection for Frizz Control, I detangle and then give my hair a quick blow dry.
As a self-proclaimed MOTG (mom-on-the-go) sometimes I just don't have time to do ALL of my hair. Enter the half-bun.
Gather the hair at the crown of your head (an inch or two above your years) and wrap once with an elastic. Instead of pulling your hair all the way through, pull it halfway through and secure the elastic again.
Take the excess hair that is hanging loose and wrap it around the rubber band so that it is completely covered.
Secure the hair you just wrapped with a bobby pin. Scrunch and adjust the bun as needed.
I finish the look by curling the bottom of half of my hair with a wand, and straightening the end pieces for an edgier look. And that's it! The messier the better.
Pose for the camera like it's no big thing. Whatever you do, just rock the half bun like it's your job. No one has to know it's a hair hack for not having to do ALL of your hair.
Now that I've discovered this lineup, I am so excited to try some more styles with the assistance of the other products in the Herbal Essences bio:renew Aloe collections. The Argan Oil Repairing Shampoo & Conditioner, the Argan Oil Hair Mist, and the Argan Oil & Aloe Repairing Mask to name a few.
Shop more products in the bio:renew line here: