Ok so quarantine life is about to get a whole lot less boring. I've really been trying hard to do some sort of family activity every day whether it's baking together, an easy art projects, game night via Zoom with family members etc… But this week is our spring break (we should be in Florida rn), and I've got some bummed kids on my hands. The reality is, I can't bring the beach to PA, but with a little creativity, it is possible to turn this time into little staycation that will be lasting memories for you and your family. I gave each Motherchic team member the task of coming up with fun family staycation ideas to try and we each planned one for our own families. So get ready for a little vacay, no long drives/airplane rides needed.
Playa Del Casa Beach Bonfire
It's no surprise if you follow me on Instagram, that my family loves spending time around our fire pit. We even have a screen and projector for lots of outdoor movie nights and video game competitions. I figured it would be super easy to turn this into a staycation by amping up what we already do and love. Backyard bonfire, but make it tropical. It really was as simple as adding a fun blow up palm tree, some beach towels, and festive decorations I had laying around the house. I turned on some reggae music thanked my lucky stars that the sun showed up. We drank "Pina Coladas" (ice, banana, pineapple-coconut juice blended. May have added rum for my husband and I), and just hung out together. The kids played in our water table full of water beads, then threw around a baseball. We ate dinner in our little beach haven (turkey burgers and sweet potato fries). It really was super easy and I think it will be a "vacation" we are sure to remember.
Shop the Staycation here:
Backyard Movie Night
The weather is getting warmer and the days are getting longer. To wrap up a nice day, my family and I thought it would be fun to grab our sleeping bags, make some popcorn and some s'mores and watch a movie outside on our trampoline.
Here is a list of supplies you will need for backyard movie night:
Trampoline, tent, or you can get creative. (old sheets work well too!)
String lights to set the mood.
iPad or computer to watch movie. (Lucky you if you have a projector!)
A sleeping bag or blanket.
Popcorn or favorite snack, some juice boxes or bottle waters.
Marshmallows, graham crackers and chocolate bars.
Bug spray can't hurt to have on hand.
And now comes the hard part. Choosing a movie everyone wants to watch. Once that is decided, sit back, relax and enjoy the show!
Breakfast-in-Bed Room Service at The Ritz-Quarantine
I am a huge lover of breakfast in bed. Waking up to delicious pancakes/waffles/bacon/coffee that's being handed to you in the comfort of where you sleep? Sign. Me. UP. I am also a lover of being just a little #extra. So up first on our little family staycation was a yummy breakfast that appealed to everyone (yes, even the pup) in our oh-so comfy bed. Maybe it's because I want to feel like Eloise at the Plaza, maybe it's because I just want to enjoy pancakes with my family with a mimosa, maybe it's because I just want to freeze this time with my toddler as he grows older by the second. I'd like to think that we would be watching another interesting documentary on Netflix at the same time, but realistically it's probably Sesame Street or Pete the Cat.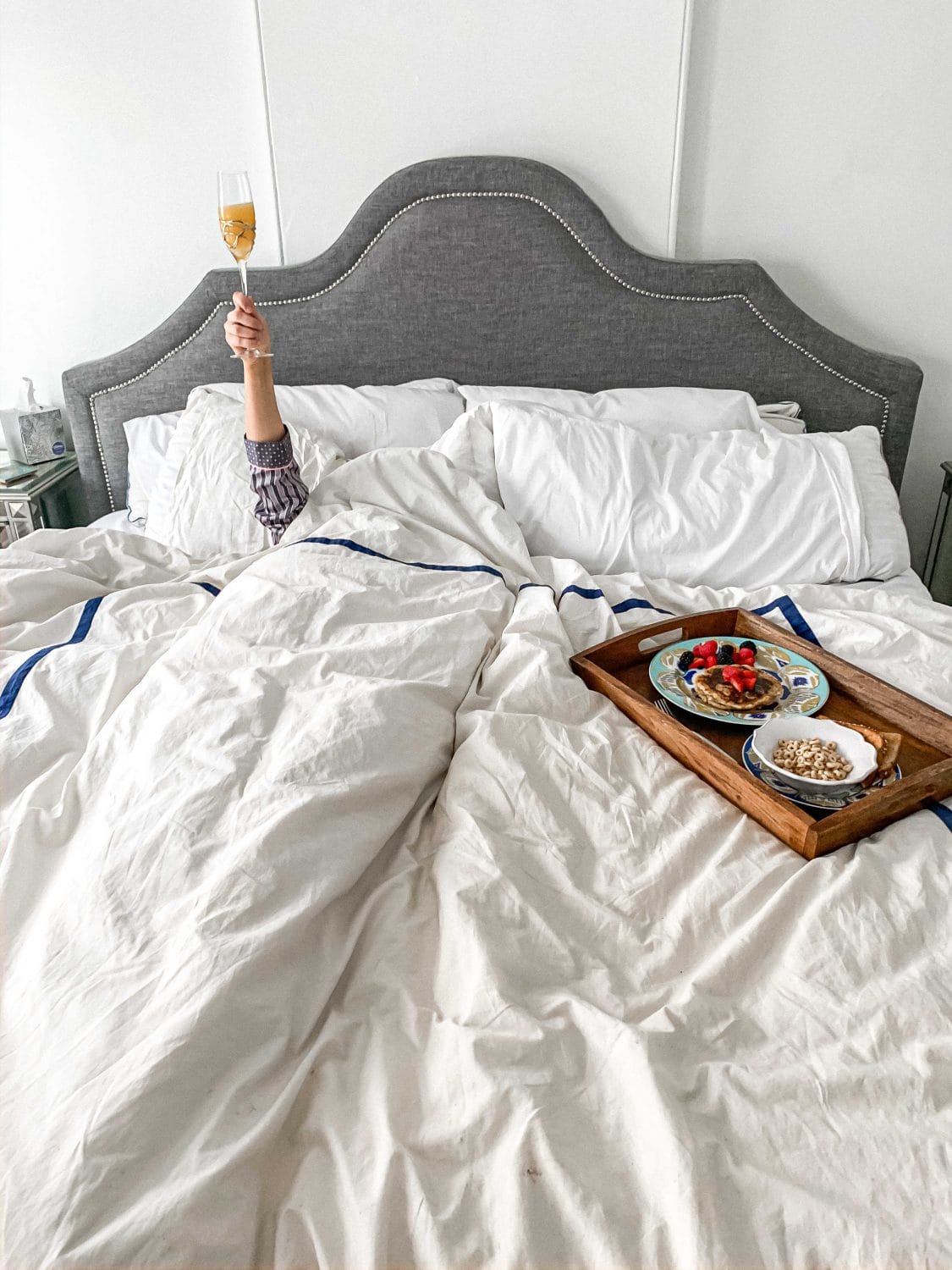 Shop the Staycation here:
Tea for Two
My two littles love any excuse to throw a party. Even if it is for their stuffed animals. This morning when they woke up I surprised them with an outdoor tea party. We talked about which stuffed animals we wanted to invite and made sure that they didn't have any dietary restrictions 😉 We put on our best tea party outfits and headed outside. While the girls frolicked in the yard… I made "tea sandwiches" with a few cookie cutters on hand and some origami flowers for the centerpiece. I found 3 out of the 9 pieces of their tea set and used a few of my grandmother's dessert plates to set the tea party. We all drank tea, had a few bites to eat, and I got to live out my childhood fantasy of having tea with a few princesses.
Shop the Staycation here:
Share your staycations with us and if you try one of ours be sure to tag @themotherchic on social!