My kids are uber bored today. It's semi-cold here so outside activities are short-lived. They've exhausted every single lego set we own and have destroyed and rebuilt them. They spent the last 30 minutes wrestling while I tried to work. Then I had to shut that down because someone got hurt…..shocker. This post is somewhat self-ish because I personally wanted my own idea back of fun things to do with kids during quarantine. Full disclosure, most of my kids' days consist of free play, after "home-school" that is. If it's nice out they spend their day roller-blading or playing sports in the yard. I've been trying my best to do one fun activity with them per day. Sort of makes me feel like a better mom… jk jk. Maybe. But in all seriousness, a lot of these things are not that hard and have helped my family to create some memories during this crazy time. My team and I compiled a list of things we have done and and enjoyed below. Please share any of your own ideas in the comments below!
Inspirational Rock Painting
Find a penny pick it up all day long you'll have good luck! That's the saying right? And then there's four leaf clovers, rainbows, and wishbones. All of these things give us hope, make us wishful. But sometimes we don't find them. And that had me thinking. Maybe there is a little way for my family and I to spread some words of hope and kindness during this time. So here is fun little activity to do with the kids or on your own. I promise it will make you feel good and also the lucky friend or neighbor who finds them!!

Here are the steps and items you will need to share the love.
Rock Painting Kit
Thin Sharpie/marker
Kind and hopeful messages, which I know we all have!

Once you are ready, paint and decorate one side of the rocks. Let them sit until dry. I waited a few hours. Once dry, flip rocks over and write messages of hope and kind words. Example- "You got this" and "We are in this together"

When all rocks are completed, walk your neighborhood and place rocks in visible areas so people can find them. It will make their day!
Water Beads
Water Beads // This is an amazing sensory activity. It totally calms my rowdy crew and they can literally sit there for hours and play with these beads. You just add water and they grow (takes about an hour for them to really swell). We put ours in our water table, but you could also use a big tupperwear or an old sled!
Plant Something
I also just bought this kit for my kids to grow their own terrarium.
Lavender Scented Playdough
Get the recipe here
Tie Dye
Full post on this tie-dye activity is here. We used this kit and dyed these socks. You can also find old shirts and tie dye them!
Mess-Less Activities
Shoe Box Dollhouse
This craft is so easy for anyone that is not crafty. Also, going to chalk this one up as a new (and free) toy!! Grab an old shoe box (or tissue box) and some magazines. Have your kids cut out some fun things to put in their "dream home" or maybe a fun place for their toys to quarantine for a while. The rules are there are no rules, just try not have more fun than your kids.
Reuse, Recycle
Have some empty paper towel/toilet paper rolls? Poke some holes into them and let your little one insert straws. They can connect different rolls to make whatever creation they want! You can also use leftover cardboard boxes, wrap them in construction or tissue paper and have a fun color-sorting activity with things found around the house.
Build an Outdoor Fort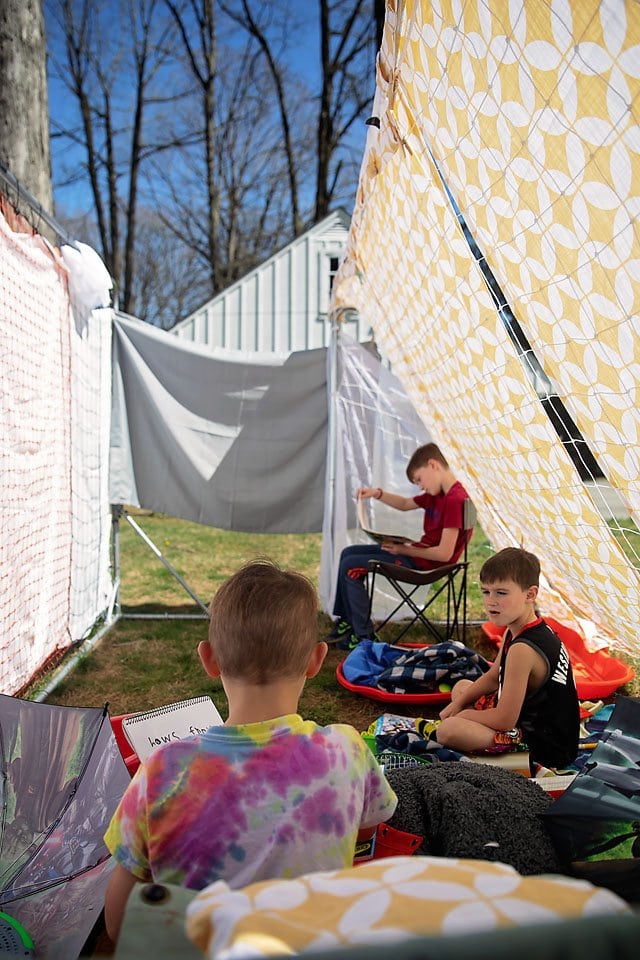 Be Like Bob Ross
Check out all of Bob's videos here and watch your kids become totally inspired!
Work it Out
Check out this site for lots of websites that offer online exercise/yoga/dance/fun for kids
Fun in the Kitchen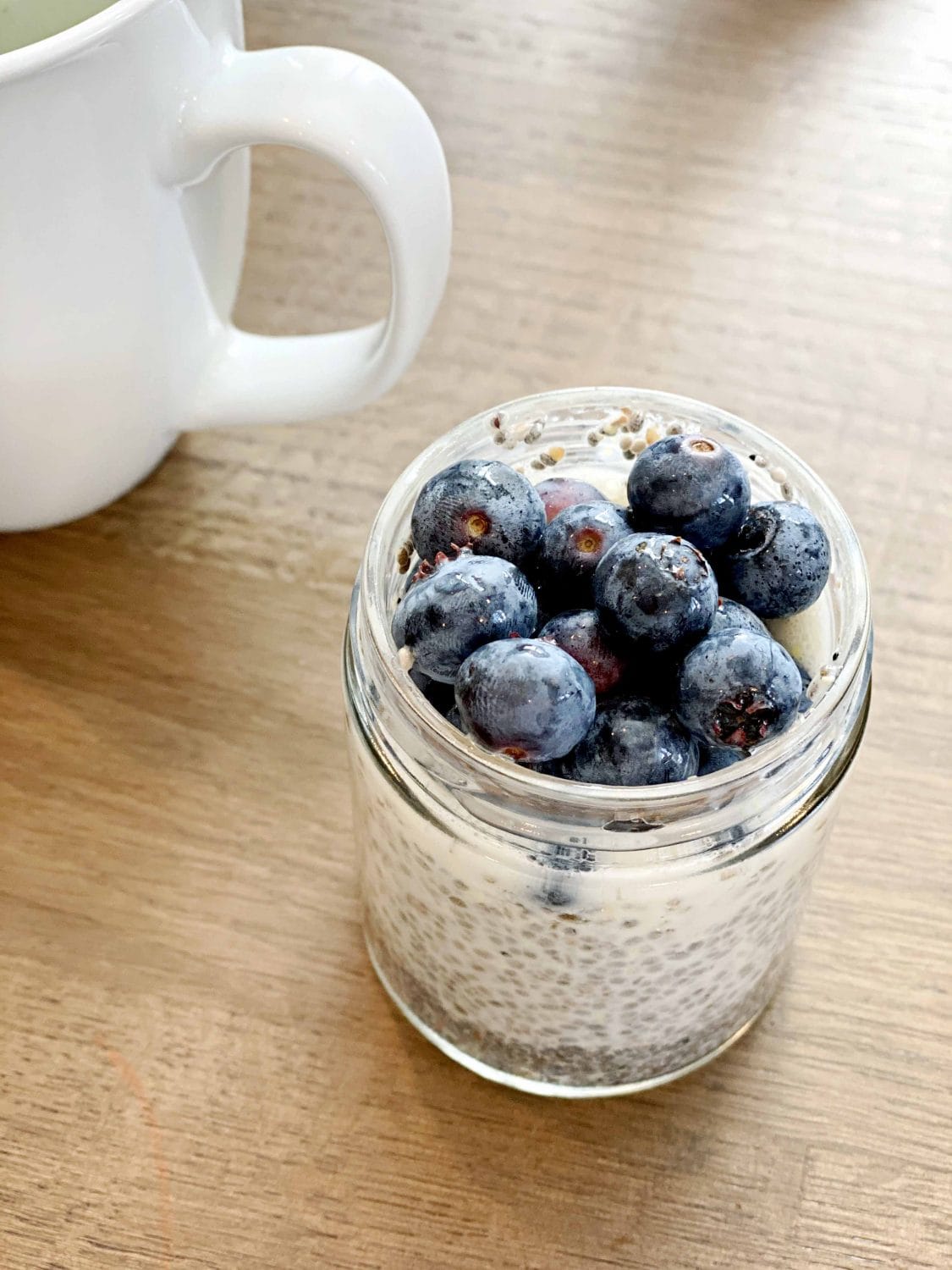 Chia Pudding // In a small jar/container mix the following….
3 tbsp chia seeds
1 cup unsweetened almond milk (or any milk)
Touch of maple syrup
1/2 tsp cinnamon
Pinch of sea salt
Let sit in the fridge over night. Top with blueberries/other fruit and enjoy!
Make your own granola // This picture was taken before it was baked! Here is the recipe I followed.
Blueberry Snack Cake // Follow this recipe.
Plan a Staycation
Four fun Staycation ideas in this post!
Other Fun Ideas
Put on a sock puppet show
Make your own grocery store out of recycled goods
Have a paper airplane contest
Neighborhood Scavenger Hunt
Car Wash
Build your own mini golf course
Make your own escape room
Make an obstacle course (my kids do this in chalk on the street and ride their roller blades through)
Mail someone a letter
Family Talent Show
Blind fold taste test
Toilet paper roll bird feeders
Let us know anything you have done that went over well! We'd love to hear your ideas!