Is this me pretending I'm about to leave my house for my cancelled trip to Anguilla, or is this me hanging out on my porch on a beautiful day waiting for my husband to bring out a cocktail because we aren't going to Anguilla? I'll let you be the judge. Ok both. For either scenario, I feel like the best version of myself in jeans and a tank and some fabulous accessories. If you have been following me for some time you know that I am a huge fan of the Box of Style. It's a quarterly subscription box that delivers luxury fashion and beauty items each season. Oh, and I should mention it is curated by fashion stylist and designer, Rachel Zoe, herself. I am truly blown away every time I share the fact that the box includes over $400 of fashion/beauty products for $99. And, if you use code BOSSUMMER30 you can save $30 off your first box! If you are looking for the perfect pick-me-up for your favorite beauty-loving fashionista, I promise she will love the Box of Style.
Shop the Box HERE – use code BOSSUMMER30 to save $30 off your first box!
What I love about this box is that you can wear/use the pieces on their own, but in combination, they can instantly dress up your simplest wardrobe staples. Whether is jeans and a tee or a simple shift dress, the accessories included in the box each season are always on point. The summer box includes these fun tassel earrings by Panacea ($55) and the fact that they are white makes them super versatile. They will pretty much go with anything in your wardrobe and the fact that they are owned, designed and handcrafted by women makes me proud to wear them.
The Peter Som Floral Print Sarong (retails at $195) is a spring/summer staple. Yes, technically it is a sarong but since I am technically NOT going o Anguilla, a fabulous wrap it will be. Oh and side note, Michelle Obama has been seen wearing this brand, so there's that! The fabric is incredible and it's super versatile whether you wear it to the beach, as a wrap or a scarf.
My bag is packed, I'm ready to go…. nowhere! But when I can, you can bet this weekender is going to get a ton of use! It's a canvas and vegan leather bag by Henny + Lev (retails at $169). It's made with sustainable materials and it's super lightweight and spacious which is code for, bring that extra pair of shoes!
Hands down my favorite part of the Box of Style is always the beauty product. Rachel nails it every time and I've learned about so many amazing skincare products from the box each season. This month's box features Grown Alchemist Hydra-Repair Day Cream ($49). I would buy this cream for the scent alone (think faint, fresh roses), but it's also an amazing product for warmer weather. It's non-greasy and doubles as the perfect primer for make-up. The box also includes Kosas Color & Light Palette- Tropic Equinox ($34) which is a cream-based bronzer high/lighter duo which means you can apply it with your fingertips – perfect for on-the-go touch ups and an instant glow.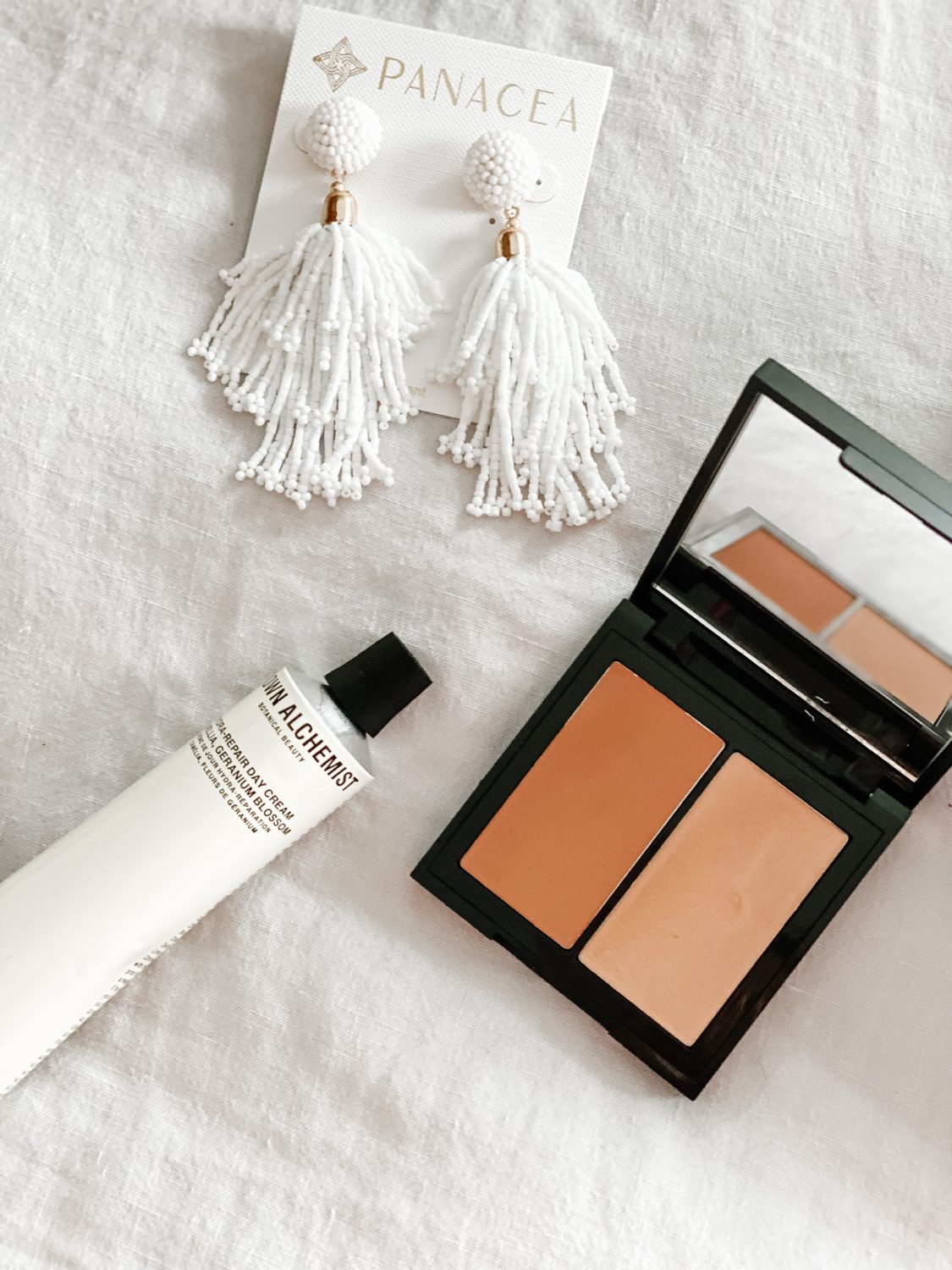 You can order the box here or you can forward this post to your significant other with the subject, "Hint! Hint!" We won't tell!