I don't know about you guys, but I have definitely been working out more these days. Maybe it's because it's the only time I truly have to myself? Ok yes, that is definitely the reason. Why run/walk 2 miles when you can go 5 and have all of that extra time to yourself? I thought it would be a fun idea to share what some of the girls on the Motherchic Team have been doing to work out at home these days. We all have our own take on at-home workouts and you can bet we also had to share what we are wearing.
Lindsey's At-Home Workouts: Running + Yoga
Running and yoga are my jams…. if I could do 20 minutes of each every single day, I would be a happy girl. Typically I have been alternating my days between the two. Here is what my typical week looks like in terms of workouts…
M- Long run (4-5 miles)
T – 45 mins Bulldog Yoga (try it out here for free)
W – Run with my husband (he pushes jogger) – 3-4 miles
Th – 30-45 mins yoga
F – Peloton Bootcamp (45 mins includes running on treadmill and bodyweight exercises)
Sat/Sun – walk/hike/some sort of low-key movement
Shop Lindsey's Running Favorites below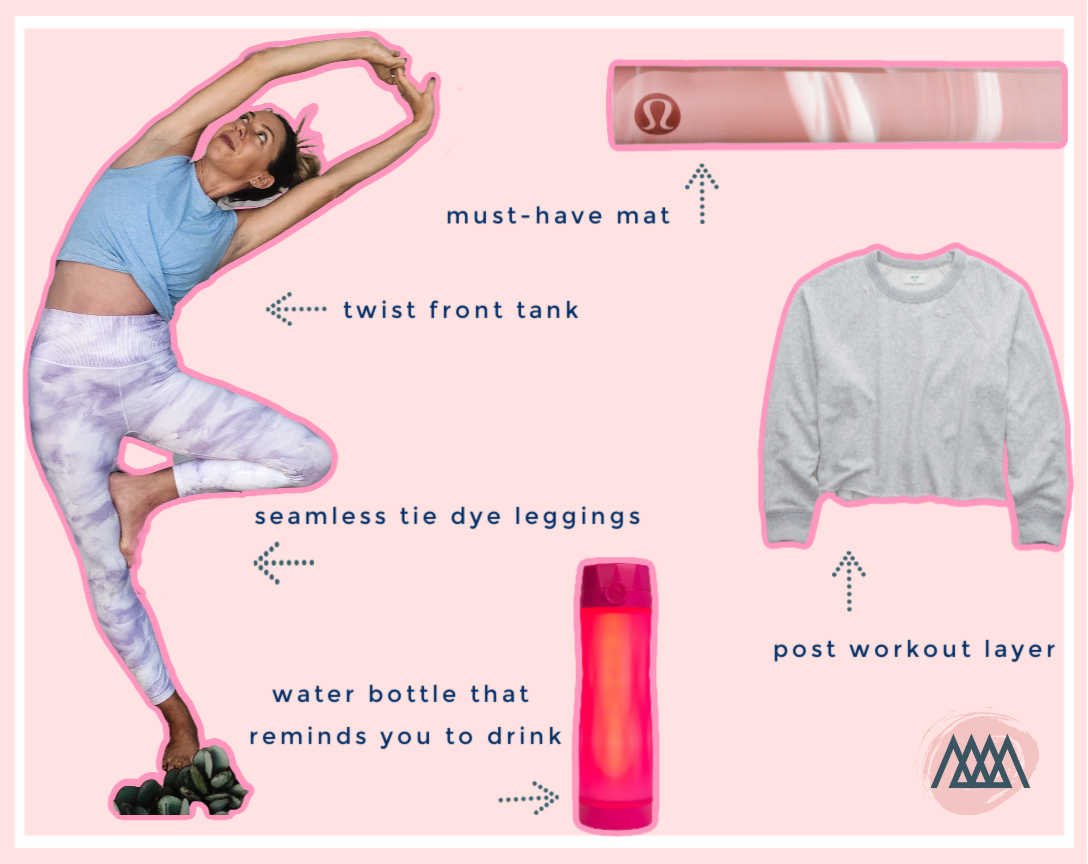 Shop Lindsey's Yoga Favorites Below
Beth's At-Home Workout: Barre
I am always up for any type of exercise or activity. It's so good for the mind and the body, but my all time fave is Barre. I remember my first class looking around like what the heck are we doing? Down an inch, up an inch, tucking, pulsing. I kept thinking, there is no way this exercise is doing anything. But let me tell you, so much is happening in those tiny movements. And doing barre at home is just the same. I use my countertop or ledge, my son's football and a towel for resistance. And the shakes are real people!! So embrace it!
Shop Beth's Barre Favorites below
Abby's At-Home Workout: Stroller Walk with Kids
At this point I feel like I've tried every workout in the book. From Tiktok to jumping rope to bench pressing my kids every day feels like a workout. Inspired by a friend I decided to take my kids on a daily walk around the neighborhood. I pop on a podcast or play my favorite music on Spotify and let the kids enjoy nature. While it may not be a high intensity work out these daily walks let our minds relax. To add a it of challenge try the Peloton outdoor walking workouts.
Shop Abby's Walking Favorites below
Christine's At-Home Workout: A Little Bit of Everything
I can't tell you how many times I started and cancelled a gym membership. I mean, what are all those machines for anyway? And then I stumbled upon Obé last year and immediately fell in love. From someone who literally never used to workout (RIP, pre-pregnancy body) I now do a bit of everything on Obé about 5-6 times a week. I would like to thank quarantine for amping up the number of times I workout for sanity! My favorite things to do each week are dance cardio (ok, that's my absolute favorite!), HIIT, yoga sculpt, cardio boxing and pilates. I get bored easily so switching up my workouts is right up my alley. Also, special Lizzo-themed workouts?! Yes, again up my alley. Use code CHRISTINED30 for 30% off your first month!
Shop Christine's Favorite Below