Thank you to Sephora and ShopStyle for sponsoring this post.
After two weeks at the beach my body is screaming to me, "Stop what you are doing and take care of me!" So yes, I am in the midst of a week long plant-based eating detox to reset from the inside out. There is also something to be said for treating yourself from the outside as well! Once I got back from the beach I dove straight into some of my summer beauty saviors. Needless to say, me and myself are starting to be friends again. The summer sun, salt air and chlorine does a number on your skin and hair so it's super important to have seasonally appropriate products to combat some of the problems that pop up in summer: sunburn, clogged pores, dry hair, flaking skin stinky pits… need I say more? Below is my go-to summer #SephoraHaul to help keep all of those problems in check!
If you haven't already, make sure to sign up for Sephora's Beauty Insider Program! Signing up is completely free and you can earn points with every purchase. Click here to sign up and find more info!
---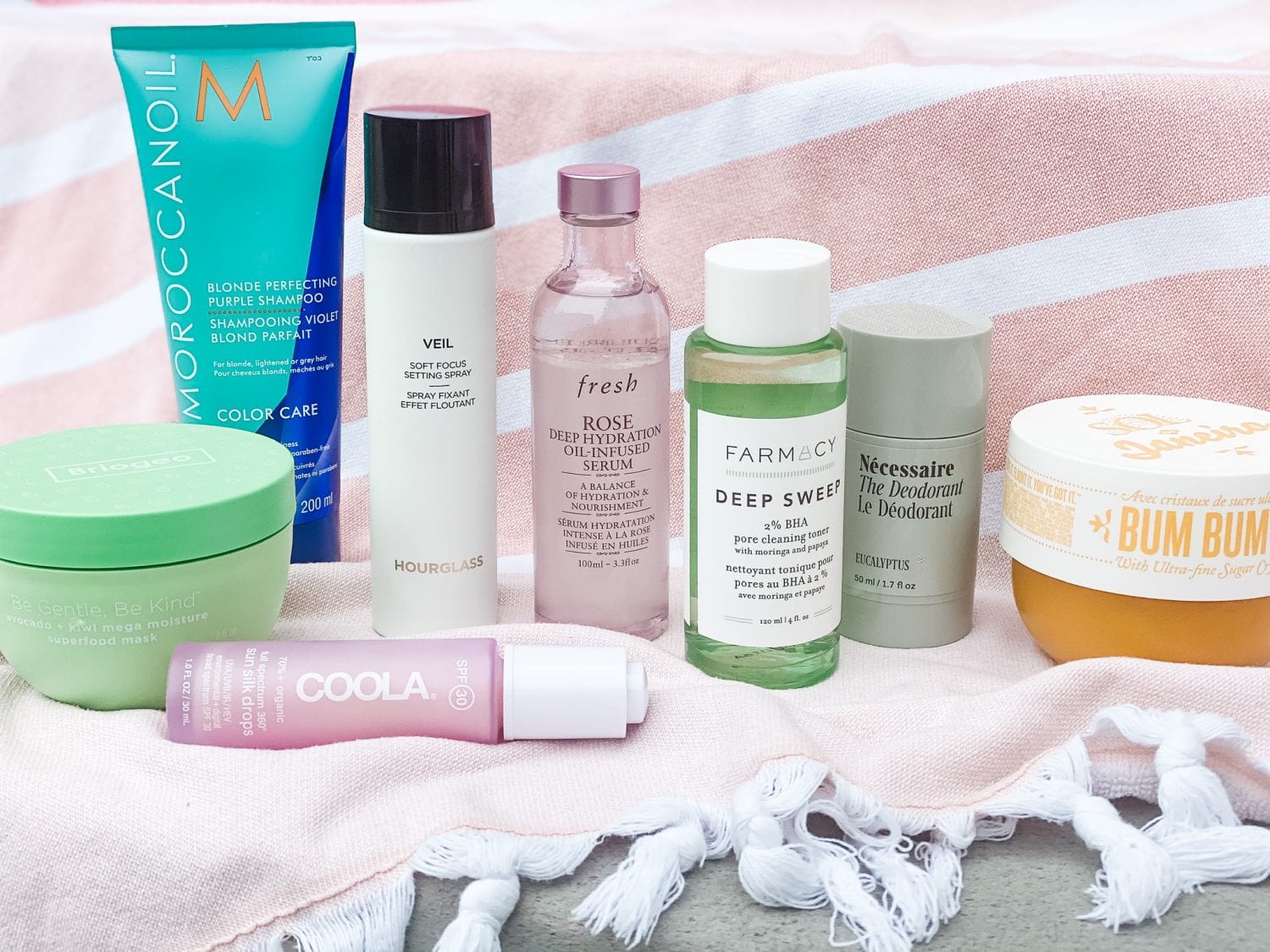 Summer Beauty Face Saviors
Exfoliate, hydrate, protect, set. Repeat, repeat, repeat! These products pictured above do all of those things in that order. Here's a little bit more about why I love each of them…
Farmacy Deep Sweep 2% BHA Pore Cleaning Toner with Moringa and Papaya // I'm convinced everyone needs this under $30 product in your summer beauty line up! Not only is it vegan/clean/gluten-free/cruelty-free, it draws oil out of your pores giving them the appearance of being smaller. It helps keep shine at bay, and skin-tone fresh and even. I use this after washing my face morning and night.
Fresh Rose Deep Hydration Oil Infused Serum // Is your skincare goal for dewy, plump skin? Me too, girl, me too. My love for all things Fresh runs deep and this product has become a quick favorite. The light, fresh, spa-like scent draws you in, and the lightweight oils (read: NO GREASE), give your thirsty skin the cocktail they are looking for. Oh, and it comes in a glass bottle so it seems extra fancy and pretty to look at it. Give it a shake and apply after your toner.
Coola 360 Full Spectrum Sun Silk Drops // I'm all about sun-protection these days, especially on my face. Coola Sun Silk Drops allow you to turn your favorite moisturizer into a sunscreen. It's pretty much genius. All you do is put a few drops in any facial moisturizer and voila….. you are protected WITHOUT that sunscreeny feel and scent. It also has hyaluronic acid for an extra dose of moisture.
Hourglass Veil Soft Focus Setting Spray // Imagine if you could walk around with an instagram filter permanently on your face to blur imperfections. This is the next best thing. A long spritz after applying makeup will leave you with that "blurred", super smooth look. It keeps makeup in place all day which is so helpful during hot summer days. For my easy 5 minute summer make up routine, check out this post!
Shop more Summer Skincare:
Summer Beauty Hair Saviors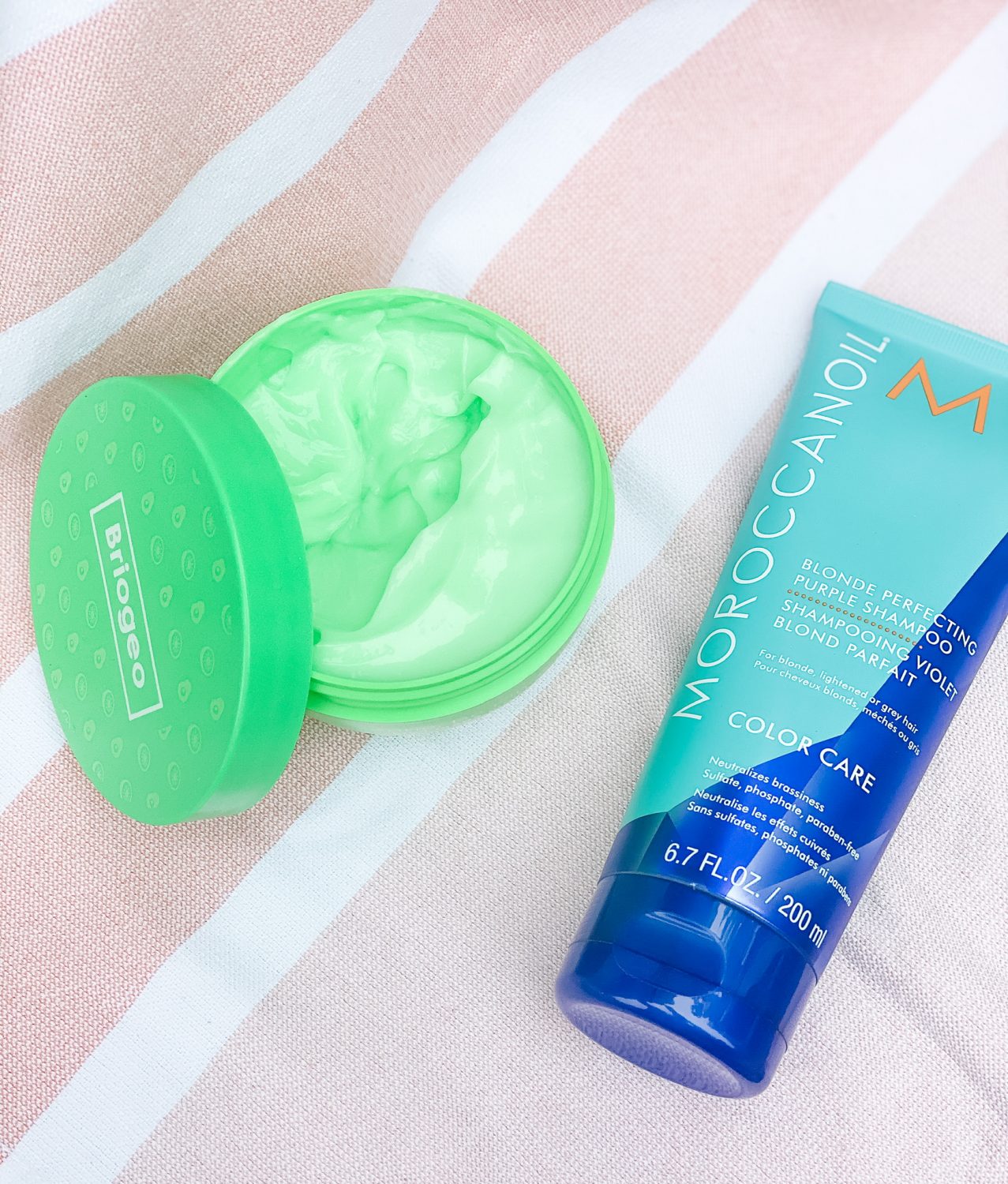 When it comes to summer hair care, keeping moisture IN and brassiness OUT are two of my main concerns. These are the two products I used to do just that. It's really very simple….
Briogeo Be Gentle, Be Kind Avocado Kiwi Mega Moisture Superfood Hair Mask // While that name may be a mouthful, this product is a hair full! Meaning, everything your summer hair needs and more. After the first use your hair will feel SO luxe! It is great for all hair types (thin, thick, curly, coily) and instantly replenishes moisture lost from sun exposure, wind, salt water and pools!
Morrocanoil Blonde Perfecting Purple Shampoo // OK so there is definitely some crazy science involved in purple shampoo, but whatever it does, it works! This product is CRAZY purple, but the result? Blonde hair without the brass. It's like going into your shower and coming out with fresh highlights. Not all purple shampoos are created equal, however. Some can be very drying which is why I love this one. It does not dry out my hair and the results are instantaneous! I use this once per week in place of my normal shampoo.
Shop More Hair Care
Summer Body Saviors
The goal? Keep skin exfoliated and smelling fresh… with an emphasis on the smelling fresh part. Here are two summer beauty products that make me feel like I just left the spa…..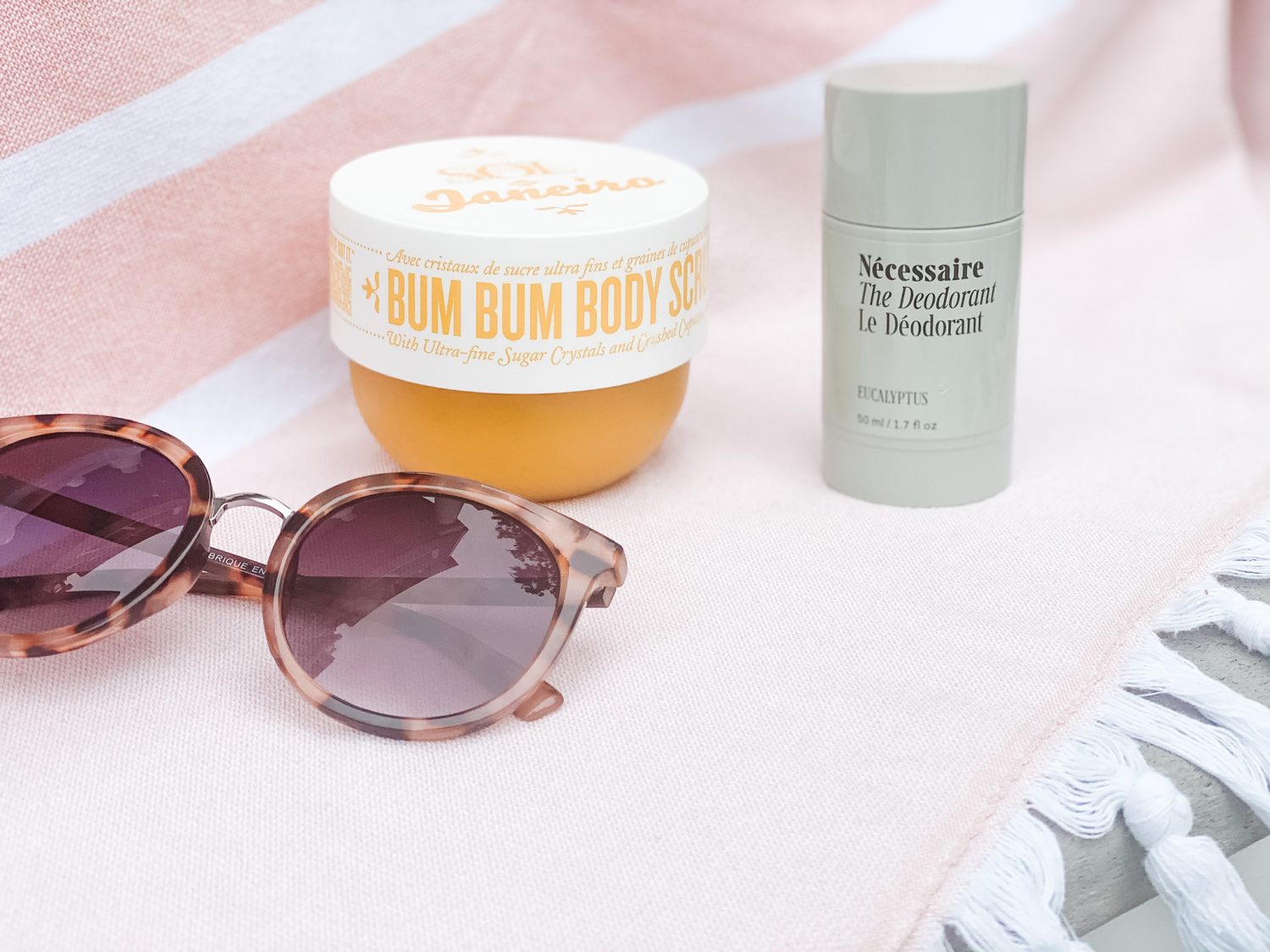 Sol de Janeiro Bum Bum Body Scrub // I love a good body scrub for an awesome exfoliation. What I love about this product in particular is that it's equal parts scrubby as it is soft. It's infused with coconut oil, crushed cupuaçu seeds and sugar crystals for the ultimate spa-like shower experience. Your skin will feel like a baby's bum bum upon exiting your shower…. no joke.
Necessaire The Deodorant // There is something about the smell of eucalyptus that makes me feel zen. So if I can wear scent that all day, well, then my little world would be a happier place. This deodorant is made with USDA organic essential oils and is baking soda and aluminum free. It's the perfect everyday deodorant and the fresh scent is like no other. This one comes in and out of stock but this one is very similar!
More Summer Body Products:
And that's it! Just a *few* things I use on repeat to maintain a great summer beauty routine! Let me know if you have any questions!