Now that it is almost July… WOW! Where did June GO!? Who knew quarantine time could go by so fast… must have been all those puzzles we've been doing. Anyway, yes it is almost July, which means it's officially SUMMER. We are slowly getting into our new summer routine. Just kidding, I have zero routine. Usually summer is filled with sports, camps, driving to said sports and camps, but this summer is definitely different. My summer uniform however has not changed. Whether it's a quick hike, a bike ride, a dip in the pool I feel myself gravitating towards this easy outfit equation. Tank + Jean Shorts + Sandals. Sometimes I like to get a little wild and swap my sandals out for sneakers. Basically the rules are, there are no rules. When I do find the right tank I like to stock up on a few colors because stains happen. And if you find the perfect pair of jean shorts then I would 100% buy two because we know they are the true unicorns.
The Best Basic Tank
This game changer tank is exactly that. Game changing. Why do I love it?! Super soft rib material, the bare open scoop back (matches the front), just enough stretch, the perfect length for a little tuck or to leave loose and has bra-friendly straps. For reference I am wearing XS. I am 5'4″ and bra size 34A.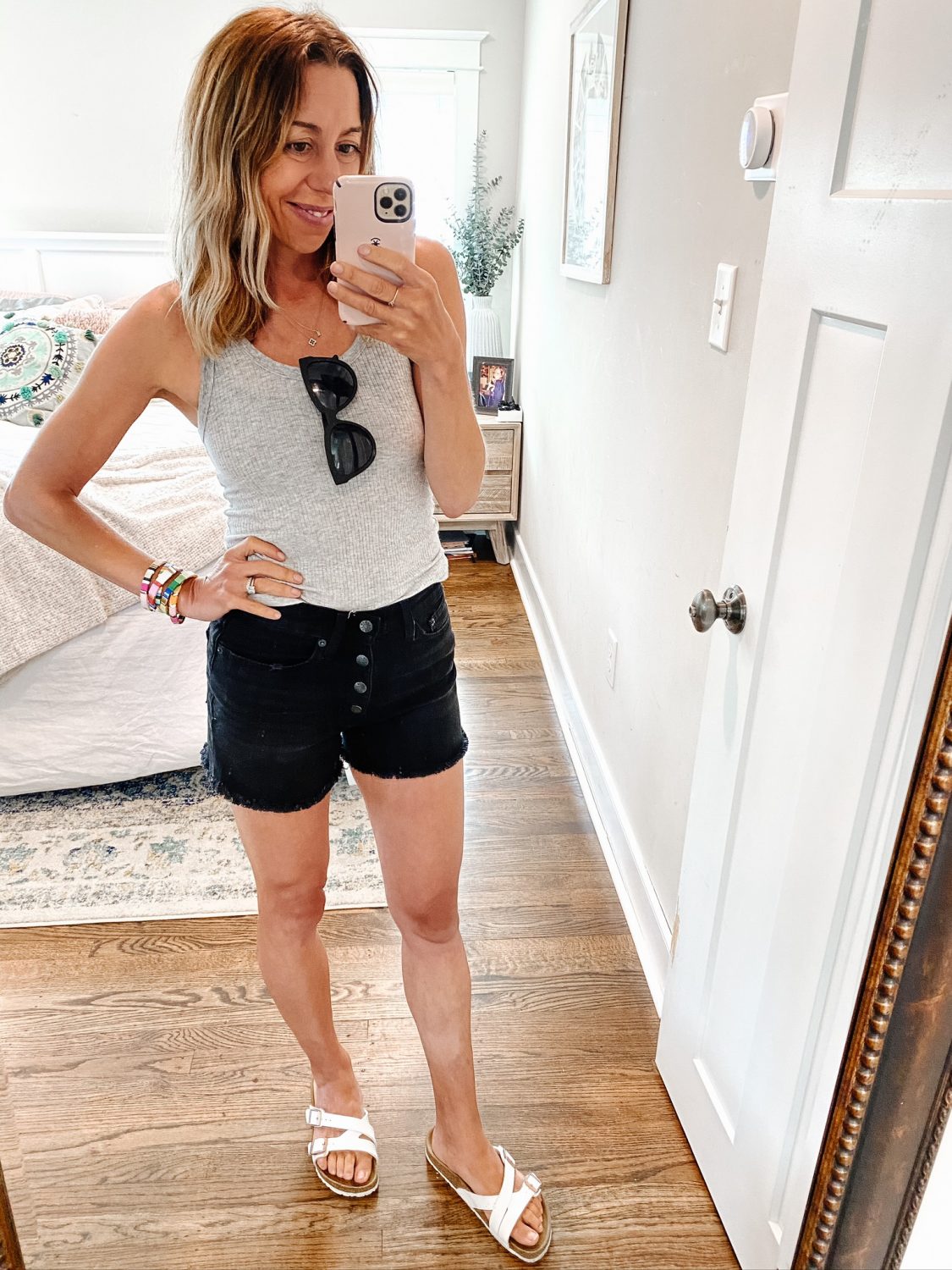 Wearing: Shorts | Sandals | Sunnies
More Basic Tanks I Love
---
The Best Not So Basic Tank
Don't call it a comeback because this tank never left! This waffle material is light enough for summer yet cozy enough to layer for fall. I love the easy already-knotted-for-you styling and the high neckline. This tank just screams "Please pair me with denim shorts!" Did I mention it comes in over 30 colors and is under $20.
Also Wearing: Left Shorts | Right Shorts
More Not So Basic Tanks I Love
---
The Best Cut Off Shorts
Finding the right cut off shorts is all about inseam. Whether you like them short (2″ inseam) or long (4″ inseam) these are my favorites. The Agolde Parker short (seen left) are my favorite splurge short shorts. I love the high rise and the perfect light wash color. I wear them so much they have literally formed to my body like the perfect pair of denim. On the other hand if you are looking for something longer these A & F Mom Jeans are perfect and half the price. They are a high rise fit and also come in a variety of washes.
Also Wearing: Left Tank (linked similar) | Right Tank
The Best Rolled Hem Shorts
I love the rolled hem denim shorts because they feel a bit more polished. I found two pairs that are almost identical in fabric and quality but are two different price points. These shorts obviously pair best with a stripe tank and a dangly earring. The Madewell Shorts (seen left) are a high rise with some subtle whiskering and a slightly loose fit around the thigh. The Goodthreads Shorts are again half the price, also high rise and have a slightly more fitted feel around the thigh.
Also Wearing: Left Tank | Right Tank
More Denim Shorts I Love