I overheard a conversation today between two women talking about not wanting to put on their "hard pants" after all of this time in "soft pants". Translation… hard pants = jeans, soft pants = sweats. I have to agree… it's not going to be easy to go back to those stiff things after months of cozy, lush fabrics caressing our bodies as we moved from our beds, to our couches, to a love seat, back into our beds. But ladies, let me give you a little good news. We don't have to go anywhere near our hard pants for a few months. It is officially dress season so bring on the the flowy goodness! Here are a few of my favorite summer dresses under $100… ok most are WAY under $100.
The Best Seller Summer Dress
Sometimes a simple design can check all the boxes. And this dress does just that. An easy flowy maxi, that is bra-friendly, not see through, cinches at the waist, but isn't too much fabric, oh and it has pockets. Yes, this dress DOES. IT. ALL. No wonder it has been a best seller for over a year!
Shop the Best Seller Dress Here
The Midi Dress
Because why have one, when you can have two favorite midi dresses. Sometimes I am feeling the polka dots while other days I am more of a stripe girl. Both of these easy summer dresses caught my eye and I must have a thing for buttons.
Spotted Midi Dress | Stripe Midi Dress
Printed Mini Dress
There are lots of versions of this dress on Amazon. It can be found here, here, and here. For me it's an easy pop and go with minimal accessories. It's on the shorter side so I usually wear it as a cover-up. I am wearing the size small, which to me feels more like and XS.
Shop the Printed Mini Dress here
The Work to Weekend Dress
Okay, so maybe the heading is deceiving, because lots of people are still in WFH status. However, there is something to be said about getting dressed in the morning to tackle to day and this dress does the trick. Comfortable enough to respond to a million emails but also sit back and relax once said emails are done.
Shop the Work to Weekend Dress Here
Ultimate Night Out Dress
Then there are the dresses just make you feel so gosh darn good. This one hugs in all the right places for me, which may be due to the smocked top. If there is one dress that I would wear to emerge out of quarantine it would be this one. I just need…. shoes!
Shop the Ultimate Night Out Dress Here
The Maxi Dress
The LBD just got a new name. Instead of the little black dress, we are going with the long black dress. Super chic, effortless and timeless. Just add a hat and you are ready for Napa… or your backyard.
The Bachelorette Dress
It's true I am helping to plan a bachelorette party. And if we decide to have it virtually or in person this is the dress to wear. It's fun, flirty and needs little accessorizing. Need a strapless bra, don't worry we got you.
Shop the Bachelorette Dress Here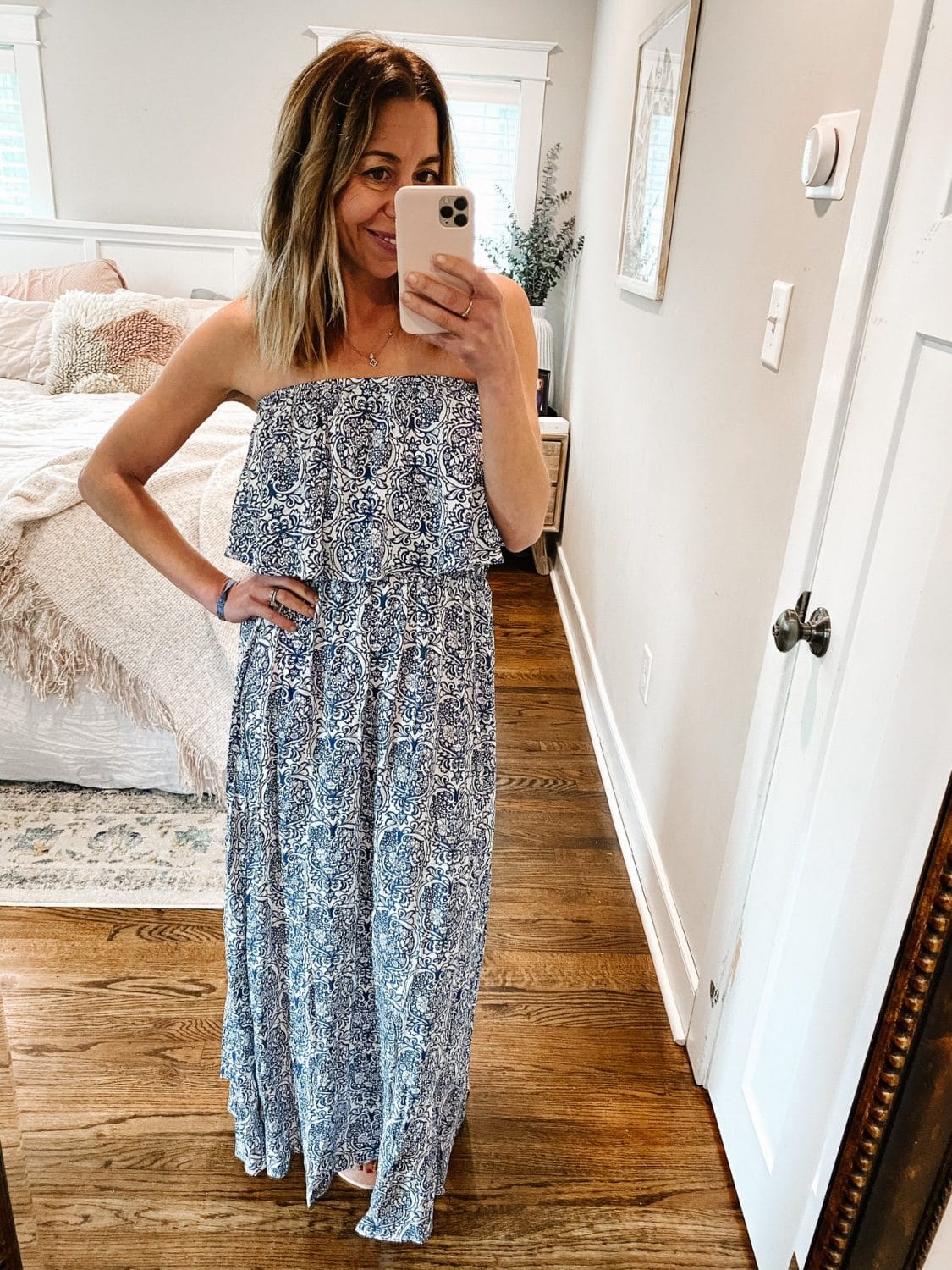 The Tie Dye Dress
Tie Dye has been a huge trend this summer and I am here for it! Whether it's a sweatshirt, a sleep set, a mask, or a dress you bet I've tried it. And yes, this dress has pockets.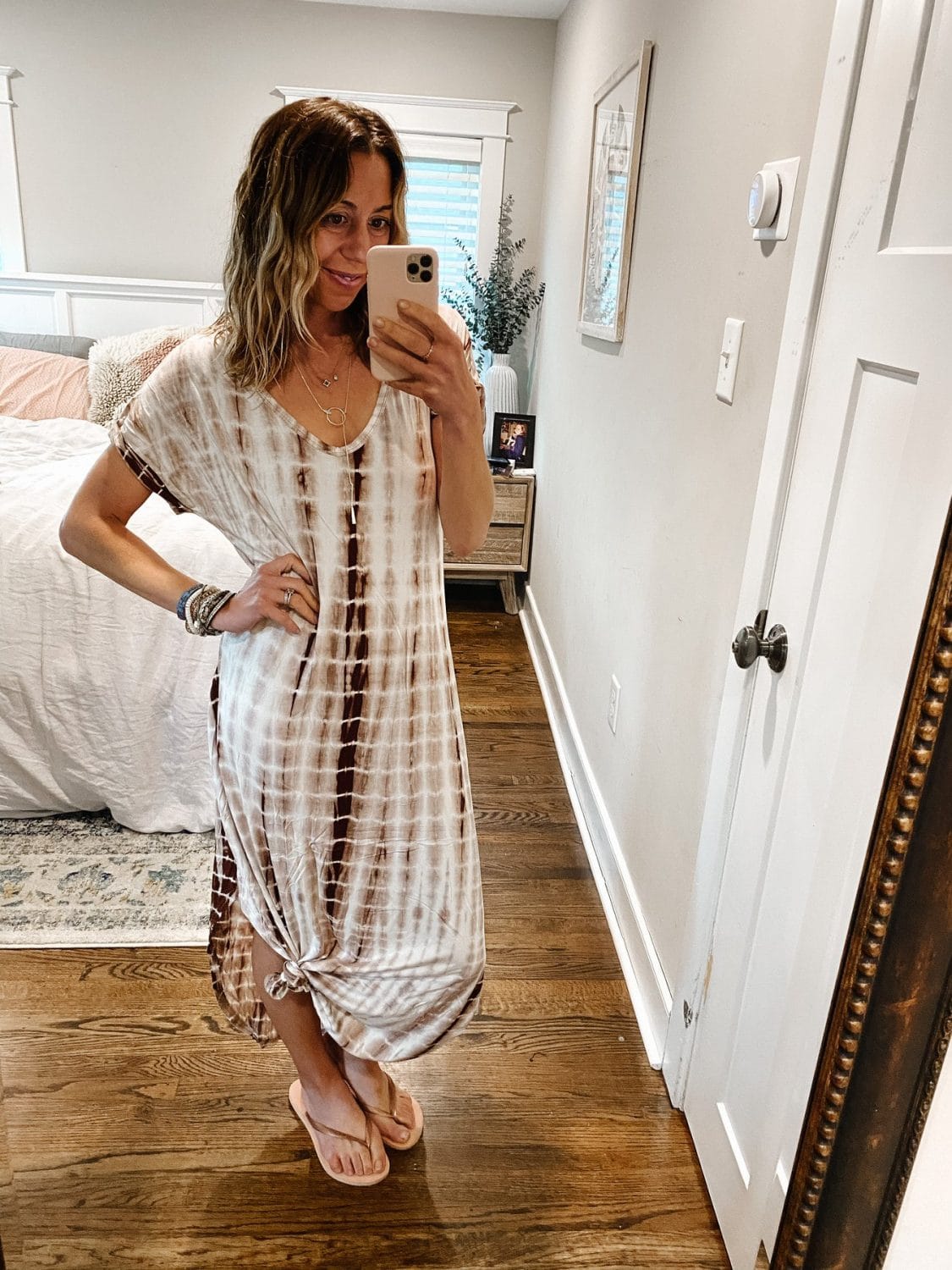 The Shower Dress
Wedding shower, baby shower, maybe you even have a socially distant baptism in your future. This is the dress to wear. The fabric is super lightweight which is perfect for the outdoor weather. With a bold print and little cinch it makes the perfect statement.
Shop More Summer Dresses Under $100