Thank you to Sephora & ShopStyle for sponsoring this post.
I've been loving sharing my Sephora beauty finds with you each month! I am one of those people who likes to switch up the products I use every once in a while, but I also have a few tried and true skincare staples. While we are still in the summer months and humidity is at an all-time high in many parts of the country, exfoliation and hydration are two things that are always at the forefront of my skincare regimen. I've also been reading a lot about scalp health so I included one game-changing product in this round up as well! In this post I am going to share two products that I buy over and over again, and some new products that I've been using and loving.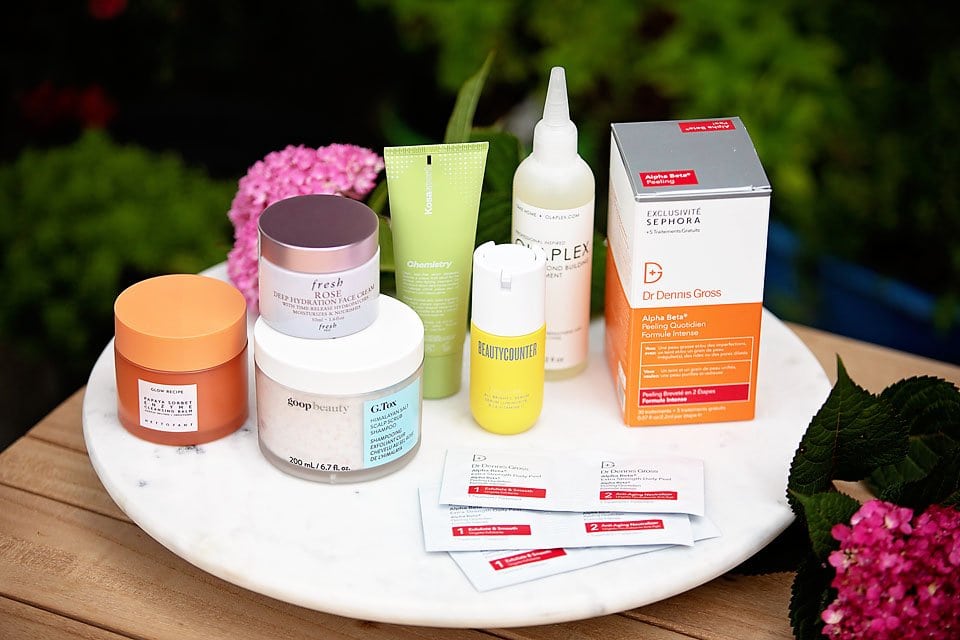 But first, to celebrate many of their stores being re-opened, Sephora is offering all Beauty Insiders some amazing discounts now through 8/23. Use code WELCOMEBACK to get $20 off your order of $100 or $15 off your order of $75. The code can be redeemed once online or as many times as you want in store! You can find more information here. Make sure to sign up to be a Beauty Insider to earn points on every purchase and gain access to exclusive savings and events!
Tried & True Beauty Products
My favorite Daily Peel // In a beauty post earlier this summer, we talked about the Dr. Dennis Gross Alpha Beta Extra Strength Daily Peel Pads. The pads are soaked with 7 different acids to target fine lines and wrinkles, and also even out skin-tone to reveal a more vibrant complexion. They are also great for acne and blemishes. I love using these year-round, but especially in the summer when I'm sweating a lot and my face gets congested. If you have sensitive skin there is a gentler option here. And with any use of alpha-hydroxy products, there is an increased risk of sunburn so always follow with sunscreen!
The moisturizer that I buy over and over again // …..is the Fresh Rose Deep Hydration Face Cream. It's loaded with hyaluronic acid which is an essential skin plumping ingredient. I also love the light rose scent and the fact that the consistency is more of a gel-cream. It is very lightweight and absorbs quickly. I use it morning and night.
A few new….
A+ for this Clean Vitamin C Serum // I was so excited to see that Beautycounter is now being carried at Sephora! Vitamin C is super important for our skin because it acts as an antioxidant and can protect the skin from free radicals. It also helps with hyper pigmentation and helps even out skin tone. I've been using the Beautycounter Counter+ All Bright C Serum for the past few weeks. I make sure to use it after the peel pads for optimal absorption and then follow with the Fresh face cream.
The Cleansing Balm that needs to get on your radar // I've also heard a lot of buzz on cleansing balms recently so decided to try ou the Glow Recipe Papaya Sorbet Smoothing Enzyme Cleansing Balm. Normally when wash my face, I splash warm water on it first. With this product, I put it on dry skin and massage it all over my face. It feels AMAZING! So silky smooth. You can wash it off with water or a cloth and it leaves my face feeling super clean and hydrated. Highly recommend!
Your scalp will thank you // Another new product I've been using is the Goop G.Tox Himalayan Salt Scalp Scrub Shampoo. If you are anything like me and have been overdosing on dry shampoo, you may be experiencing a bit of buildup on your scalp. This whipped shampoo is infused with salt to help remove dirt and oil and leaves your hair extra shiny! A little goes a long way….
And because I've made it my mission //….. to try all of the Olaplex products, I had to test out the No. 0 Intensive Bond Building Hair Treatment Kit. I took a huge break from doing my hair during quarantine, but have now gotten back into using heat tools more than I should. This treatment is great for damaged hair and split ends. You can use this treatment once per week (up to three times) and you put it on dry hair, wait 10 minutes, then follow up with the No. 3 that is included in the set.
Shop more beauty favorites from Sephora to stock up on during the sale below….