Happy September everyone! Happy is the key word there because lately it seems as though it didn't matter what month it was. But now that it is September and summer vacations are coming to an end and school is starting back up, I can feel the change! The other day I was chilly at my son's baseball game and I wasn't mad about it. I noticed leaves falling from the trees on my morning run and it made me smile. I don't know, am I the only one excited for the change of season? Bring on the jeans, the sweaters, a cozy blanket and all of the sights and smells of fall. I think a change might be good for us – especially in the form of fall home decor.
If you aren't ready to give up your shorts and flip flops, how about a revamp to your home decor? Think earthy tones and rustic vibes. It could be as easy as swapping out your old pillows for some new ones that are rich in color and texture. And since we love throw pillows we thought it would be fun to show some new fall combinations. Fall is the time to have fun with pattern, textures and fabrics. Basically, the more the merrier. Plus, with all this time at home I think we are ready for a refresh.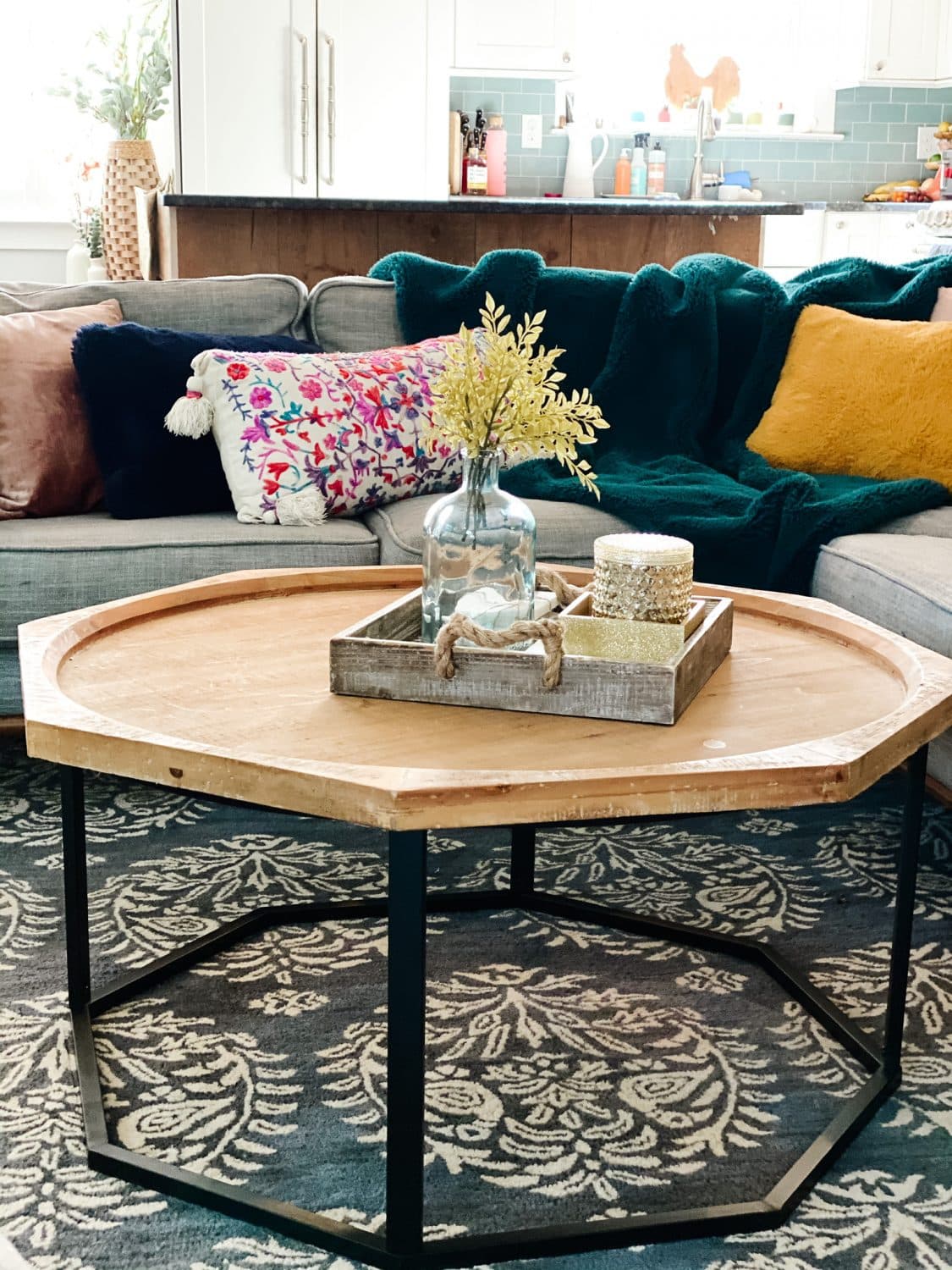 Leather Pouf | Velvet Pillows | Furry Throw | Faux Fur Pillows | Coffee Table | Glass Vase | Faux Dried Leaves
Fall Home Decor Look: Colorful Combos
Color is the easiest way to make a statement. Start with two colors and build on tones and hues that compliment each other. We are loving the autumnal gold color balanced with a classic navy.
Shop the Look
Fall Home Decor Look: Mix It Up
A little faux fur, some subtle stripes and a great graphic complete this cozy look. When you start with a large furry pillow it sometimes feel like less is more. The fur adds a touch of luxe so not much more is needed.
Shop the Look
Fall Home Decor Look: Rustic Vibes
Bring the mountains, lake, cabin feel into your home with some rustic vibes. I love mixing patterns like a classic plaid with a funky geometric. The key is to keep them in the same color family so it doesn't feel too overwhelming.
Shop the Look
Fall Home Decor Look: Pile it On
I am really loving the fun bohemian feel of this pillow assortment. The plush velvet, the fun patterns, and the mix of textures makes me want to stay on the couch all day.
Shop the Look
If you are on top of your throw pillow game check out some of our favorite fall decor and embrace everything you love about fall to spruce up your home for the season.