Thank you Athleta and ShopStyle for sponsoring this post.
It's no secret that I love to get my body moving, especially when I feel stressed or anxious. One of favorite ways to get some exercise in is a good yoga session, which is also not a secret! Now, more than ever, I have been hitting the mat with the daily stresses that come along with adjusting to our "new normal" and all while still working. Thankfully Athleta has some seriously amazing, high-performance threads to not only stay put during my flows but also to help me feel my best. And with International Yoga Month taking place, I can't think of a better time to intentionally get my zen on even more for a little self-care. Fine, and trying out some new yoga clothes while we are at it.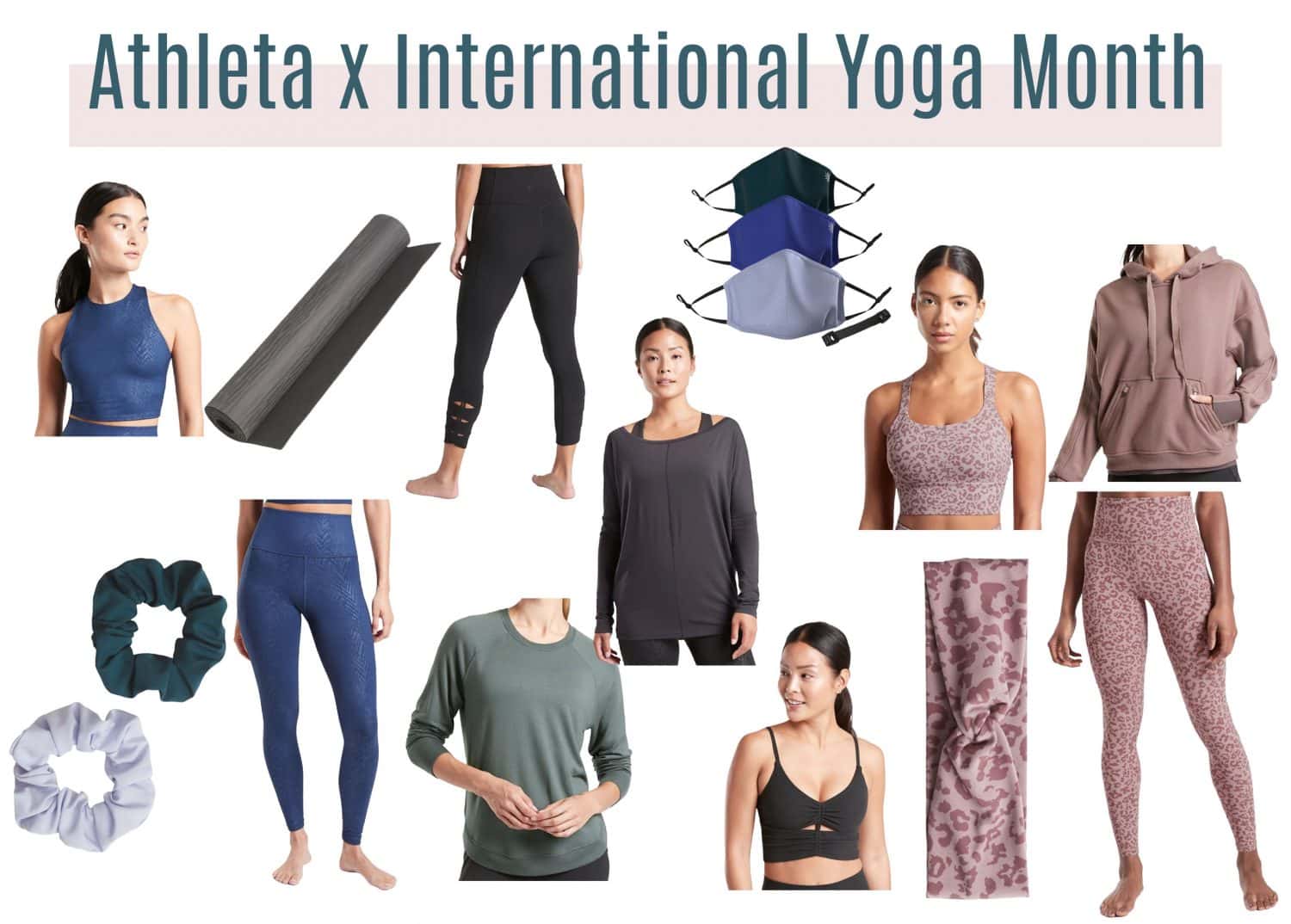 Athleta + International Yoga Month
It seems as though it was a sign that International Yoga Month takes place during the same timeframe of the "what's happening with school" uncertainty. It's reminding me to take a step back from everything, be in the moment and take some time for myself to re-center. Even if it is just a 20 minute flow it makes all the difference in my day. It seems like another great sign that Athleta is celebrating this month as well, and that I should probably add *just* a few more leggings to my yoga collection. Their leggings slide on like butter, and lightweight enough to move around in without the bulk.
Woman Warrior Pose
Can we talk about the subtle print detail in this set! And this deep, royal blue is something I definitely don't have enough of in my closet. Add on a little scrunchie for some throwback vibes and flair, because why should everything else in your outfit have all the fun?!
Top/Bra | Leggings | Hair Scrunchie Set | Yoga Mat
Fun Salutation
One of the things I love most about Athleta, besides their amazing fit and quality of fabrics, is the little details they put into their clothing. When I shop for yoga clothes I am always looking out for things like cute cut-outs, fun prints, and something to throw on after my practice in case I have any errands to run. They pretty much hit the nail on the head with this entire outfit below!
Top/Bra | Leggings | Sweatshirt | Performance Face Masks (comes with head strap to alleviate behind-the-ear pressure)
Om-my Gosh So Cute
Ok, I could NOT resist this outfit. I mean, not only is it leopard print. But a cool, tonal mauve leopard print? With a matching headband?! Oh, I am IN! Talk about motivation to workout!
Leopard Top/Bra | Leggings | Sweatshirt | Headband
Shop More Athleta Yoga Gear